Bhilar, a strawberry farming hub in Maharashtra, has been transformed into India's first 'books village', discovers Ranjita Ganesan.
Illustration: Dominic Xavier/Rediff.com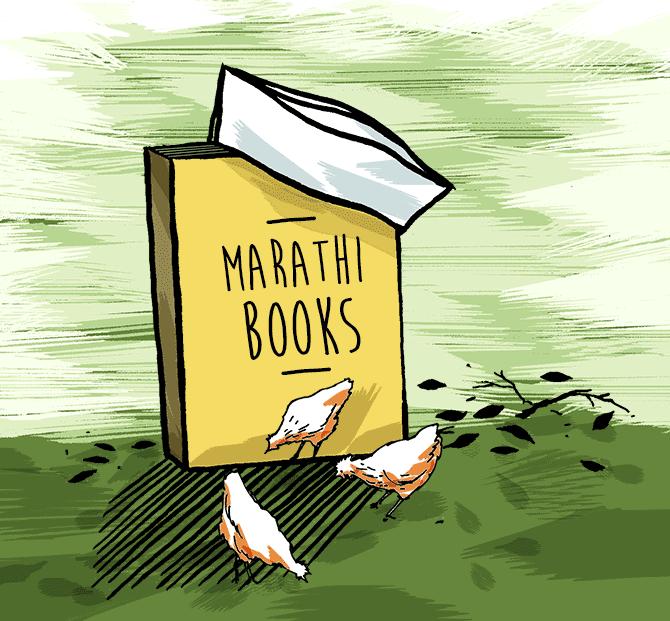 It is the fifth visit to Mahabaleshwar for Pratibha and Rajesh Bhujbal and, by now, the standard tourist attractions -- a handful of temples, several 'points' offering similar views and fruit packaging firms -- have lost much of their appeal.
Still, the couple from Mumbai planned another mini-break here after hearing about an idea that was recently planted in nearby Bhilar, which aims to turn the strawberry farming hub into a 'village of books'.
As many as 15,000 Marathi books are available to read for free here, spread across different locations including homes, lodges and schools in the village, as part of an initiative by the state government and locals.
Pratibha, a nurse at Mumbai's Nair Hospital, and her husband who works in a shipping company, says they would otherwise have run out of things to do in these hills.
"By the second day, you get bored. So this thought of spending some time getting back in touch with reading sounded nice," she says.
Such intellectual indulgence is rare in the chaotic city, her husband Rajesh adds, seated in one of the libraries with a copy of Dhananjay Keer's biography of Babasaheb Ambedkar. "Libraries have been closing down. And we cannot find time to go to the one in Dadar (central Mumbai)."
A short motorable distance from Mahabaleshwar and Panchgani, Bhilar is slowly finding its way into the itineraries of those holidaying in these hill stations.
Starting eight kilometres away, approach roads are sprinkled with signs announcing the 'pustakanche gaav' (village of books), with the image of a large strawberry superimposed on that of an open book.
Despite the summer sun, the air is cool and clean and cars entering the region are stopped for the collection of a pollution tax.
Bhilar bears the symptoms of a place that has been visited by political dignitaries not long ago -- well-groomed paths and freshly-painted walls.
Flags of the Bharatiya Janata Party are seen tied to trees and lamp-posts, in the region that has typically been a Congress-Nationalist Congress Party stronghold.
Indeed, Maharashtra Chief Minister Devendra Fadnavis and state Education Minister Vinod Tawde, who first visualised the concept, travelled here to inaugurate the pustakanche gaav in May.
Tawde, who is also officially charged with promoting Marathi, expects the idea will encourage a reading habit among tourists.
The minister was inspired by a visit to the Welsh town Hay-on-Wye, known for its widespread, charmingly haphazard book market.
But similarities between the two neighbourhoods do not go deep.
Where Hay-on-Wye, set up by private second-hand bookshop owners, is proudly anti-establishment, Bhilar is a government venture, stocking new books that are currently not for sale.
"It is not meant to be a commercial activity," says Tawde.
Each of the 25 chosen locations in Bhilar has a specific theme, either biographies or poetry or children's books.
Like others in her village, Manda Shyam Bhilare applied to partake in the project when it was initially discussed in gram panchayat meetings in 2015.
Thereafter, an interview was conducted and her small bungalow was surveyed to see if she would be able to host visitors.
Work began a couple of months ago when books arrived at a local office and those related to sports were boxed up and sent to her house.
Artists from Thane (adjoining Mumbai) were invited to draw murals on her terrace and, similar to other venues, she received a set of library props: A glass cupboard, a rotating book rack, a red bean bag, plastic chairs, and a large umbrella to offer readers shelter from the sun.
As her two sons are usually away working in Mumbai, she decided to open up her home in hopes that the library would act as recreation.
"It is a good cause and those who come are courteous so I like having them home," she says in Marathi.
She herself has read Namdev's verses and "a book about Sachin Tendulkar".
It is in Bhilar that a neighbour once found prolific Hindi lyricist Anand Bakshi penning the lines, 'Duniya Re Duniya, very good, very good' which would later feature in a song in Trimurti, starring Shah Rukh Khan, Anil Kapoor and Jackie Shroff.
Villagers are pleased because their own children are becoming curious about reading too. Based on their ability, the house-owners offer glasses of water or sherbet to those dropping in.
No matter how short or casual their visit, visitors are encouraged to sign a guestbook.
Urmila Jangam, a Thane-based teacher, is among Manda's guests.
Leafing through a copy of Idols by Sunil Gavaskar, she says she plans to return and spend a weekend in this house.
In fact, most villagers who have accommodated the libraries hope for financial gains by putting up people in their homes for a charge.
Manda's son Mitesh, an accountant in a Vashi (Navi Mumbai) firm, says his colleagues have planned a tour of the village at the end of the month. They think it might benefit local shops and eateries, little shacks that sell misal paav, tea, and off-brand ice creams.
Mitesh's home has high footfalls as it is among the first of the venues visible on arrival.
Although the project is scattered within a two km periphery, the houses deeper in, such as Ganpat Bhilare's library of award-winning titles, have fewer visits.
"Tourists are still discovering the village and not all of them are avid readers. Many just want to see what it is about," observes Vinay Mavlankar, in charge of the initiative, and a member of the Rajya Marathi Vikas Sanstha (state institute for Marathi development).
Given the promise of book tourism, 200 more homes have come forward as volunteers, notes resident Balasaheb Bhilare, head of the Strawberry Growers Association of India, who had rounded up initial support for the programme.
"They are upset that only 25 spots were selected," he says with a laugh.
Most houses that were chosen are well-maintained bungalows with a courtyard or terrace.
People from smaller homes, which were not shortlisted, are still upbeat in guiding tourists to the right addresses.
Balasaheb says the venues now need CCTVs to avoid incidents of theft.
Part of Mahabaleshwar, the summer capital of Bombay province in colonial times, Bhilar is famed for producing strawberries, the saplings for which were first brought in by the British.
Twelve years ago, through agro-tourism, travellers were allowed to see farms and pluck fruit.
The village is relatively prosperous and has regular cleaning drives.
While it does not have a strong literary tradition, there are interesting connections.
It is in Bhilar that a neighbour once found prolific Hindi lyricist Anand Bakshi penning the lines, Duniya Re Duniya, very good, very good, duniya wale very bad, very bad, which would later feature in a song in Trimurti, starring Shah Rukh Khan, Anil Kapoor and Jackie Shroff.
Bakshi built his property here in the early 1980s, and helped buy books and bags for the local children.
Hindi songs of the 1960s and 1970s were often filmed in picturesque locations of Mahabaleshwar or Panchgani, says the lyricist's son Rakesh Anand Bakshi, which drew his father to the area.
Music director Naushad lived in the village too.
Thereafter, several prominent personalities including Shakti Samanta and lawyer Shyam Keswani were said to have bought plots as well. One thing that has eluded the village, which villagers hope will change soon, is the patronage of foreign tourists.
Those interested in Marathi publishing hope it will receive an impetus.
The industry has been pressured by a dearth of efficient translators and by readers favouring works in English.
The reading habit is on a decline too, says Sunil Kubal, office superintendent at the Mumbai Marathi Grantha Sangrahalaya. The Dadar library is frequented mainly by students around exam time.
General fiction and non-fiction on these shelves do not find many takers. Even a free membership programme for school children over summer has received about four enrolments.
The library's counterpart in Thane uses a bus as a mobile reading room but its movement is limited by traffic snarls, says Kubal.
The village idea could be replicated in more pockets of the state, he adds.
Further developments in the village have been planned for the period after the monsoon.
Tawde wants to organise visits for students of schools and colleges, and set up interactions with authors.
As a large number of visitors come from Gujarat, books in Gujarati and English may be added.
There is also an idea to stock Sahitya Akademi winning titles of all regional languages.
Former district court judge G D Parekh, who stayed in Bhilar over a recent weekend, notes that some improvements would help book tourism to take off, like a mixed offering of books under one roof so that family members with different tastes can read together.
A need is also felt for catalogues and information online and on social media.
The reading village is a solid first step, most reckon, and appreciation is visible in long messages left in guest registers.
'Vaachal tar vaachal' reads one entry in Marathi, which loosely translates as 'If you read, you will be saved'.