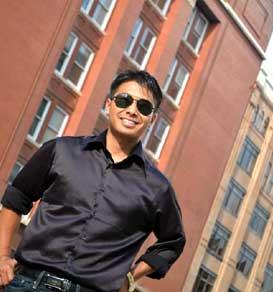 'It is very sad that many of us are yet to discover the Northeastern part of India. After having been to every state of India, people often refuse to believe that I am an Indian,' says Armstrong Pame, the admirable IAS officer from Manipur who built a 100 km long road in a remote part of the hill state without government help.
The 'People's Road', built with people's help, connects his district to the rest of the state and further to Nagaland and Assam. Pame, 28, raised most of the funds for the project through Facebook and has been given the name 'Miracle Man' by the villagers for giving them their first motorable road.
Armstrong Pame shares his thoughts about India in Rediff.com's continuing special series where various Indians speak about what they love most about our country.
Our freedom-fighters fought the good fight with zeal, enthusiasm and braveness to give to us that freedom which is the utmost need for any societal growth.
It is time to question ourselves: do we still have the same passion and the zeal within us?
If we do have it, it is time to look beyond me, myself, and I! We are here to live life, and not just to survive it, we live to create positive impacts around us each day.
Our nation is progressing well but not as good enough to show the growth story as one that is of equity, progress and benefit to one and all.
This freedom that we celebrate should be a celebration to help spread the message that each one of us is committed to imparting freedom to every citizen to pursue what their dreams and aspirations are.
Let every unborn child – boy or girl – be born in an India which will make the child grow to the fullest potential. Let there be no fear in our hearts, let's take our country forward.
The greatest thing about India is its diversity and this is its worst too – because we are not able to fully channelise this to something positive, rather this has often been used as a dividing force.
It is also very sad that many of us are yet to discover the Northeastern part of India. After having been to every state of India, people often refuse to believe that I am an Indian.
The interior part of mainland India -- be it central, northern or southern -- doesn't know this northeastern part of the country. They are terribly amazed to see that their fellow brethren can look so different!
I believe many places in the Northeast are not in any way less than some of the best tourist destination like Shimla, Mussoorie or elsewhere. Do come and see how good the Northeast is, and how simplistic and lovely your fellow citizens are.
We are eternally emotional wherever we are. The good thing about being emotional is that we are forever supportive of a good cause. The support and help received from every citizen across the globe is once again proof that we all have an undying spirit to support the good cause.
Maybe our country is the only place where one still believes in community, where family values reign over individual gains.
This tradition and culture of ours is truly the envy of others. If we are to strive towards living life to the fullest we are to only strengthen this bond.
Delhi is undoubtedly my favourite place in India. Having spent a good part of my youth there, and the best of my college days there. However, I am saddened every time I see news about Delhi: bad news always comes first.
Meeting old friends there has become very difficult, especially catching up with them late in the evenings has become even worse. The city is no longer safe. Why do we feel insecure in our own home? I wish to see India as a very safe place for everyone.
Let every Indian say -- "Make me live life to the fullest, to be all that I can be so that I can help others be all that they can be".

Armstrong Pame is a 2009 batch Indian Administrative Officer and the first from the Zeme tribe of Nagaland. He is an alumnus of Delhi's St Stephen's College.
He was recently invited by Facebook at the headquarters in California to share with them how he used the social media site to raise funds for a noble project like the 'People's Road'.