'We could crack IM modules in the country because one arrested member would spill beans on the other.'
'With ISIS, every module is different and is possibly being handled by different operators abroad.'
Sahil Makkar reports.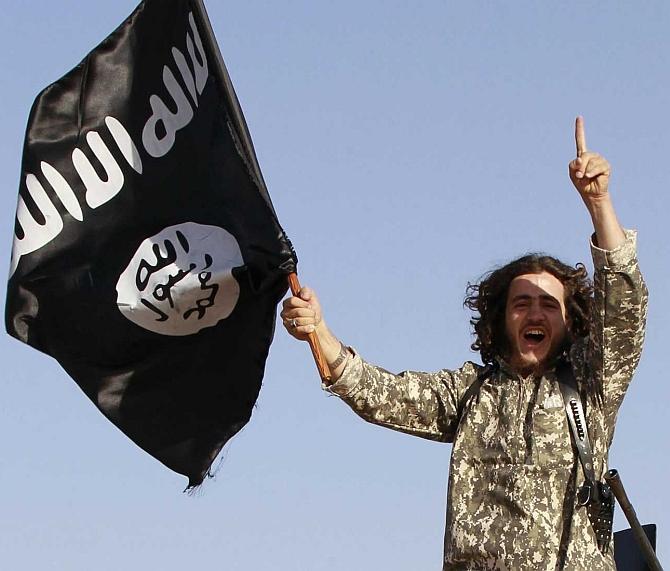 In May 2014, four Muslim youths, in their early 20s, from Maharashtra, left India to join Islamic State of Syria and Iraq, ISIS, the most lethal terror organisation in the world.
The youth reached Syria, took up arms and allegedly fought in the war.
Six months later, one of them, identified as Areeb Majeed, decided to come back after he was shot twice and survived an air strike by the United States-led coalition forces fighting the ISIS extremists in Syria.
Majeed, 23, approached the Indian consulate in Turkey and sought an emergency certificate, a travel document issued in case a passport is lost, stolen or damaged, to return to India.
He was arrested from the Mumbai airport in November 2014.
Majeed's arrest was the first case where an ISIS operative was arrested in India.
The National Investigation Agency, India's premier anti-terror probe agency, took over the case from the Mumbai police and tried to unravel ISIS' nefarious plans in India through Majeed.
Investigators and intelligence sleuths learnt, to their surprise, many Indian youth, including engineers, had got attracted to ISIS after it began taking control over territories in Syria and Iraq in 2013.
These youths started out by searching for ISIS videos related to the war, brutal killings of journalists and foreign nationals, scripts that goad believers to burn liquor and cigarette factories, and material related to destruction of cultural heritage sites.
The jihadi literature was freely and readily available on social media, networking sites and mobile applications.
These aspiring extremists also downloaded speeches of radical Islamic preachers such as Anwar Awlaki, Abdu Sami Qasmi, Meraj Rabbani, Tausif ur Rehman, Jerjees Ansari and Zakir Naik, besides regularly getting updates from the so-called ISIS magazine, Dabiq, which ostensibly convinced them that ISIS was fighting for the rights of the Sunnis.
A senior officer in NIA says the misguided youth didn't have any direct links with the ISIS operatives in Syria.
In fact, those running ISIS propaganda from overseas wouldn't easily trust anyone trying to connect with them on the social networking sites.
"ISIS puts a possible recruit on watch for several months and it only communicates with him through various cryptic apps and Web sites, making it difficult for the intelligence agencies to keep an eye on such people," says the officer.
"The recruits are called to Syria only if they are strongly recommended by someone within ISIS."
The recruits, according to him, have to first sign a baya'a, which is an oath of allegiance to the caliphate, and then they are asked to send a scanned copy of the same through email to their online handlers.
In this case, the baya'a was signed in the name of ISIS head Abu Bakr al-Baghdadi, the officer says.
Many youth left India on the pretext of performing Umrah, the pilgrimage to Mecca in Saudi Arabia which can be undertaken at any point of time.
From there they jumped ship and tried to reach Turkey, Iraq and Syria.
The Indian government said it has arrested 75 suspected ISIS operatives so far who belonged to Kerala (21), Telangana (16), Karnataka (9), Maharashtra (8), Madhya Pradesh (6), Tamil Nadu (4), Uttarakhand (4), Uttar Pradesh (3), Rajasthan (2), Jammu & Kashmir (1) and West Bengal (1).
This is a change from a few years ago, when the then prime minister, Manmohan Singh, claimed that not a single ISIS operative had been found in India, though the country has the world's second largest population of Muslims.
The data suggests that people subscribing to the ISIS ideology are present across the length and breadth of the country and it is increasingly becoming difficult for the law enforcement agencies to keep track of them.
This perhaps explains the failure of the intelligence agencies to prevent the low-intensity blast on the Bhopal-Ujjain train that injured 10 people last month.
The agencies, however, were quick to arrest eight accused and neutralise one in Lucknow's Thakurganj area.
Officers in intelligence agencies say not every accused travels to Syria and Iraq.
Some got attracted to the ISIS ideology while they were employed in West Asia. They were indoctrinated and sent to India to recruit local people for the cause.
"A large number of Indian expatriates work in West Asia. Some have got radicalised and are suspected to be arranging funds for terrorist activities in India. They are channelling money through the hawala route," says an intelligence officer.
This has added a new dimension to the problem and made the work of the intelligence agencies all the more difficult.
Last year, the police arrested five men in Hyderabad for allegedly hatching a conspiracy to carry out a terror strike in the country.
The suspects had held various meetings, made efforts to join ISIS in Syria, and tried to recruit more men.
The NIA seized several electronic gadgets, mobile phones, hard discs, semi-automatic pistols, air rifles, pellets, target boards, chemicals used for making Triacetone Triperoxide which was suspected to be used during the Brussels attack, capacitors, gas stove, cylinder, weighing balance, nails, knives, quartz alarm and bundles of wires.
Their interrogation revealed another trend: The accused neither visited Syria nor were they influenced by those who had returned from West Asia -- these men had got together and formed an organisation named Jhund ul Khalifa Fi Bilad al Hind (Army of the Caliph from South India) on their own.
The NIA says the accused used the deep Web through the Tor browser, encryption applications such as Amn al Mujahid (an encryption programme by the Al-Fajr Media Centre, an exclusive distributor of Al Qaeda propaganda) and encrypted e-mail systems to communicate with their overseas handlers.
"The accused recruited other members, contributed money, procured raw materials, mobile phones, SIM cards, firearms, ammunition and explosive in pursuance of the terror conspiracy," says the NIA.
Officers in the Union home ministry and in the national security advisor's office are worried on three accounts: One, they fear a lone wolf attack, similar to the attack outside the UK parliament; two, the presence of numerous and distinct modules which can be activated at short notice; and three, some radicalised youth approaching other terror outfits for logistical assistance -- a network of ultras.
The NIA arrested an ISIS suspect and lone wolf called Mohammed Musa last July from West Bengal before he could attack foreigners and the Missionaries of Charity headquarters in Kolkata.
Investigation revealed that Musa was in touch with the Bangladesh-based Jamat Ul Mujahideen Bangladesh, or JMB, which is said to be responsible for the attack on Dhaka's Holey Artisan cafe that killed 20 people.
Some investigators feel that ISIS is becoming a serious challenge to the country as its ideologues are not part of an organised syndicate like the Lashkar-e-Tayiba or the homegrown terror outfit, Indian Mujahedeen.
"We could crack the IM modules in the country, because one arrested member would spill beans on the other. With ISIS, every module is different and is possibly being handled by different operators abroad," says the NIA officer quoted above.
The officers feel the only way to keep a check on ISIS activities in India is to mount round-the-clock technical and human surveillance of suspects. The Indian authorities are in constant touch with their overseas counterparts for technical assistance.
It could be the toughest challenge they have ever faced.
MORE ISIS and INDIA features in the RELATED LINKS below...