A former US air force lieutenant, Robin Chaurasiya moved to India to fight a battle of another kind.
What she has done has put her in the reckoning for a $1 million award. (She has been named among the top 10 finalists)

Archana Masih/Rediff.com met her and the girls whose lives she is changing -- one day at a time.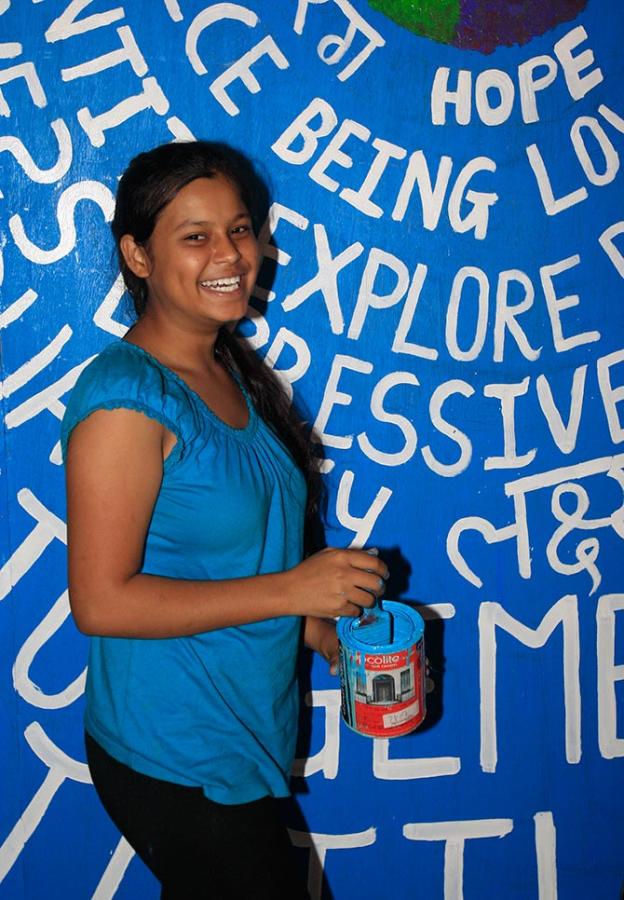 IMAGE: Amreen is deaf and mute. She started going to school only a few months ago. Photographs: Rajesh Karkera/Rediff.com
Amreen walks up and down the room several times carrying empty plastic bottles in a blue basket and returns after filling them with water. Each time our eyes meet, she smiles.
She is deaf and mute. The bright red walls of the room fade under her dazzling smile.
The teenager had never been to school till a few months ago. Nobody ever taught her the sign language used by the hearing and speech impaired. A tutor recently recommended a school suitable for her and soon she will join a boarding school for deaf and mute children in Indore.
"Every weekend there is sign language class so that the rest of us can learn how to communicate with her," says Robin Chaurasiya, a remarkable young woman who moved from America five years ago to work with marginalised girls in Mumbai.
Along with three other women -- Bani Das, Trina Talukdar and Maya Jhaveri -- Robin co-founded Kranti, a home-cum-education-cum-creativity centre where the daughters of sex workers could live, learn and make a go of their lives.
She certainly has done something right because some of the girls have gone on to do interesting courses in the United States and programmes in India. It has also fetched Robin a nomination for the $1 million Global Teacher's Prize.
The award will be announced in Dubai on March 12. She has been invited for the ceremony and is keeping her fingers crossed.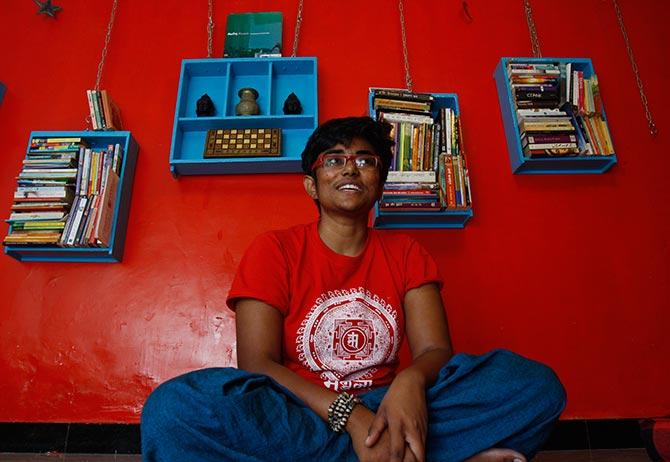 IMAGE: A former communications officer in the US Air Force, Robin, an Indian American, started an NGO for the daughters of sex workers in Mumbai.
"I grew up with a lot of domestic violence in Seattle and nobody talked about in our home," she says, sitting on the floor of the rented house she shares with the girls.
"My mother was schizophrenic -- and I realised I was a lesbian as a teenager. I did not know where to go with the issues I was dealing with when I was growing up, so I can understand what these girls feel," she says.
The house has a quirky funness to it. Shelves stacked with books hang from the ceiling. The walls have been painted with creative messages by the girls.
In the kitchen, one of them, entrusted with cooking lunch for that day, is almost done. Another bunch is putting an untidy cupboard to order, helped by Melissa, former US military personnel and Robin's friend who is spending a few months with the group.
Among them is Shweta Katti, who won a $30,000 scholarship to study at Bard College, New York. Beside her are Shraddha and Kavita, who recently returned from a 6-month English speaking course in San Francisco and a study programme on a ship, 'Semester at Sea', that started in California and ended in London.
The girls chat and giggle as they share their stories.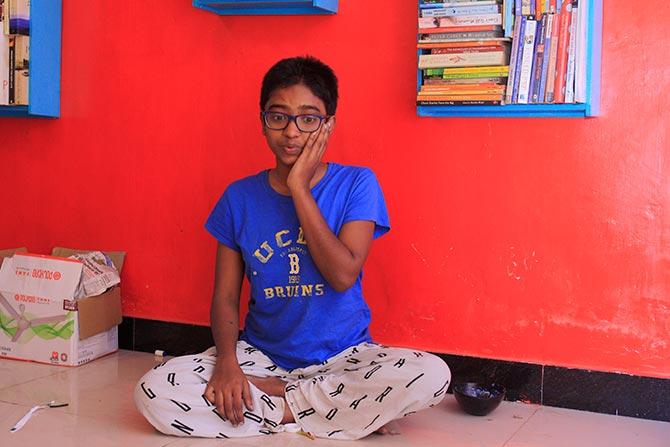 IMAGE: Shweta Katti received a scholarship to Bard University, New York. The experience opened her mind, she says.
Shweta, a confident, well-spoken, young girl, has decided to take some time off and re-apply to another university because it was hard to adjust to academic and campus life in New York.
"I never went to a proper school as a child and I didn't speak good English, though the professors were very kind and I made some very good friends," she says, her voice speckled with traces of an American accent.
"I have learnt so much -- the experience has opened my mind."
Her mother, born into a family of devdasis in Karnataka, has left the past behind and now assists in the day-to-day running of the house. Shweta herself has been helping Robin with Kranti since her return.
Shraddha, meanwhile, is back from San Francisco where she attended an English speaking course, volunteered with an NGO and did street theatre.
She found out about Kranti and contacted Shweta on Facebook. After convincing her mother, she made the journey from Kerala to Mumbai and wants to pursue street theatre as therapy for those suffering from psychological trauma.
The girls recently returned after a field trip to Nepal where they volunteered at a Buddhist monastery and are preparing to travel in India with Lal Batti Express, a play based on the lives of Kamathipura's sex workers.
Last year, they took the play to America.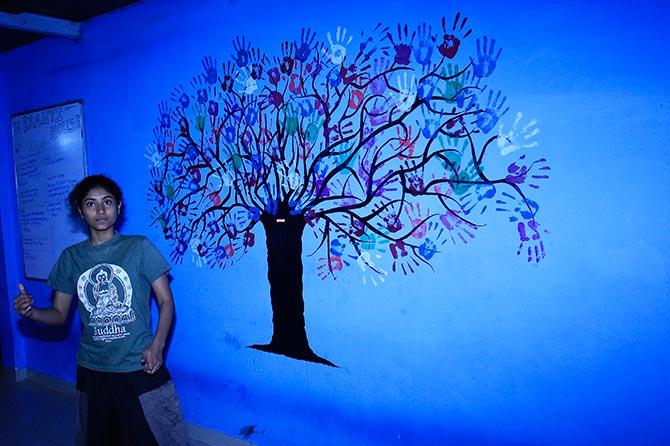 IMAGE: Asmeeta shows us around the house. All the walls have been painted by the girls.
"Learning here is focussed on the 5-Cs," says Robin, "Communication, Community leadership, Critical analysis, Creative thinking and Compassion."
"The girls came from different languages, different skills, different levels of education -- so we created a school system that includes four hours of formal school, one hour of yoga, meditation along with world news, geography, journal writing, logical puzzles and a physical sport."
The girls also attend a two-hour English speaking class and go for field trips once a week.
"The idea is to bring the world of a classroom to you," explains Robin.
When she first came to Mumbai six years ago, she worked with a shelter for sex workers. "It was the 'inki zindagi barbad ho gayi hai' mentality and they were taught how to make achar and do silai. What if one of them wanted to become an astronaut?" says the former US military lieutenant who joined the US Air Force to avail a scholarship to fund a university education.
"I was expelled after two-and-a-half years for violating the 'Don't Ask, Don't Tell' policy in place at that time. For being openly lesbian ('telling') while on active duty," says Robin who had married her partner.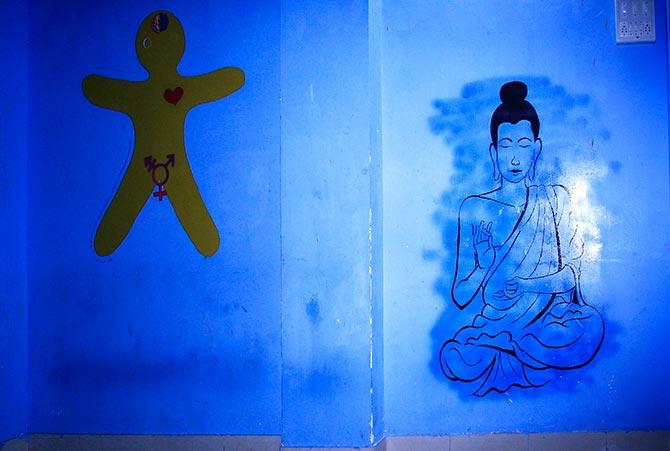 A 'Genderbread man' stands next to a hand-painted Buddha.
A few months later, the law was repealed. The couple, however, separated later and Robin says she is committed to being single all her life.
"I never enjoyed my years in the military. I was a woman of colour, lesbian and vegetarian. The only other Indians I saw were two doctors. Being a vegetarian was most difficult. I remember at one boot camp my physical scores did not improve because I was not having proteins while others around me had beef, chicken, eggs. I hope that's changing now."
She moved to India and has no immediate family left behind in the US. Her father passed away, her sister moved to London and her mother now lives with relatives in Madhya Pradesh.
"Something about America is so sterile. India, on the other hand, does not hide from its reality. There is something systematically better in India like close relationships... laughter..." she says, just as a group of girls return from a yoga class in the neighbourhood.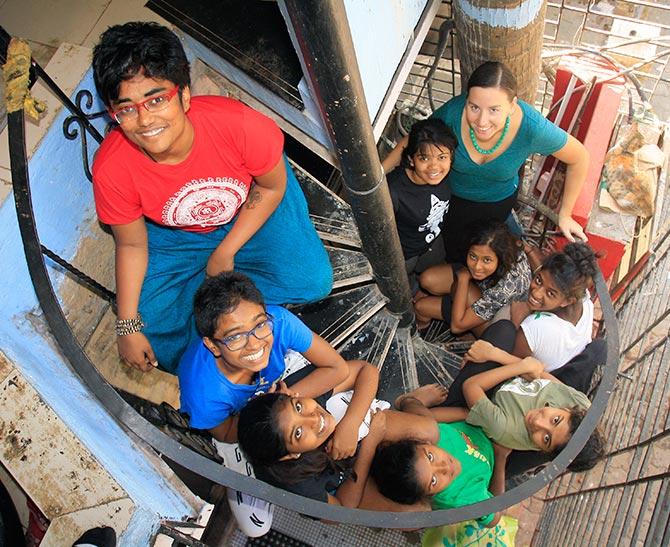 IMAGE: The girls with Robin and Melissa, below, sit on the narrow staircase that joins their three rooms.
They sit on the floor around Robin and tell her about their day. Melissa is about to go for a meeting and discusses the stay of some American students who will arrive shortly for volunteer work in India.
One of the girls sings a song. Her voice fills the room, wrapping the audience in its husky cadence.
The 18 girls in the home come from families broken by the vagaries of sex work. Some of them have been abused, raped and suffered acute emotional damage. Even a 5-minute encounter with sexual abuse can cause life-long emotional destruction.
"It is nice to see them move to better place psychologically. I tell them instead of thinking of your life as a weakness, think of it as a strength and build your lives," says Robin who dreams of starting a school where children study by topics and are grouped by interest rather than age. A curriculum that prepares children to sit for any Class 10 board -- CBSE, ICSE, IB or Open School. She would like to open such a school in Kamathipura one day.
Till then she has her hands full, managing 18 teenagers and 18 cats, inside a house with bright walls that has become a healing sanctuary for its girls.