Families, torn apart by the Malvani hooch tragedy, where 104 people lost their lives, confront a dark and hopeless future.
Rediff.com reports on how the families are coping with their individual tragedies. The first part in a series.
Text: Prasanna D Zore and Reuben NV; Photographs: Reuben NV
The Das family, from left: Meena Das, Ashish Das, his nieces, Ashish's wife and their two children; In the background: Govind Budan Das.
104 deaths; two score still in hospital, recuperating; and as many families devastated.
That story unfolded in a suburb of India's financial capital, Mumbai, from June 18 to June 21 as over one hundred men, most of them day job workers, fell prey to spurious hand-made liquor, laced with lethal methyl alcohol (only this time the liquor consumed was methyl alcohol as forensic tests later revealed), bootlegged, some residents alleged, in active connivance with the local police.
Rathodi, Kharodi and Malavni, three colonies in Malad, a Mumbai suburb, where people, mostly poor and a mix of Hindus, Muslims and Christians, live in slums that are, at places, tinned, cemented, and at places with tarpaulin roofs.
On June 18, Ashok Ramesh Ahire, 39, a Rathodi resident who lived in a cemented house with his mother, a widow, decided not to ply his autorickshaw. It was raining heavily that day. Ahire instead decided -- which he often did -- that he would get drunk on cheap liquor that sold in 100 ml and 200 ml plastic pouches, for Rs 10 and Rs 20 respectively.
He drank some in the morning. He drank some more that evening. Then he began shivering, vomiting and sweating. His mother, in a state of shock and disblief, for never had her son reacted this way after consuming liquor, and neighbours rushed him to the Shatabdi Hospital, a municipal hospital in neighbouring Kandivli.
On June 19, Ahire breathed his last. His body was cremated at 10.30 that night after an autopsy.
Shockingly, this was not a one off tragedy, as residents of the three colonies and health officials at various hospitals in the city would discover that fateful night, June 18, with more than 70 people in serious condition, displaying identical symptoms as Ahire's.
As the death toll mounted, Maharashtra Chief Minister Devendra Fadnavis ordered an inquiry and offered compensation of Rs 100,000 to families of the deceased.
***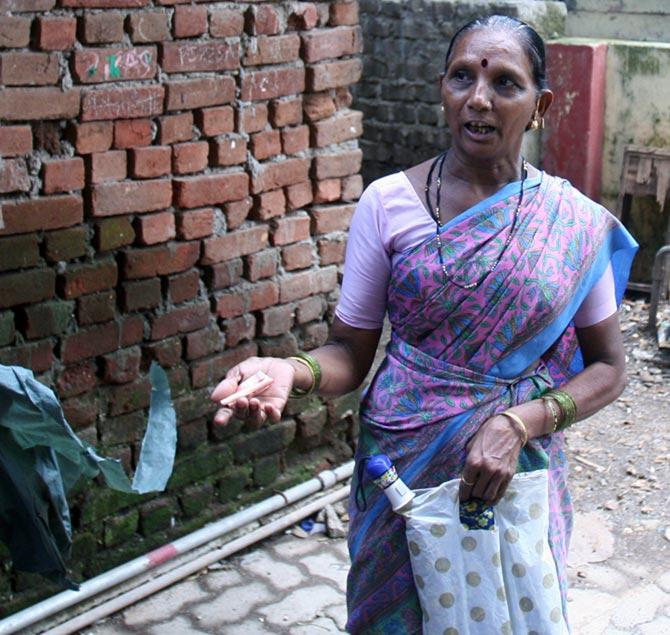 Alka Gangurde who lost her younger brother June 19 after drinking spurious liquor the previous day. A maid servant, she returned to work the next day.
Alka Gangurde, a thinly built woman in her early 40s, stops midway when we ask her to help them with addresses of the deceased of this tragedy.
"I lost my younger brother," she says, without missing a step. A domestic help, on her way to work, already behind schedule, she directs us with a few details and walks off to work. A minute later, she returns with Kamla Singh.
"She will show you my house," she says. "My son will be home. I have to report to work. Else, I will be late," she adds, asking Singh to show us around.
The economics of her "wretched existence" has won over her "emotions," she says, as she walks into a very narrow lane, a prominent feature that dots the more than 3 square kilometre landscape that houses the three slum colonies.
Singh, who has picked her granddaughter from a school, and who now ushers us towards Gangurde's house, tells us that Gangurde is a very hard working woman. "She supported her brother and took care of him till his last breath. He would often drink, beat her and abuse her," Singh says. Gangurde's brother did odd jobs.
"Alka joined duty from June 20, a day after her brother's death and has been a source of inspiration for people like us," Singh adds.
As we walk those narrow bylanes, we discover that Singh's husband too fell victim to the Rs 10 pouch. It soon becomes clear that every fifth person we meet has a tragic tale to tell or knows somebody who witnessed the deathly dance during those four rain-soaked days.
***
The Das family inside their tinned tenement.
Govind Budan Das, 60, a mason, earned Rs 250 to Rs 300 for his labour. That is, on days he had work. On other days, he would hang around with men his age, drink alcohol, and try to forget that he existed.
Married to Meena Das, now 45, 20 years ago, Das, a landless labourer, moved to Mumbai from Kolkata to find work.
In Mumbai, he did odd jobs, until he became a mason four years ago. He died June 19, leaving behind his widow, son Ashish, 20, his wife and their two sons.
"He had been drinking all evening with his friends after coming home from work," Das's wife recalls about the evening of June 18 in her dinghy home that has tin sheets as its walls and roof.
"When he came home, as was his habit after drinking, he did not eat and slept. When he woke up, sometime after 10 pm," says Meena, "he said his eyes were burning and chest was aflame."
"Soon his eyes became red, eyeballs turned white; he couldn't breathe and kept vomiting." The family shifted Das to the Shatabdi Hospital around 4 am. By 7 pm the next day, Das was dead.
"Machli jaise tadap rahe the (he was writhing like a fish out of water)," says Ashish, his son, who along with his family on June 30, a day before we visited his home, had performed the 13th day ritual, as per Hindu custom.
The family, says Meena, borrowed Rs 20,000 from her employers, to perform the religious rites that follow the death of a person in the family.
Ashish says the family will repay the debt from the compensation they received from the state government.
But Meena, whose name the cheque bears, does not have a bank account. "My husband did not have a voter ID card or Aadhar card or a ration card here or in Kolkata. The bank wants proof of residence or any other ID card which we don't have. The bank officials are helping us. They asked us to visit them next week to open the bank account," she says.
The money left after repaying the debt, says Meena, would be spent on the family's monthly expenditure that includes Rs 1,400 on rent, Rs 1,000 on electricity bills, and so forth.
Ashish repairs mobiles and earns Rs 6,000 a month. Meena, a domestic help, adds another Rs 6,000 every month to the family income. The amount the family collectively earns every month does not help them meet ends, adds Ashish.
"We may be poor, but we have always kept our promises," Meena says, assuring strangers like us that even in this time of hopelessness they will not renege on repaying their debt.
Next in the series: