With a passion for fighter planes since growing up as a boy in the North West Frontier Province in pre-Partition India, Wing Commander Jagdish Chandra Sabrehwal flew nearly all the fighter aircraft in the Indian Air Force till he retired.
A veteran of the 1965 War, he is frail today, but his eyes light up thinking about those good old days. A special feature to mark Air Force Day, October 8.
IMAGE: Born in the North West Frontier Province, his love for flying began because his home was located near an air base in Kohat.
I was born in Jhelum, Pakistan. My family came to India in 1947. After serving in the Indian Air Force for 22 years, I took premature retirement. I worked as a chief flying instructor in Zambia for 8 years, but my best flying days were in the IAF.
I loved flying. I was very fond of flying even before I joined the air force. My father was in the Railways and was posted in Kohat in the North West Frontier Province. Close to our bungalow was the air force base. I used to see aircraft do bombing drills.
I still remember those good days in the NWFP. Our bungalow and its trees. I had Pathan friends and we used to have a meal together. I remember they used to make big rotis.
I went to school in Jhelum. One day I saw an advertisement in the paper about a flying school in Kanpur. My uncle lived there, so I joined the flying club and stayed with him. I learnt to fly there.
After flying just two sorties, I was sent solo. I started my career in a Tiger Moth. I trained people to fly in an apprentice aircraft. There somebody told me why are you wasting time at the flying club, why don't you join the Indian Air Force instead. So I did.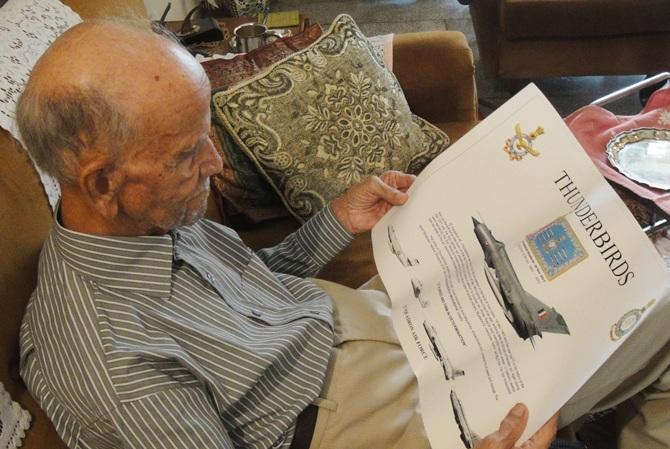 IMAGE: Wing Commander J C Sabrehwal (retd) looks at a commemorative poster of the 32 Squadron that he was a part of.
When the 1965 War broke out, I was a flight instructor in Bamrauli, Allahabad, and was told that I had to leave for Halwara.
I was a squadron leader at that time. We fighter pilots were ready all the time to face any eventuality. In the likelihood of attack from Pakistan, we had to take off in our loaded aircraft. Our morale was very high.
I flew every day of the 1965 War. I was in the Kasur sector where an aircraft had been shot down.
On one of my missions I was fired from atop a building. Luckily, I didn't get hit and turned away, went behind house, came again and fired at them. We did not know till then that the Pakistanis had installed anti aircraft guns on top of houses.
I also saw Air Chief Arjan Singh a couple of times during the war. He used to come to the station. He spoke to us like we were friends.
Flying has always been my passion.
I was injured before the 1971 War because my aircraft was defective. I was flying at a low altitude and had to bail out.
After that the Russians came to examine that Sukhoi because it was damaged and there was a court of inquiry. It turned out that it was the due to a fault in the aircraft. I had damaged my spine and my legs in the bailout. The Russians told me I was tough like a Russian soldier!
When I bailed out a funny thing happened. This was in Bhatinda and people came to hit me because they thought I was Pakistani!
'Tum Pakistani ho. Hum tumhara jhatka kar denge,' they said. I said, 'Wait, a helicopter will come soon to rescue me and you will know I am Indian.'
When the helicopter came and I was saluted, it was only then that they realised I was Indian.
I have flown almost all fighters in the IAF till the time I served. I have also flown helicopters and small aircraft like the Dornier. My favourite is the Hunter that I flew in the 1965 War.
I have flown the Mystere, Gnat, Sukhoi, Hunter, Spitfire, Howard, Vampire, Dornier and Mi-4 helicopter.
I still miss those days as an air force pilot.
IMAGE: Wing Commander J C Sabrehwal VSM is 88 years old. He has over 4,000 hours of flying and received a letter cf commendation from then Air Chief Arjan Singh for saving his aircraft despite being injured after a bird hit. He served the IAF for 22 years.
He spoke to Archana Masih/Rediff.com
OUR SPECIAL SERIES: THE 1965 WAR, 50 YEARS LATER