'Where was cement 100 years ago?'
'Why do we need harmful building materials when we have so much in nature around us?' Geeli Mitti founder Shagun Singh tells Samali Basu Guha.
Illustration: Dominic Xavier/Rediff.com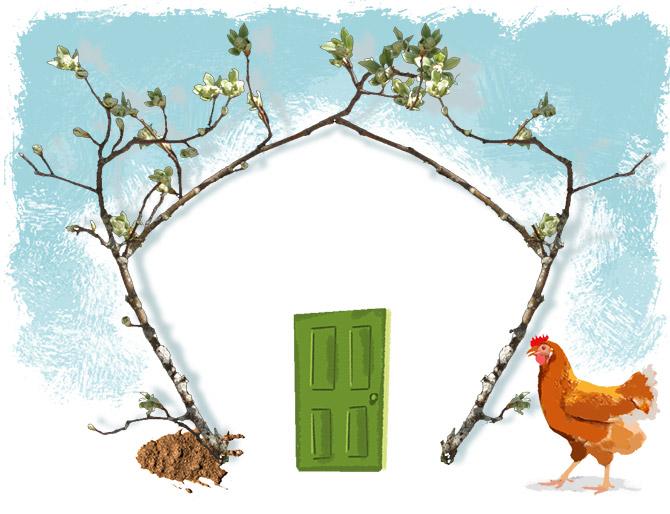 A house built without bricks and cement? And with mud? Seems like fiction?
One has to visit Vasant Kunj's Sindhi Basti or slum to witness it!
It is the very first Earthbag technique based mud school in Delhi built by Geeli Mitti, run by Shagun Singh.
Earthbag buildings are bags filled with earthen materials, stacked to make a building. The system was invented by Iranian-American architect Nader Khalili in the 1960s, as a sustainable and low-cost housing solution.
Geeli Mitti has two parts -- Geeli Mitti Farms and the Geeli Mitti Foundation.
Founded in 2015, Geeli Mitti Farms was meant to be a place where people go back to their roots and reconnect with themselves and with nature.
Singh is currently developing a Permaculture Farm and a learning centre specialising in natural housing techniques set in a remote village near Pangot, 14 km from Nainital.
Permaculture stands for permanent agriculture or permanent culture and promotes sustainable living through advanced design using learnings from nature.
Greed blinds us and sometimes misdirected science and technology can cause permanent damage.
Such is the case with housing, across the rural and urban environment, according to Singh.
There is a huge gap for housing that is economical and environment-friendly, uses locally available materials and is energy efficient.
As Singh puts it: "It is designing houses mimicking the principles of nature. Besides natural building materials, our houses incorporate water management, recycling, sewage treatment and waste management. The focus is on durability and the use of minimally processed renewable resources."
Traditionally, villagers have only known about kachcha mud houses or cement rooms. The denominator of success and money has now become equal to building cement houses.
One of the main criterion for giving away daughters in marriages is whether or not the family has a cement house.
"Where was cement 100 years ago? Why do we need harmful building materials when we have so much in nature around us? Also, government schemes like the Indira Awas Yojana mainly caters to cement houses, causing more harm than good," says Singh.
"There is nothing wrong in using cement as a building material when truly needed in limited quantities, but too much of anything is harmful," adds Singh.
"Mud houses are for all seasons and areas. They are economical and more energy efficient," she adds.
Singh has had a successful corporate career with multinationals before deciding to promote sustainable living.
One of the key concepts Singh focuses on is to get over the myth that you need to be a trained architect or engineer to build your own house or that it is difficult to live sustainably.
Geeli Mitti conducts workshops and sessions, ranging from 2 days to 45 days to train people.
"Foreigners, Indians and the local villagers come together with each workshop to help build houses," she says adding, "People have gone back motivated and recharged and created beautiful structures for themselves."
So how does the concept work?
The foundation is dug. It is then filled with stones and rock, which, unlike cement, helps in draining out water.
A wall is then set up using different natural building techniques that Singh teaches.
She also uses bags collected from old construction sites or junkyards along with bottles, cans, cardboard, tires...a solid structure is built using techniques such as Earthbags, Cob, Earthship, Stone formwork, Rammed earth, Adobe, Wattle and Daub...Natural structures that use the sun, wind and rain for creating energy efficient premises.
At remote locations, especially in the hills, Singh wants to build these houses and convert some of them into homestays.
"It will help the villagers in livelihood and encourage cultural preservation with sustainable eco-tourism."
Under the Geeli Mitti Foundation, with her partner, Osho Kalia, Singh also teaches self-defence to girls, mainly in government schools.