As pollution reaching alarming levels in Delhi, Veer Arjun Singh guides you how to protect yourself.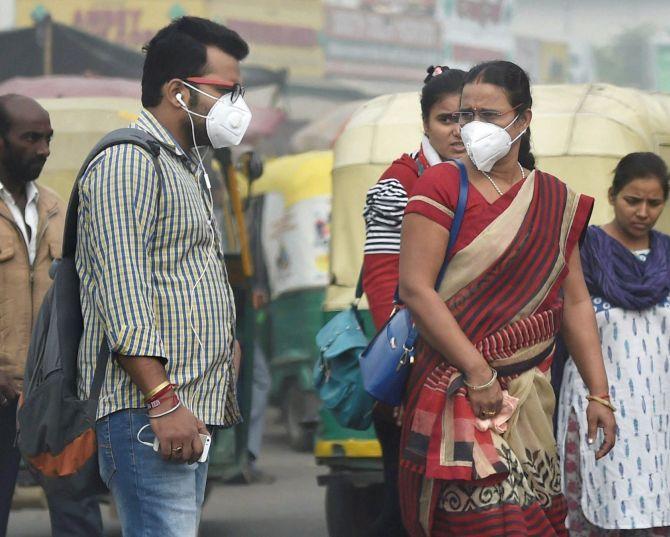 IMAGE: People wear pollution masks on a smoggy day in Delhi. Photograph: Manvender Vashist/PTI Photo
The Delhi government recently volunteered to pay for helicopters that will sprinkle water over the city to settle the dust and reduce the level of pollutants (particulate matter, or PM) in the air. But environmentalists and air quality experts have junked the idea.
At the time of writing this article, the maximum PM 2.5 and PM 10 levels in Delhi were above 350 and 450 -- the safe limits are 60 and 100 respectively.
At present, Delhi air is categorised at very poor to severe levels. Asthmatics have been advised to keep their relief medicine handy.
It is clear that framing a sound action plan will necessitate a lot of time, deliberation and political will.
But there are a few things that you can do to screen the air at an individual level. It will require altering your lifestyle, and you must.
Clean the air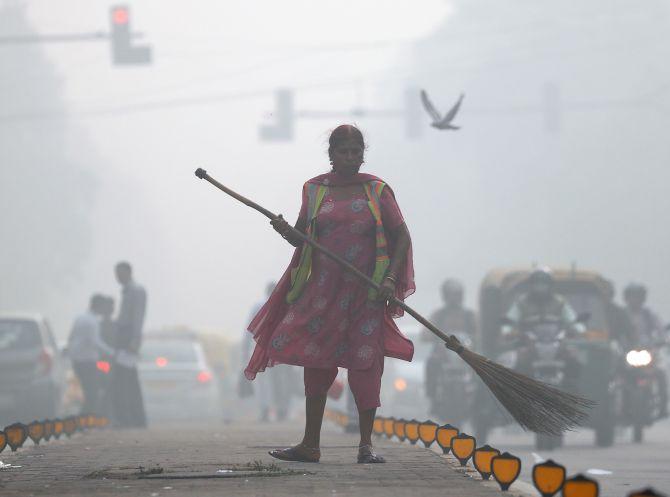 IMAGE: A street cleaner works in heavy smog in Delhi. Photograph: Cathal McNaughton/Reuters
Do air purifiers work? If yes, then how?
That's a vital questions one must ask before adopting any technology.
Yes, air purifiers are capable of minimising the pollutants and filtering the air in a closed environment to bring it to safe levels as recommended by the World Health Organisation. But the usage comes with a disclaimer.
Three layers of filtration make for a generic air purifier -- a pre-filter, a HEPA filter (high-efficiency particulate absorber) and a carbon filter.
The better the quality of these filters, the superior is the final product, and subsequently, more expensive.
This is called passive filtration. But here's the catch.
When you go to buy an air purifier, jargons such as negative ionisation and photocatylic oxidiser, et cetera are thrown at you to make you believe you are spending the extra buck to catch up with the latest technology.
Barun Aggarwal, CEO of BreatheEasy Labs, warns against over sanitisation and marketing gimmicks.
The newer technology steps into realm of active filtration which, Aggarwal says, alters the molecular structure of the particulate matter.
He argues that the chemical change has by-products such as formaldehyde and the process is prone to side effects.
Jai Dhar Gupta, an air quality expert and CEO of Nirvana Being, seconds that one must steer clear of products with active filtration. Some brand recommendations for air purifiers are IQAir, Sharp and Airgle.
All air purifiers require yearly evaluation and the digital panels atop the machines that give current PM levels are inaccurate and a marketing gimmick, says Aggarwal.
It is a myth that plants clean the air.
Yes, plants absorb carbon dioxide and replace it with oxygen, but they are ineffective in countering the particulate matter.
"It requires eight plants per person to reach the optimum levels of oxygen," says Gupta.
Nonetheless, good plants to keep indoors are money plant, sansevieria and the sun-loving aloe vera by the window.
Masks on
IMAGE: A man, wearing an anti-pollution mask, jogs throgh the smog at Lodhi Garden, New Delhi. Photograph: Kamal Kishore/PTI Photo
Step out and you are exposed to PM 2.5 and PM 10, carbon monoxide and other harmful greenhouse gasses at their worst.
The stagnant air that settles closer to the earth surface in winters is dense with particulate matter and the decreasing wind speed worsens the situation. Therefore, winters are more polluted.
What should you do when you don't have the luxury of a closed environment that you can control?
Pollution masks have become an absolute necessity.
"As we speak, the Indian Medical Association is drafting an emergency advisory recommending limiting outdoor activity and wearing pollution masks at all times," says Gupta.
About the quality, he says that any mask without a minimum N95 filter -- which filters PM 2.5 at 95 per cent down to 0.3 microns -- is a piece of cloth.
In addition, an ideal mask, he says, must have a carbon filter and an exhaust valve.
"While buying a mask, one has to ensure that it fits perfectly on the face. A slight gap and the mask is a waste. But it also has to be comfortable for a person to be able to wear for long durations," Gupta said.
He also insists that the air quality in Delhi and cities in the Indo-gigantic plain is so bad that one should opt for a N99 filter pollution mask -- which filters PM 2.5 at 99 per cent down to 0.3 microns -- to be safe.
Diet overhaul
It starts with breakfast.
Shikha Sharma, nutritionist and founder of NutriHealth stuns with her first recommendation -- stop eating bread in this season.
She says that breads with preservatives, coupled with the pollution levels, can worsen allergies and flare up ailments such as sinusitis.
Next, drinking more water is always a good idea, but Sharma says it is vital in winters to rinse the body of toxins.
To control the indoor air, she says avoid chemical freshener and cleaners and switch to natural ones.
The filters have a life cycle and must be replaced over time.
Acamphor tackles fungal growth and aroma therapy with eucalyptus oil brings the freshness.
Sharma stresses on loading on jaggery and vitamin C with amla and citric fruits for strengthening immunity.
"In earlier times, workers in coal mines were given jaggery every day. It can filter out toxins," says Sharma.
Health guru Micky Mehta says smog makes our body more acidic and recommends alkaline fruits such as pomegranate, musk melon and antelope in the morning, and flushing the toxins with coconut water and herbal tea.
Exercising in smog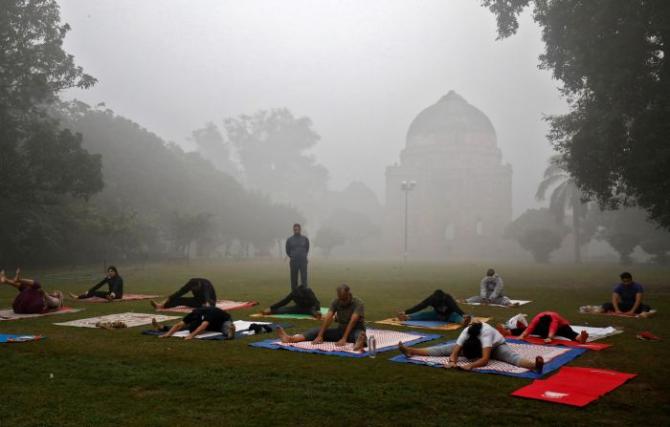 IMAGE: People exercise in a park on a smoggy morning in New Delhi. Photograph: Saumya Khandelwal/Reuters
PM 2.5 is a killer. The more air you breathe, the more you risk your lungs.
Mehta recommends that while your movement should be constant, it should not be intense.
"You breathe deeper during intense workouts, and that's not good," he says. "It's important to breathe out strong, but breathe according to your natural capacity."
He says it helps get the body rid of free radicals and carbon, and improve immunity.
Apart from blowing out air, Mehta recommends soft bouncing exercises to improve the functioning of the lymphatic node drainage system. It also helps vitalise a sluggish nervous system.
Further, he recommends a half Surya Namaskar -- which basically means getting into a mountain position, then serpentine and back to mountain position -- performed very slowly with controlled breathing.
Doctor speak
Dr Rajesh Chawla, senior consultant, pulmonology at the Apollo Hospital in Delhi, says the best way to protect your lungs is to limit outdoor activity, especially for children.
It is impractical, yes, but that's how bad the pollution is.
If you ought to go out, wear a pollution mask, he says, wear spectacles to protect your eyes and watch your face and cleanse your throat when you come back.
Pollution, Dr Chawla says, can cause sinusitis, bronchospasm, aggravate respiratory ailments and fatigue due to excess carbon intake.
Breathlessness and excessive cough that does not respond to over-the-counter medication, he says, are symptoms that must be evaluated by a doctor.