'Nobody in our team had any idea that these things will come out.'
'We need to do a social audit of all the shelter homes across the country.'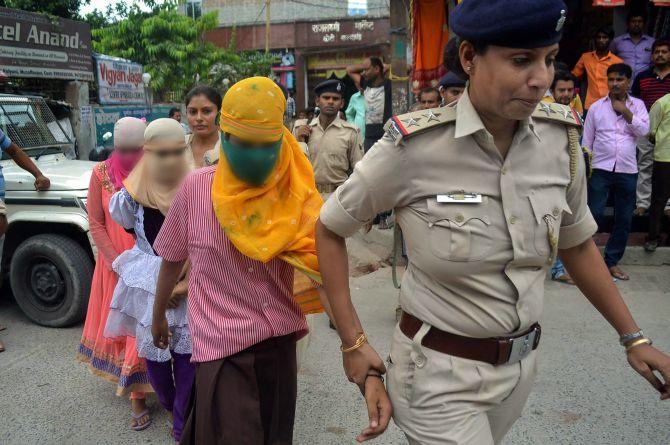 In July 2017, Mumbai's Tata Institute of Social Sciences was approached by the Bihar government to conduct a social audit of 110 government-run or aided institutions in the state that house a range of people, such as old-age homes, children homes, adoption centres and rehabilitation centres for beggars.
When a seven-member TISS team led by Mohammed Tarique visited the Muzaffarpur shelter home, they had little idea that they would expose a sordid tale of sexual abuse of the scale which has now surfaced.
Tarique submitted his report to Bihar's social welfare ministry in May 2018, which launched an investigation which revealed that 34 out of 42 girls in the Muzaffarpur shelter home had been sexually exploited.
Ten people, including shelter home owner Brajesh Thakur, have been arrested since the case came to light. Of the 10, seven are women.
Dilip Kumar Verma -- former chairman of the district child welfare committee, Muzaffarpur and the 11th accused in the case -- is absconding.
Tarique spoke to Rediff.com's Syed Firdaus Ashraf about how his team blew the lid off one of the most horrific sexual abuse cases in the country.
******
Everybody has a natural instinct, where they come to know when they can trust people.
And children too have that.
Children know that if somebody is visiting them, then how they should present themselves to outsiders.
So it is important that you yourself must know how to carry yourself in front of them.
And at the Muzaffarpur shelter home, we were going in for only a day.
If you are going to a shelter home and showing a great rapport and easy conversation with shelter home authorities, the children are observing.
Children see that and realise that we as outsiders have not come for them, but to meet the authorities.
At the same time, if we do unreal things and promise them the moon, they understand we are lying.
Lots of people do not have hopes of anything good happening. So, it is important for them to know that things can change for them.
We told the children that we had come for them and the social welfare ministry of the Bihar government wanted them to be safe.
We told them if they had any concern they could tell us anything and we would solve their problems.
This is how we won the confidence of the children, and only after that they believed us and felt that we had come for them.
Children said small, small things and observed how we reacted to it.
For example, when a girl child told us that one guard beat her up, we did not confront the guard immediately.
We did not call him and pull him up.
We did that because if we do such things it would be more harmful to the girl because once you leave the shelter home after a couple of hours, that guard will not spare the child.
So it was all about winning the confidence of the children.
And once we won the confidence of the children they started opening up and it was only after that we realised that something is really going wrong in the Muzaffarpur shelter home.
We had not gone to investigate the crime, but to support the organisation.
The objective of our visit was three-fold.
a. We had to speak to the organisation head and ask him about what help he needed from the government.
b. We had to speak to the staff of the shelter home and find out about their problems -- like whether they needed training or whether they needed any specific help from the government.
c. We had to speak to the children to know their problems and make it very clear that no staff must enter the room when we were talking to them.
Of course, the staff tried to enter the room when we were speaking to children, like with a request whether they could serve tea or snacks.
But I had laid strict guidelines that they must not intervene when we speak to the children.
Now, when I look back, I cannot believe that the problem was this huge and the crime was going on on such a large scale.
Nobody in our team had any idea that these things will come out.
It was only after some children shared their stories with us, that we came to know about it.
We felt that this needed to be investigated.
We were not sure whether we were right, but we had no right to investigate further, and at the same time we could not ignore it too.
So we highlighted these happenings in the shelter home by sending our report to the state government.
In our report, we said this issue needed to be investigated by the appropriate authorities.
After our report, the social welfare department filed a case in this matter and launched a police investigation.
I won't go into details as to what the children told us as the report is not in the public domain and it is part of the investigation. I do not want to hinder that process.
But what is more shocking to me is that in India we do not have any mechanism where social audits can be done of shelter homes.
We are only talking of Muzaffarpur, Bihar, but there can be so many shelter homes where audits do not happen.
The special audit which we did is not a mandatory process.
But now, I feel, after this incident, the social audit process must be made mandatory for all shelter homes across India.
I am sure that not a single state can tell us, please visit our shelter home as we are clean.
I am not saying that this kind of activities must be happening on a large scale, but we need to do a social audit of all the shelter homes across the country.
All states must take a lesson from the Muzaffarpur incident and make social audit compulsory.
They must check their own shelter homes and make safe homes for their children.
This is the least they can do to make life safe for their children.
At present monitoring by the government does happen, but it is more on financial aspects.
The other inspection the government does is that they see whether the staff is reporting on time or not in the shelter homes.
They also check if shelter homes have are conformed to the bye-laws of how they should be run.
The only thing missing from the inspection is, what is happening to the children who are staying in those shelter homes. How are they doing?
Therefore, I strongly feel that a law must be passed in Parliament to make it compulsory that social audit must be done in shelter homes from time to time.
If that had happened, the Muzaffarpur scandal would not have happened.