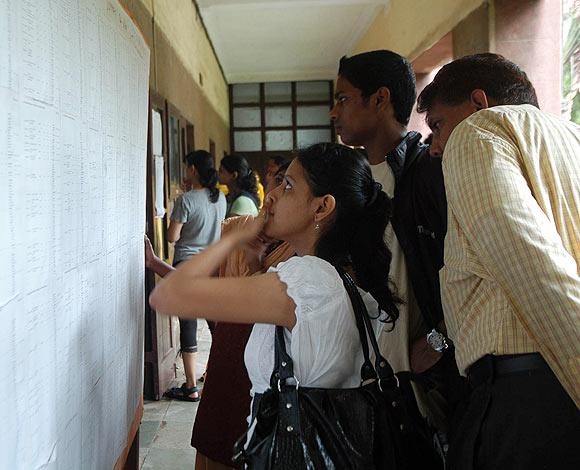 All of V R College's 1,007 students secured a first class in the Class 12 exam! 222 of them got identical marks!
M I Khan reports from Patna on the stark reality of Bihar's education system.
Rubi Rai and Saurabh Sresth, who topped the Bihar Board Class 12 exams in science and arts respectively but failed to answer basic questions about their subjects on camera, have exposed the stark reality of Bihar's education system.
Rubi and Saurabh were students at the Vishnu Rai College in Bihar's Vaishali district.
Rubi's father Avadesh Rai, a retired armyman, was surprised his daughter topped the exam. "We never expected her to be a topper," he said. "She got a second division in the Class 10 exams."
The Vishnu Rai College, known locally as the V R College, has a 100 per cent result in the Class 12 exams every year. Students from neighbouring districts, mostly from rural areas and from lower middle class backgrounds, seek admission to the college.
V R College is managed by Baccha Rai, a Rashtriya Janata Dal leader who is said to be close to RJD chief Lalu Prasad Yadav.
According to Bihar School Examination Board officials, all of V R College's 1,007 students secured a first class in the Class 12 exam! 222 of them got identical marks!
"Last year, the BSEB was forced to review the results of the college following an uproar after around 200 Class 12 science students wrote identical answers. It was alleged that the students were provided with photocopies of solutions to the question paper.
No action was taken against the college after the inquiry committee reported that there were no irregularities, a BSEB official said.
Former BSEB chairman A K P Yadav said the results of V R College students were stayed five to six years ago after questions were raised in the Bihar assembly over its students' high scores. The Board then deducted 10 per cent marks of all V R College students.
After this year's controversy, Bihar Education Minister Ashok Choudhary admitted to the presence of an 'education mafia' in the state.
Last year, 459 of 463 students of the SNNR College in Begusarai district and 582 of 601 students of the BRS Mahila College in Samastipur district got a first class. All 127 students of the Iraki Girls Intermediate School in Nawada district and 63 students of the St Teresa Balika High School in Bettiah district scored a first class.
"Unaided private colleges mushrooming across the state are experts in ensuring high scores for their students," a BSEB official said.
Many times, the same college produces state toppers in all subjects.
Most of the private colleges are managed by powerful leaders from different political parties.
Former minister and strongman RJD MLA Surender Yadav owns two colleges in Gaya district. Another former RJD MLA Mahesh Singh Yadav runs an unaided private college in Gaya.
"Several BJP (Bharatiya Janata Party), JD-U (Janata Dal-United), RJD, Congress and LJP (Lok Janshakti Party) leaders own unaided private colleges in the state," the BSEB official said.
The numbers of students with high scores from these colleges saw a steep hike after 2008 when the Bihar government linked students' performance to funding. It was a part of the government's decision to provide incentives to unaided schools and colleges, but the scheme was misused.
Under the government's policy, an unaided private college gets Rs 4,000 annually for every candidate securing a first class, Rs 3,500 for every second class result and Rs 3,000 for third class results.
"This," a BSEB official said, "has become an easy source of income for these colleges as they produce high-scoring students by ensuring mass cheating and providing impersonators for weak candidates."
Last year, photographs and videos of mass cheating in Bihar board exams went viral all over the world. This year, cheating during exams in the state was said to be under control.

"Strict measures against cheating, like installation of CCTV cameras and prohibitory orders during the board exams conducted in February, resulted in a corresponding fall in the pass percentage," a BSEB official said.
The controversy over the merit of this year's toppers indicates that there are still loopholes which the education mafia exploits.
Image published only for representational purposes.