'We like to tell the rest of the world that we did it better, that we were stronger, that we had larger cities, that we taught them science,' Naman Ahuja tells Anjali Puri.
'This exhibition is an antidote to insularity -- it is saying we have learnt as much from the world as we have given it.'
Illustration: Dominic Xavier/Rediff.com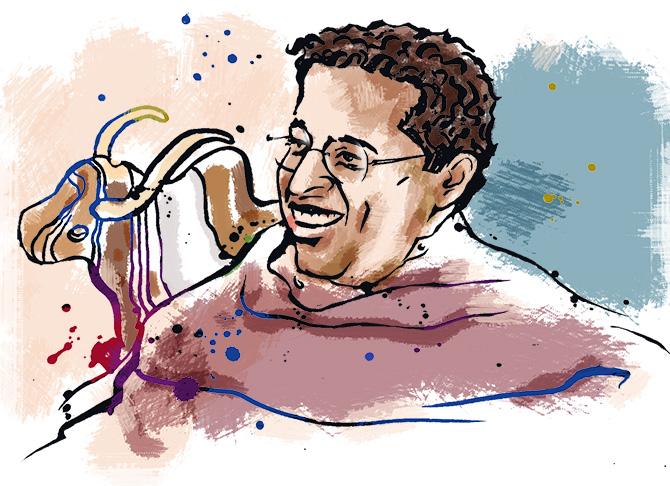 It is less than two inches high, and if you walk too quickly through the India and the World exhibition that opened at the National Museum in Delhi -- after having been seen by 200,000 people in Mumbai -- you might just miss this agate bull with golden horns.
But not if you have heard the exhibition's co-curator, 43-year-old Naman Ahuja, talk about this object, which he discovered in a steel cupboard in a basement office of the Haryana archaelogy department, among other recent finds from Harappan sites.
"Think about it," he says, "in 1800 BC somebody in Haryana used stone brought from a thousand kilometres away in Aurangabad and a design from Egypt, Iran or Turkey, to create this jewel of a bull."
"We live with so many anxieties about cultural borrowings, about losing our identity," he adds, in that fluid way he has of making ancient objects speak to us of our own preoccupations, "and yet in age after age, human beings have absorbed ideas from the rest of the world."
That leaves me feeling slightly embarrassed for having glanced sceptically around the trendy Cafe Dori and thought it was trying too hard to look like a converted warehouse in New York.
Both Ahuja and I are first-time visitors to the café, a short drive away from down-at-heel (but gentrifying) Lado Sarai, where he has a studio, a stylishly shabby place where even a stack of plastic buckets looks like an installation.
This is where Ahuja makes "modest, utilitarian ware" on a potter's wheel, researches and writes copiously and grades assignments from students at Jawaharalal Nehru University, where he is a professor at the School of Art and Aesthetics.
In the hyperbolic way that creative people sometimes talk about their lives, he said, pouring me green tea out of a red teapot during a pre-lunch chat, "I find myself in that dizzying space of having taken on more than I can chew... it's almost become a sickness."
Immediately after that he took me on a playful tour of the place, gleefully describing two garish heads on pedestals as "murder victims whose heads came back as trophies".
They belonged, he explained, to a couple of deities made by traditional potters for his Body in Indian Art and Thought exhibition in 2013 that had, for hilariously complicated reasons, to be dismembered after a showing in Brussels.
That exhibition made Ahuj's reputation as a curator.
He used over 300 objects to explore approaches to the human body over 4,000 years, making connections across art forms, epochs and religions.
Critical acclaim apart, it was visited by 75,000 people at the National Museum. A big high, he says, was watching people read Hindi labels he had tried to make less high-flown.
"I felt it actually was possible to reach a wider audience."
India and the World, which grew out of a conversation between the British Museum and the Chhatrapati Shivaji Maharaj Vastu Sangrahalaya in Mumbai, harnesses the power of objects -- from the British Museum's world collection and Indian collections -- to get Indians to think about their past in a global context.
The visitor is able, for example, to compare Roman inscriptions with Ashokan edicts, and Chinese Ming scrolls with Mughal paintings.
Ahuja was hired to curate the Indian part and worked for two years with his counterpart at the British Museum, Jeremy Hill, to build a story through panoramic themes -- the earliest cities, empires, trade, royalty, religion, colonisation, freedom.
"We like to tell the rest of the world that we did it better, that we were stronger, that we had larger cities, that we taught them science," he says incisively. "This exhibition is an antidote to insularity -- it is saying we have learnt as much from the world as we have given it."
"You really need to see Naman work a gallery full of objects," a friend of his told me. But it proves hard to drag Ahuja, flying off to lecture at a London college, to the National Museum.
And it seems almost unneccesary when he conjures up his selection -- from classical antiquities to digital art -- at our lunch-table.
A demanding conversationalist despite his easygoing I'll-take-any-question-manner, he pushes me to rethink India and the World.
"It is as much about engaging with difference," he says, and actually breaks into a comic skit to show why the so-called dancing girl of Mohenjo Daro and a Sumerian woman, displayed side by side, are "not same to same".
About the only time Ahuja seems at a loss is when he asks, after cursorily scanning the menu, "What are you eating?"
He opts for my beetroot salad, which turns out to be very pretty and even tastes good, but prefers a pizza-like 'flatbread' for his main course over my allegedly Polish dumplings.
When I ask Ahuja if he reads for pleasure, he complains that almost everything reminds him of "work", which sounds plausible when you hear him describing a mid-19th century photograph as "an early example of fake news".
His big escape is detective fiction and, disarmingly, middle-brow Agatha Christie over fashionable Scandinavian crime writers.
He seems quite the sleuth himself, a Poirot if you like, without the moustaches, digging out pieces of "staggering, staggering quality" from provincial museums and dusty godowns.
"I've been roaming the country for years now with my camera and kit-bag," he explains, "and I have a huge photographic archive."
He begins telling me a story about a stone fragment his assistant and he noticed lying near the Qutub Minar, not far from where we are lunching.
"We got an appointment with the ASI (Archaelogical Survey of India), went back into the brambles, and got it hosed down."
I almost spill my coffee when I hear the punchline: This fragment, with its beautiful Persian inscription, now sits behind glass at the National Museum, part of the exhibition.
He is outraged at the neglect and lethargy around him yet thrilled to be working in India where ancient objects are still being dug up and there are great discoveries to be made.
"It's like being Alice going down the rabbit hole everyday," he says. "In most places, the fact finding is done. You dip into catalogues and pull a show together, saying, 'I'll have that Rembrandt and that Van Gogh."
Ahuja declines dessert, but is easily persuaded to change his mind.
Our petrified waiter, clearly out of place amid the café's artsy crowd, struggles to explain why the kitchen won't divide up our apple pie and serve it in two plates. "Don't worry, just bring me a knife," says Ahuja, with the air of a man cutting through brambles.
"I deal with this in the classroom everyday," he says, explaining that many of his students at JNU (whose model of inclusiveness he defends passionately) are not "babalog.".
"Can you imagine what it's like for them viewing paintings for their assignments at art events at posh hotels where champagne cocktails are served? You have to make them feel they have a right to be there and not come out in tears."
Do they drink the champagne cocktails? "I certainly hope so," Ahuja says with a big grin, loving the question.