On the eleventh anniversary of her father's martyrdom during the 26/11 terror attacks, Jui Karkare Navare remembers her father, Maharashtra ATS Chief Hemant Karkare.
Text: Savera R Someshwar/Rediff.com
Videos: Afsar Dayatar/Rediff.com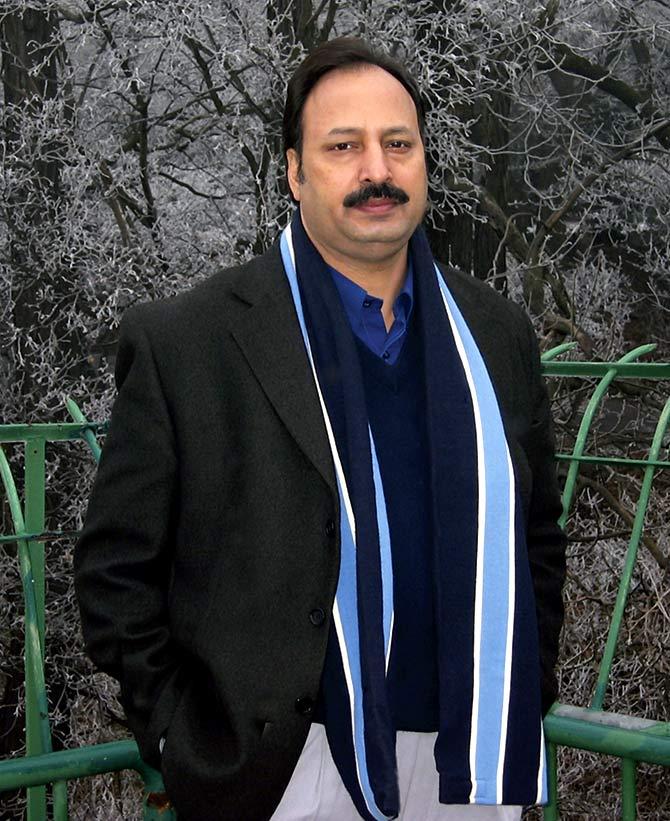 Birthday parties.
A father's pride.
A Swarovski pendant in the shape of a lock and key.
Letters.
Photographs.
Books.
Two words, 'Papa gele' (Papa has gone).
A soulful of precious memories.
And a nightmare that may fade, but will never go away.
For the Karkare family, it began on a night that Mumbai will never forget.
26.11.2008
At 9.45 pm, Hemant Karkare, the head of Mumbai's anti-terrorism squad, was having a peaceful dinner at his home in Dadar, central Mumbai, when he received an urgent phone call.
Bullets had been fired at Mumbai's arterial station, Chhatrapati Shivaji Terminus, in south Mumbai; a terrorist attack was suspected.
The Mumbai police and the ATS were fighting back.
He raced to the venue, the radio in his vehicle, which included his driver and bodyguards, rapidly spewing information. At CST, Karkare found platform no 1 deserted.
He was told the terrorists had fortified themselves at the nearby Cama and Albless Hospital for women and children. Bullets had been fired there as well; senior police officer Sadanand Date, was injured and had called for back-up.
Karkare, who was now wearing a bullet-proof jacket and helmet, had been joined by encounter specialist Vijay Salaskar and additional commissioner of police Ashok Kamte.
Along with four constables, the trio responded to Date's call and headed to Cama in a Toyota Qualis.
They were just a few minutes away from the hospital, says the sole survivor of the encounter, Constable Arun Jadhav, when two terrorists, wielding AK-47 automatic rifles and sprayed the vehicle with deadly hail of bullets.
In Boston, Hemant Karkare's eldest daughter, Jui Karkare Navare, was preparing for Thanksgiving weekend. It was to be a family gathering.
Jui and her husband Devdutta's cousin were exploring the USS Constitution, oblivious of the dark events grimly unfolding in Mumbai.
As they waited for the ferry to take them back to Boston Harbour, Jui's phone rang. It was her younger sister from Germany.
Sayali had heard television reports that their father was heading to fight the terrorists.
The Karkare family -- his wife, Kavita, Jui, Sayali and son Akash -- held onto each other through conference calls, desperately trying to make sense of what was happening, even more desperately hoping he would be safe.
In her book, Hemant Karkare: A Daughter's Memoir (published by The Write Place) Jui recalls the terrible words she later heard from Sayali.
'Papa gele.'
Words she did not, could not, bear to hear. Or believe.
Jui recalls that terrible night.
For Jui, her dad was always "a superhero", somebody who nobody could ever kill, who would always rescue people.
Which is why she, and the rest of the family, found it extremely difficult to accept that Hemant Karkare was gone. That quickly. That suddenly.
Eleven years later, she says with great dignity, "Even Death is not going to take him away. He laid down his life for his country. After such a supreme sacrifice, you stay forever in people's memory."
A proud daughter, she says has never regretted, even for a moment, that her father chose a life-threatening career. A career where, for his investigation into the Malegaon blasts where he identified, for the first time, Hindu organisations as also being responsible for terrorist attacks, he was branded a traitor by right wing Hindu organisations.
Though her father was a practising Hindu, Jui says, his dictum was simple. 'Nobody is above the law. No religion teaches you to perform such heinous crimes.'
Dealing with her father's death, within a year-and-a-half of her marriage, and while she was in a different country, is one of the most difficult thing Jui has had to do.
"I had to pay a heavy price. I lost my father. Nobody can make up for that loss."
For the longest time, small things, small events, would trigger "intense emotions in her."
Today, though, she smiles at the happier memories. Like the special gift she received from her father on her 16th birthday.
And, for those who doubted her father's ability, she has a message.
As a parent of two little girls, Jui finds herself admiring her father's ability and patience.
And she wishes, deeply, that she could have seen him as a grandparent.
The loss of a loved one is unbearable. And when it is under unexpected circumstances, the pain is even more acute.
There are the small sorrows and joys you want to share with them, or just make that daily call, but when you turn around, there is no one there.
Her mother Kavita, who became a pillar of support for the widows of the policemen who were martyred on 26/11, succumbed to a brain haemorrhage six years after her husband's death.
Behind the stern cop, reveals Jui, was an artistic, creative, thinking man who loved reading and wood carving.
Hemant Karkare was passionate about reading even as a child. So much so he was once locked up in a library.
Jui shares the sweet story, one of her favourite tales about her father, that her grandmother used to tell her.
Four months before he was martyred, Hemant and Kavita Karkare visited their daughter in Boston.
It's a memory that she treasures, but it is one that is tinged with regret.
Moments from Hemant Karkare's life: