Descendants of Maratha soldiers from the 3rd Battle of Panipat, who settled in Haryana after the 1761 War, are elated by the Olympian's feat.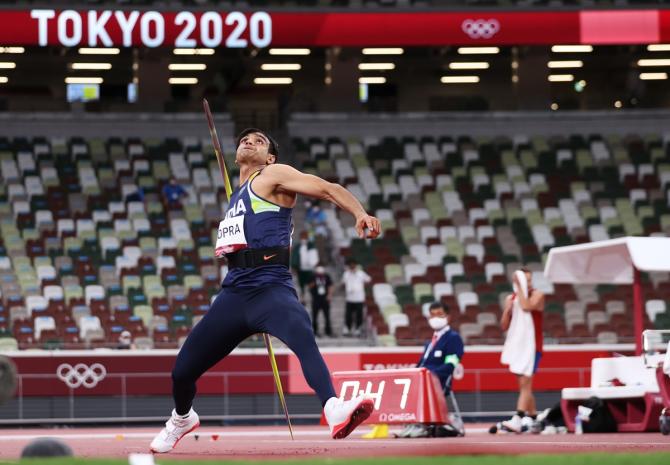 Actor Prem Chopra tweeted a video on his surname Chopra to mark Neeraj Chopra&'s Olympic gold.
As did actress Priyanka Chopra.
Sadly, both of them are off the mark.
Neeraj Chopra is actually Neeraj Chopde!
That's right.
Neeraj's roots are in Maharashtra, he is from the Rod-Maratha community which has settled in Haryana for centuries.
"After the third battle of Panipat in 1761, in which Ahmed Shah Abdali defeated the Maratha army, many Maratha families settled down in Panipat and nearby areas," explains Virender Maratha, the Rod-Maratha leader from Haryana.
"It was all jungle all around Panipat that time, our families had to hide and took shelter in jungles because Abdali's troops were hunting them down," Maratha adds.
"We Marathas had to hide our identity and therefore many of our surnames got corrupted. The Chopde surname is one of them and it became Chopra," he says. "Later, this Rod-Maratha community name was tagged on to us. Even today many of our ceremonies and customs are just like those of the Maratha community in Maharashtra."
After Abdali returned to Afghanistan, many Marathas who had settled down around Panipat did not move back to Maharashtra and made the region their home.
Among them were the ancestors of Neeraj Chopra whose family is settled at Khandra village near Panipat.
There are six districts in Haryana where the Maratha community has a sizeable presence: Karnal, Kurukshetra, Panipat, Sonepat, Jind and Kaithal.
The Rod-Maratha community, as they are called in Haryana, numbers around one million.
"Many words we use in our day-to-day language are from Marathi," says Maratha. "We don't say roti, but use poli from Marathi."
The connection with Maharashtra, which Haryana's Maratha community had lost for over 200 years, has revived in the last two decades.
Every year, on January 14, on the anniversary of the third battle of Panipat, Marathas gather at Panipat to pay homage to the Peshwa's soldiers who perished in the battle against Abdali's Aghan army.
"There have been cases of marriages between Haryana's Maratha community and the Maratha community in Maharashtra," says Maratha.
"We are now planning a grand celebration for Neeraj Chopra who has made our country and our community proud."