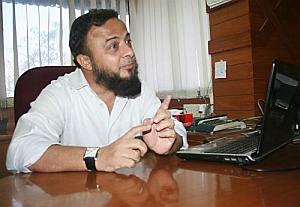 Zafar Sareshwala, who speaks in Narendra Modi's favour and has initiated the dialogue between Modi and Gujarati Muslims, explains to Rediff.com's Sheela Bhatt his motivations for doing so.
In Gujarat, after the 2002 communal riots and the rise of Chief Minister Narendra Modi, it is easy for any Muslim to be his enemy than his friend.
Zafar Yunus Sareshwala is infamous in his community for speaking in Modi's favour. He initiated the dialogue between Modi and Gujarati Muslims.
He had a change of heart in 2003 after meeting Modi in London. Sareshwala is a native of Ahmedabad and belongs to an elite Bohra family. During the 2002 riots, his firm that dealt in shares suffered huge losses. He shifted to London and even tried to prosecute Modi in international courts.
But, when -- along with Maulana Essa Mansoori of the Islamic World Council -- he met Modi, he changed his views on "getting justice for atrocities on Muslims and establishing peace."
Council of Indian Muslims Chairman Munaf Zeena and other Muslim leaders describe Sareshwala as an opportunist and are vehemently opposed to him. But Sareshwala is not afraid of speaking his mind. He is argumentative and convinced that the Muslim community must have an engagement with the government of the day.
This passion for "dialogue with the local administration" has also proved lucrative for his business. After his return from London, he got a dealership for the German automobile manufacturer BMW. He hopes to sell more than 450 BMWs this year. As CEO of the Parsoli Corporation, good times have returned to the Sareshwala family.
In an exclusive interview with Rediff.com's Sheela Bhatt, Sareshwala explains why Narendra Modi has to be seen in perspective. He reveals how Modi participated actively -- away from the media glare -- in the dialogue process with Muslims who see him as their tormentor.
Sareshwala thinks the idea of justice is meaningless in a vacuum of isolation within society. A practical businessman, he advocates that Muslims remain in the mainstream of the society they live in. Language and local culture, he says, bind people, not just religion.
On Hindu-Muslim relations in Gujarat
After any riot, we see barriers between Hindus and Muslims. Not just after 2002, we saw the divide in 1969, 1985, 1987 and 1992 as well. All riots and disturbances have brought barriers. But slowly people emerge out of the dark shadows.
As it is elsewhere in India, in Gujarat too, Hindus and Muslims are so intertwined and interdependent on each other that they can't survive without each other. The relationship extends to bazaars and in every sphere.
Take Dhalgarwad of old Ahmedabad which has more than 600 shops of Muslims. They are devout Muslims with everyone having beards and skull caps and they are namaazis. They have 90 percent Hindu clients.
In fact, there is a pattern. Immediately after every riot, the Hindu right-wing guys come up with a list. Don't go to Dhalgarwad. Don't go to Pankor Naka, don't buy from Muslims-owned shops etc. But the Hindu ladies start visiting us as soon as things cool down.
In fact, when I took up a dealership for BMW, this factor was worrying us. I too have a beard, we are practicing Muslims and BMW cars are pitched at high caste Hindus. The issue was at the back of my mind. Our German partners too had some apprehensions. In Gujarati people would say "Miyan BMW veche che, hey!" (Hey! A Muslim is selling BMW!) Hats off to Gujaratis!
This 600-year-old city has developed a fusion culture. We had no problem. People trust us, fully and unconditionally.
On allegations of his commercial interest
I don't understand this allegation that I changed my heart to support Modi because of my business interest. Tell me, what difference does it make to elite Muslims if Modi is there or Manmohan Singh is there? What kind of commercial interest are you talking about?
I have 180 employees. Out of them 130 are Muslims. For God's sake, understand that God is providing their rations through me.
In the main market areas (of Ahmedabad) like C G Road and M G Road, there are 1,000 Muslim shops who employ 150,000 Muslims. What commercial interest? Muslims have the right to earn big bucks through common systems.
I have not diluted my stand against Modi or for Modi. The issue is beyond that. It's about engagement.
You must understand that the prosperous Muslim doesn't need Modi or Dr Singh. They would make money by using the system.
We have survived 1969, the worst riots of Gujarat. We will survive, with or without Modi, the 2002 riots. Now it's good that there are people to take care.
In 1969 nobody came to help us, but we survived those horrific riots.
On justice for Muslim riot victims
There are no two views on it. Justice has to be done. Period.
It's a fundamental issue. There can't be peace without justice. Peace will remain hollow if justice is not done. But who will give justice?
My house was burnt. My office building was burnt. It had 90 shops owned by Muslims.
But look, justice is given by a separate process in our democratic society. Better late than never. It's in place now. At last, we see that justice is being delivered.
Do you want to say that all Muslims should sit down in their house and do nothing till the court completes its process?
What about those Muslims who are not directly affected by riots, but affected by the aftermath of the riots?
The biggest damage is inflicted not during the riots, but after the riots. The curfews and inactivity brings misery to survivors of the riots.
In every riot, some 3,000 Muslim families slip below the poverty line. Nobody talks about them.
On the secular lobby
I respect Teesta Setalvad, Shabnam Hashmi and others, but they consider us wrong.
There are many ways to reach the destination. We differ on selecting our ways to reach the common destination of community welfare.
When I started talking to the Gujarat government, people outside India started sending hate mails. They sit in air-conditioned rooms and do armchair activism. While sitting comfortably outside Gujarat, they want to advise Muslims in Gujarat how to live.
They have become like (former US) President George W Bush. They say 'Either you are with us or with them'. What kind of justice is this?
In a democracy people can have different thinking. We have never doubted their work. I believe they have done a wonderful job to help Muslims.
But they should not find motives when we speak of engaging the government. People don't know I have performed my regular namaaz, at least eight times, even in Modi's office and house.
I leave all work when my time of namaaz is due. I am five-time namaazi. I haven't been ashamed of it.
Modi has never given me a moment when I feel embarrassed about my religion. Hat's off to him!
The turning point for Gujarati Muslims
The turning point came when Modi won the election. There are 7.5 million Muslims in Gujarat. In 2003, there was a vacuum between the state and the Muslim community.
The issue is not about Modi. It's about the administration. In a democratic system you have to talk to the administration.
The idea of meeting Modi was to set up a process of dialogue.
That time the intifada movement was at its peak in Israel. The accord was about to be signed between Palestinians and Israelis. Who were the Palestinians talking to? They were talking to (then Israeli prime minister) Ariel Sharon. They were talking to (then Israeli leader) Shimon Peres and Bush!
If we needed to solve our issues, with whom should we talk? We had no option, but to talk to the Gujarat government, and not to the prime minister of the country.
In India, even the PM will have to go through the state government to get things done in any state.
Image: Zafar Yunus Sareshwala | Photograph: Reuben N V
Part II of the interview: 'It's not difficult for Modi to convince Muslims'