'We are not promising prosperity to these villagers. Instead, the focus is on self-sufficiency.'
Manavi Kapur reports.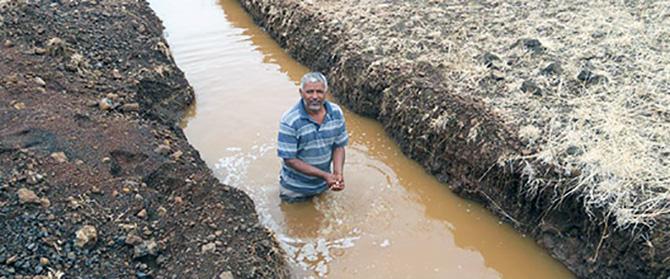 Once famous for its fierce warriors and archaeological heritage, the Marathwada region in present-day Maharashtra has become notorious for its water scarcity and farmer suicides.
In 2016, Latur was one of the districts worst-hit by drought, with over 400 suicides by farmers unable to repay loans.
Though far from over, the crisis is now being curtailed by organisations such as Global Parli, which is working at the grassroots to help farming households conserve water and produce a cost-effective yield.
Where Marathwada's history precedes its present image, Mayank Gandhi, chief coordinator for Global Parli, is better known for his work as a politician.
Gandhi has been a member of Jayaprakash Narayan's Lok Satta movement, a Mumbai citizen political outfit called the Jagruk Nagrik Manch and, more recently, Anna Hazare's India Against Corruption movement in 2011.
He then became a member of the Aam Aadmi Party's national executive, a post he eventually quit in 2015.
"I realised then that I was not meant for confrontational, electoral politics," he says. Instead,
Gandhi believes he is a proponent of "development politics", where he wants to create a model that can be replicated across India.
Gandhi's more popular namesake, Mohandas Karamchand Gandhi famously said that India lived in its villages. "When I began reading about the Latur crisis in 2016, it was this thought that was at the back of my mind," says Gandhi.
He was fresh out of work and looking for his next venture when his friends in Maharashtra's Beed district invited Gandhi to visit the drought-hit villages there.
"I had been an urban planner all my life and only seen a village in Aamir Khan's Lagaan before this," he laughs.
It became increasingly clear to Gandhi that supplying water to this region was a mere band-aid fix.
"I began researching and realised that even within Beed, Parli was one of the worst talukas when it came to water scarcity."
In Parli, Gandhi and his team selected 15 villages, with a collective population of over 30,000 people and 4,687 households.
These would be the focus of Global Parli, a focused initiative meant to create a scalable development model.
"Unlike Hazare and Popatrao Baguji Pawar, I don't want my work to be limited to a single village or community. That is why Global Parli is focusing heavily on the use of technology," he explains.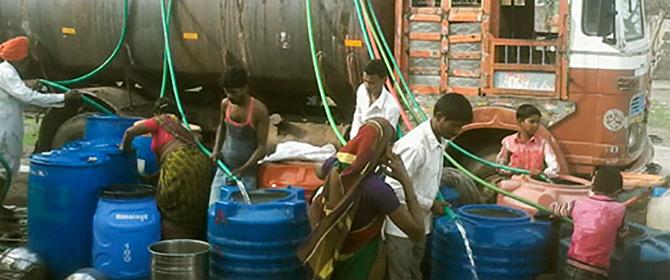 Global Parli's team has several technology coordinators, besides agriculture experts such as T Karunakaran.
Rainwater harvesting was one of its programmes, followed by a revival of the Paapnashi river and its tributaries in Beed.
The river bed was deepened and widened to make it ready for the monsoon. But its most unique feature was the funds that villagers pooled in for this work.
This, in turn, gave them a sense of ownership and made them active participants in the development of their village.
The impact has been tangible -- the water table, which was as low as 350 feet, has now risen to 50 feet.
With what he calls his "andolan" background, Gandhi has also campaigned against the sale of liquor in Parli's 15 villages.
He mobilised women in the village to picket liquor shops, which has eventually led to all liquor shops in the villages being shut down.
"We are not promising prosperity to these villagers. Instead, the focus is on self-sufficiency," says Gandhi. He believes these initiatives have also helped improve mental health conditions in Parli.
"I would often notice most men and women suffering from depression. Most people would be living only because they were not dead," he says. Today, Gandhi believes most people come forward to participate in Global Parli's programmes with an unprecedented sense of motivation.
The next phase would include training farmers to also use their land for horticulture produce, going beyond the usual soya and cotton crop.
"Our target is to allow each farmer to enjoy a yield of Rs 100,000 per acre," says Gandhi. That yield today stands at Rs 12,000.
Global Parli works with eight full-time employees and a full roster of volunteers. For its funds, it relies largely on state government schemes.
"We want to work as a catalyst to the state machinery instead of working on the corporate social responsibility model," says Gandhi.
"Eventually, we have to tackle the issues of Beed as we would a body with multiple organ failure. It needs a 360-degree solution and it needs to be scaled up fast."
And if these initiatives are timely enough, the farmer could well be relying on technology rather than praying to the rain gods for a good monsoon.
Photographs: Kind courtesy globalparli.org