'I have been touched whenever I have known him personally as a human being.'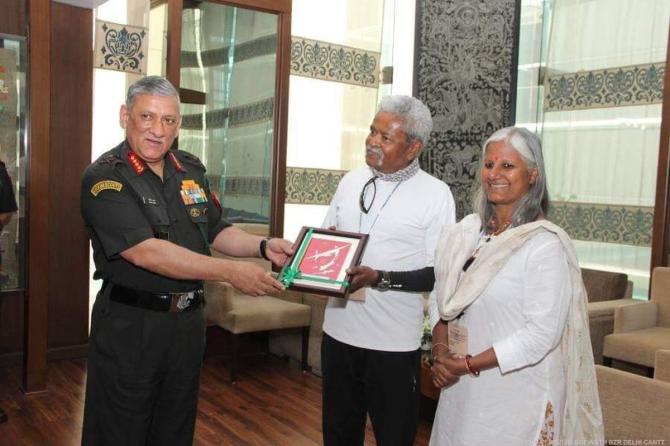 In his long and distinguished career in the Indian Army, General Bipin Rawat crossed paths with many officers in various stages of his life as a soldier.
As General Officer Commanding of the Baramulla Division in Jammu and Kashmir, he would often meet Major General Somnath Jha, who was then the Commandant of the Jammu and Kashmir Light Infantry Regimental centre in Srinagar.
"I knew General Rawat well when he was a two-star general. Though our operational areas did not overlap, we reported to the same corps headquarter," Major General Jha, VSM (retd), tells Rediff.com's Archana Masih.
"We would meet for various meetings, conferences and at social functions.
"He was a nice senior officer. A thorough gentleman."
"I knew him as sweet man who at times was socially coy."
"I have been touched whenever I have known him personally as a human being."
After retiring from the Indian Army in 2016, Major General Jha cycled throughout the country for 6 months in honour of every martyred soldier. Two minutes dedicated to every martyr.
The homage journey concluded at the Amar Jawan Jyoti at India Gate on April 19, 2017.
By that time General Rawat had become the chief of army staff.
A few days before Major General Jha reached Delhi, he received word that the army chief would like to meet him at the completion of his journey.
"He found time to meet me even though he was in the midst of the army commanders conference which includes the highest commanders of the Indian Army," remembers Major General Jha.
"He made sure my wife and I were driven down from India Gate to the venue at the Manekshaw Centre in Delhi cantonment," he continues.
"He came out during a break along with the other commanders and honoured me in front of the entire military glitterati."
General Rawat presented him a plaque.
Major General Jha remembers Mrs Madhulika Rawat as a very unassuming and friendly lady.
"Many people cannot handle the responsibility when the spouse rises to a high rank, but she was unaffected."
She was indeed a marvellous lady."
"We all give ourselves a timeline and when it is shattered by an untimely departure it always leaves you with a heavy heart," says Major General Jha.
Feature Presentation: Aslam Hunani/Rediff.com