Barely weeks before he turned 22, a young fisherman was shot at sea, allegedly by the Sri Lankan navy.
While he may be buried as a statistic in the India-Sri Lanka turf war in the Indian Ocean, his devastated family may never come to terms with their loss, reports Rediff.com's A Ganesh Nadar.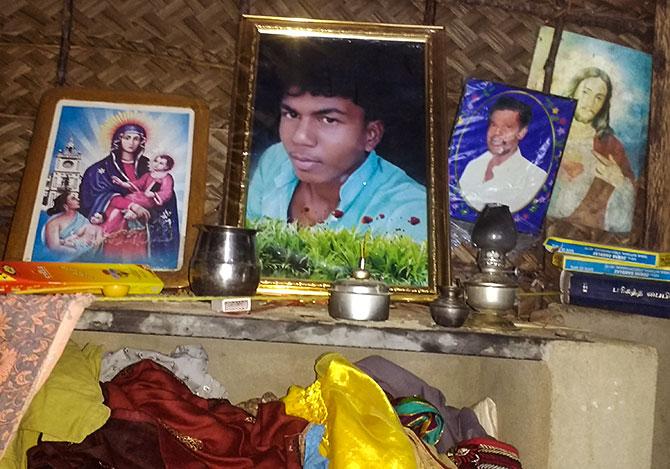 IMAGE: Britto dreamt of a better life for his family. Photographs: A Ganesh Nadar/Rediff.com
A few days ago, on April 14, Tamil Nadu celebrated the New Year.
April 14 also happened to be Britto's birthday.
His mother, her face wet with the tears she cannot hold back, says, "Instead of celebrating his birthday, fate has forced us to grieve."
Just a few weeks earlier, on March 6, Britto was doing what he normally did to earn a living.
Along with six other people, he was on a mechanised boat, steered by his uncle, who was also the boat's owner.
It was around 9.30 pm. They were fishing off the Katchatheevu islet, which lies between India and Sri Lanka, when bullets whistled past them. One stuck Britto in the neck. He began bleeding profusely.
Instead of returning to shore immediately, the fishermen called their leader Seshu. He, in turn, tried calling the Coast Guard.
By this time, 45 precious minutes had been wasted.
When they realised that the Coast Guard was not coming, the boat made its way back.
By the time they reached ashore, Britto had bled to death.
"He would have survived if the Coast Guard had responded. They have a first aid kit and their boat would have reached the shore in 10 minutes," says Britto's elder brother Lespho, who works on a fishing boat in Kerala.
"The post-mortem report said he died of a gunshot wound," he adds. "They asked us if we suspected anybody in particular."
The question stunned Lespho. "Are they saying a fisherman carried a gun to sea to kill my brother in front of other fishermen?" he asks angrily. "I told them we don't have any enemies. I told them it was the (Sri) Lankan navy and nobody else."
Britto, who hailed from the Thangachimadam village in central Rameswaram, Tamil Nadu, had completed his Class 10 before joining the family profession.
Since the family does own a boat, Britto would work for those who owned one.
He would go fishing on alternate days, twice or thrice a week, depending on the boat owner's discretion.
Depending on the catch, he would earn anywhere between Rs 800 to Rs 1,500 per trip.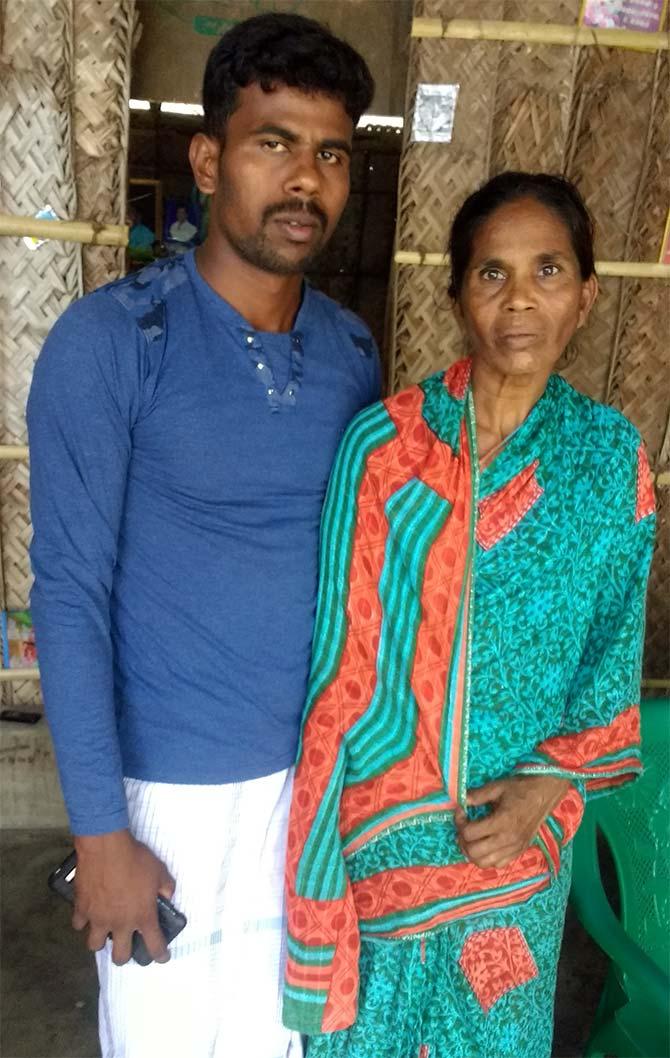 IMAGE: Britto's mother and his elder brother Lespho.
Lespho and Britto supported their mother and three siblings.
Their father -- a heart patient who does not work regularly -- no longer lives with the family.
"A priest wanted to help the family and gave my father Rs 1.5 lakhs in cash. He is now using that money to drink every day," Lespho claims, adding, "Since he cannot do it here, he has left home and is staying with our grandmother in the next village."
One of Britto's brothers has epilepsy and cannot go out to sea.
Another is studying engineering and is in his second year. "Britto used to tell me, 'You look after our brother's education and I will look after the family," says Lespho.
"He also wanted to educate our only sister; he was very fond of her as she is the youngest in the house."
The state government, as is the norm when a fisherman dies at sea, gave the family Rs 5 lakhs as compensation. They also received Rs 1 lakh from DMK leader M K Stalin. A Ramaswamy, a local businessman, contributed another lakh.
The family has deposited the money in the bank and plans to use it for the daughter's education and marriage.
The Sri Lankan navy denied the incident.
"At sea here, only two kinds of people carry guns -- the Lankan navy and the Indian Coast Guard. How can they (the Sri Lankan navy) deny the shooting?" asks Lespho.
"The Sri Lankan navy has killed 600 fishermen since the ethnic war started in 1983," says Swami Pranavananda who runs an orphanage in the village, "and they have denied it every time."