In a sprawling living room, a large crowd of about 300 men, mostly young, has gathered.
Many others are hanging outside the door, trying to get a glimpse of a tall, mustachioed man in a white kurta-pyjama.
There is pin-drop silence in the hall, as though everybody is under some kind of a spell.
Satyavrat Mishra reports from Siwan.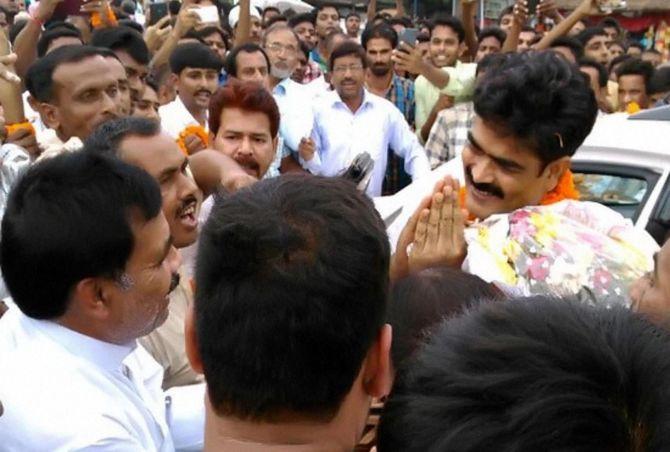 An uneasy calm hangs over Siwan as Mohammad Shahabuddin returns to his 'home' after over a decade
As one climbs up the marble staircase of an old house in Pratappur village, a strange sense of anxiety sets in.
A little ahead, in a sprawling living room, a large crowd of about 300 men, mostly young, is gathered. Many others are hanging outside the door, trying to get a glimpse of a tall, mustachioed man in a white kurta-pyjama.
There is pin-drop silence in the hall, as though everybody is under some kind of a spell.
One of the men whispers something into the ear of 'Saheb,' as they all address him, and he turns around, his gaze suddenly fixed on me.
And I find myself face to face with Mohammad Shahabuddin, the man who is, famously or infamously, known as 'the Sultan of Siwan.'
The don-turned-politician, who walked out of the Bhagalpur Central Jail on the morning of September 10 amidst a rousing welcome by thousands of his supporters, including several legislators from Janata Dal-United and Rashtriya Janata Dal, is back home in Siwan.
It's a week since his release and Shahabuddin is enjoying every moment of the freedom.
"It's been more than 13 years now since I last came here," he says. "I missed my people very much. I am thankful to them for their love and support."
As the former MP from Siwan walked out of prison on bail, this particular slogan hit a crescendo: 'Jail ke taale toot gaye, Sarkar ke Saheb chhoot gaye (the prison locks have broken, the government's boss is now free).'
To Bihar Chief Minister Nikish Kumar's embarrassment, soon after his release Shahabuddin declared that RJD supremo Lalu Prasad, and not Kumar, was his chief minister.
Shahabuddin's release and his subsequent statements have severely dented Kumar's painstakingly built image as the leader who restored law and order in the once crime-ridden Bihar.
Shahabuddin says he is not a bit apologetic about his comments about Kumar. He has called him a 'chief minister of circumstance.'
"Did I say anything wrong?" he challenges. "A coalition is born out of political circumstances."
He even objects when asked, "Kya Siwan ke liye ladaai jari rahegi (Will you keep fighting for Siwan)?" Reacting with Gandhian philosophy, he replies. "I have a problem with the word ladaai (fight). It smacks of violence. I will keep struggling for Siwan."
It's ironical to hear the man talk about non-violence while sitting in a house from where the police recovered bullet-ridden bodies of 15 people almost 16 years ago after a four-hour-long encounter.
"It was no encounter, but a fierce battle," says a retired police officer who does not want to be named.
"Bullets were flying from every direction. We were pinned down and had to call for reinforcements from Uttar Pradesh. I still get nightmares of that day."
The main market of Siwan bears a deserted look. It is Eid al-Adha and most of the shops are closed. Many shopkeepers are heading to Pratappur to pay their respects to the former MP.
"He is our friend, philosopher and guide," says Mohammed Samim, who owns a small stationery shop in Siwan town. "The media portrayed him wrongly," quips another.
On the face of it, everything appears normal. "No, I have not had problems since he returned. It's business as usual," says Shiv Kumar Gupta, who runs a grocery store at the nearby Bardiha stand. "He is in his house, meeting and greeting people. How will that create any problem for us?" adds another.
The shops remain open past 7 in the evening, but there is a sense of urgency among people to return to their homes as soon as dusk sets in.
"I don't have anything to say on this matter," says a tea shop owner. Nobody wants to be photographed. "I don't want you to take photos of my shop," adds Gupta.
Everyone appears cautious when speaking with strangers. No one wants to make any comment about 'Saheb.'
Chandreswar Prasad, or Chanda Babu as they call him, is a rare exception. He sits behind a desk at a mobile recharge shop on Gaushala Road. The shop, it appears, has not been cleaned in months. He has a fractured leg and a broken arm. The septuagenarian also takes care of his paralysed wife and physically challenged son.
He is the most visible symbol of the reign of terror associated with Shahabuddin in the district of Siwan, which is also the birth place of India's first President, Rajendra Prasad.
Prasad alleges that two of his sons, Girish Raj and Satish Raj, were killed on Shahabuddin's orders in 2004. "Shahabuddin had his eyes set on my property. My sons resisted, so he ordered his men to pour acid on them. I never even got their remains," he alleges, tears streaming down his cheeks.
His eldest son Rajiv Roshan was gunned down on June 16, 2014, three days before he was to appear in court as an eyewitness in the trials for his brothers' murders. He had got married barely 22 days earlier.
In the few hours that I spend with him, not a single customer turns up at his mobile recharge shop. Prasad, who once owned a flourishing provisions store, today makes ends meet with a monthly rent of Rs 9,000 that he gets from the six shops he owns.
"Nobody wants to lease our shops," says his youngest son. "We rent them out for whatever money we get."
Their house has wooden cots, a few plastic chairs, a glass case that was once an aquarium and a TV set. The family has been assigned a security cover of four policemen who live in the upper portion of the house. Earlier, there were three but the security was increased last week. Prasad says he fears for his only surviving son.
Since Shahabuddin's release, Prasad's son says he has had to recount the murders of his brothers over and over again to visiting journalists. "Do you know how difficult it is to keep revisiting those most horrible moments of our life?" he asks.
Shahabuddin's release has given the Opposition, led by the Bharatiya Janata Party, powerful ammunition to attack the Bihar government with.
"Had the state government pursued the Rajiv Roshan murder case in earnest, Shahabuddin's release could have been prevented," says senior BJP leader Sushil Kumar Modi.
Shahabuddin's release has exposed the deepest cracks in the ruling collation since it came to power last year. Nitish Kumar's visible inability to keep him in prison has made him look like a leader helpless to the devices of Lalu Prasad.
Desperate to win the losing perception battle, the Bihar government has now moved the Supreme Court against Shahabuddin's bail. Supreme Court lawyer Prashant Bhushan has also filed a public interest litigation against his release.
But for the moment, Siwan is once again Shahabuddin's home.
IMAGE: Mohammad Shahbuddin greets supporters after getting bail. Photograph: PTI