'ISI's leverage on the Kashmir insurgency turned out less than successful...'
It was a book that was bound to garner both attention and controversy as spymasters from both sides of one of the most contentious borders in the world, India and Pakistan, came together to write a book that dealt with the major issues between the two nations.
While the response to the book has been fairly muted in India, it has raised hackles in Pakistan, with Lieutenant General Mohammad Asad Durrani (retd) -- former director-general, Inter-Services Intelligence -- finding himself restricted from leaving the country and being placed on Pakistan's exit-control list.
Read on for a fascinating excerpt from The Spy Chronicles: RAW, ISI And The Illusion Of Peace on R&AW and the ISI's successes and failures: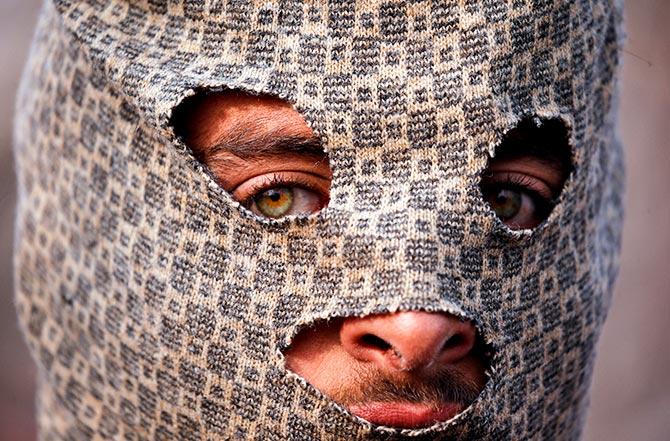 Aditya Sinha (journalist): What has been the greatest ISI failure against India?
Lieutenant General Mohammad Asad Durrani (retired 3-star rank Pakistani general; former director-general, Inter-Services Intelligence; former director-general, Pakistan military intelligence division): I think my colleague should start.
Amarjit Singh Dulat, former special director, Intelligence Bureau; former chief, Research and Analysis Wing; special advisor to the prime minister on Kashmir: Our biggest failure against Pakistan is that we've not been able to turn around an ISI officer or have an ISI officer working for us. Or not to my knowledge, at a level where it counts.
Sinha: Even if we had a mole inside ISI, nobody would know.
Dulat: Moles are easier to have than defectors.
Double agents are the next best thing to defectors.
If a guy is working for Pakistan and I get hold of him, then I have a chance of getting to where I'm supposed to be.
So, not being able to find an ISI defector is our biggest failure.
Durrani: At the operational level, the 1965 war, we could claim we got good information about the other side, how they are assembled for war. But it was a lost effort.
In the 1971 war, the ISI was unable to anticipate the attack in East Pakistan.
In my time we predicted that India's military build-up, after the Kashmir uprising, was not intended for war. I can pat my own back for that.
But the biggest failure was when the Kashmir uprising happened, we did not know how far it would go.
These things usually run their course in six months or a year. When it became lasting, we wondered how to keep a handle on it.
We didn't want it to go out of control, which would lead to a war that neither side wanted. Could we micro-manage it? That was our challenge.
ISI's leverage on the Kashmir insurgency turned out less than successful.
Going back to the evolution of the Kashmir uprising of the 1990s, I think the formation of the Hurriyat to provide a political direction to the resistance was a good idea.
Giving up handle on the movement -- letting the factions do what they bloody well wanted to -- was not.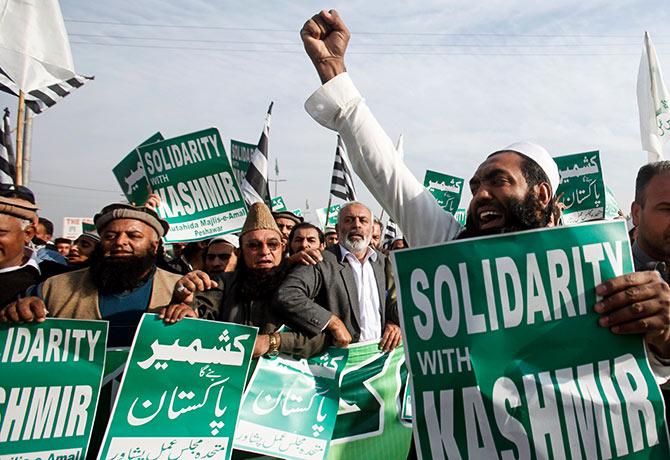 Dulat: Let me make clear one thing. In public perception, not getting Dawood (Ibrahim, Indian gangster and terrorist believed to be living in Pakistan) or Hafiz Saeed (one of the terrorists responsible for the 2008 Mumbai terror attacks, co-funder, Lashkar-e-Tayiba, chief, Jama'at-ud-Da'wah) or Masood Azhar (founder, Jaish-e-Mohammed, one of the terrorists responsible for the 2008 Mumbai terror attacks and the 2016 attack on the Pathankot air base) are glaring failures.
But, if instead of putting out a supari for Dawood, you 'turned' the ISI station chief in Delhi, that in intel would be a much bigger thing.
About the Pakistani angle in Kashmir, they often crow about putting out somebody here, or bumping off somebody there, or forcing someone to form an organisation, or sending out diktats.
It's okay, works to an extent.
Kashmir is very painstaking and requires patience. That is where Pakistan has lost out.
Because, after a while, the feeling was, as General Saheb said, jaane do, let them go.
This is on the basis of conversations with Pakistanis over the last 10 years, since the Mumbai attack. The general response was that they can talk about Kashmir later, for now they can put it on the backburner.
But it's now 'game on' again in the last three years because of the uncertainty we've created. The status quo mess we create gets Pakistan interested again.
I used to tell Pakistani friends in Track-II, let's discuss your core issue, Kashmir.
Even General Saheb would say, there isn't sufficient interest in Kashmir. Forget it for the time being.
It's been like that. It's a typical military reaction, a typical military way of dealing with a problem. That possibly, Sir, is one of the shortcomings in the ISI.
Durrani: That's in our system.
Dulat: You bulldoze your way. The Kashmiri knows how to play different sides.
Sinha: So the intelligence game is won by the Kashmiri even though he is suffering.
Dulat: A fellow I've known for years will tell me one thing and, six months later, will tell me something else; his perception, his story, everything will change.
In between, he'll bowl General Saheb a googly.
But Kashmir requires time. If you want to understand it or get yourself involved then it requires time, patience, empathy.
Durrani: I agree. I also agree with the point that, under the circumstances, Kashmiris or Afghans learn to live with it, which means you have to keep two or three different sides in good humour.
And still survive, fighting the Indian army or the US army.
Excerpted from The Spy Chronicles: RAW, ISI And The Illusion Of Peace by A S Dulat, Aditya Sinha and Asad Durrani with the kind permission of the publishers, Harper Collins India.