A Ganesh Nadar/Rediff.com shares interesting vignettes that usually get lost in the heat and dust of election coverage.
Illustration: Dominic Xavier/Rediff.com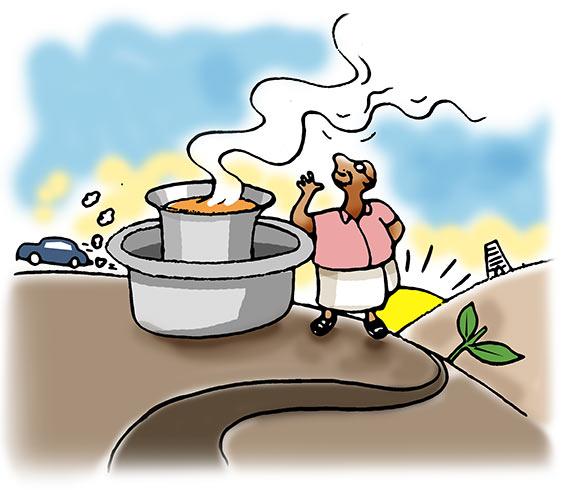 Will Amma be back?
Jayalalithaa arrived at the Bell Ground in Tirunelveli, south Tamil Nadu, as she usually does, with her security detail running alongside her van. Some were hanging on the vehicle for dear life.
As she walked onto the stage, a few women who had been waiting for more than an hour started walking towards the exit gate. Then, amazingly, more and more women walked out. It was as if they wanted to see Amma, but not listen to her.
If this was an omen of the times to come, it looked like Tamil Nadu's chief minister had cause for worry.
You can take the Mallu out of Kerala...
We landed in Thiruvananthapuram, Kerala's capital, on May 11. The first thing I noticed was that they serve hot drinking water in restaurants. It may be hygienic but, in a sweltering summer, it was also quite annoying.
Four days later, after we had hopped across the two states, we arrived in Chennai. We decided to dine at Kalpaka. This restaurant, which has been around for many years, specialises in Malayali cuisine. Here too, they gave us hot, jeera-infused, drinking water.
Clearly, you can take the Mallu out of Kerala, but you cannot change his habits. The food, incidentally, was fantastic.
The wealthiest temple in India
In Thiruvananthapuram, we wanted to visit the famous Padmanabhaswamy temple. It has more wealth than Tirupati, which many erroneously believe is the richest temple in India.
At the Padmanabhaswamy temple, we were asked to divest ourselves of our pants and shirts and wear a dhoti instead.
I was not sure if the latter would stay in place and I did not want to find out whether I was right or wrong when I was deep in prayer.
So we prayed from outside and left with our clothes on.
When you hit a tourist spot...
India's southernmost point, beautiful Kanyakumari. The hotels are expensive here as it is a popular tourist destination. We saved Rs 2,000 by staying in nearby Nagercoil and took a cab to Kanyakumari. The ride cost just Rs 120.
We bought an Airtel SIM card in Nagercoil after giving them our photograph and a photocopy of our Aadhar card on May 11. We were told the card would be activated in 36 hours.
Two days later, the card was still not working. We called from Madurai and were told it would take another 48 hours as they had to verify our address, which was in a different state.
A week later, the card is still not active.
What use is Sasha Chetri's eyecatching campaign for Airtel if Sunil Bharti Mittal's company can't provide customers with quality service?
Madurai, Madurai...
Talking of Madurai, if you do visit the city, you must visit the Meenakshi temple. You also must have one meal at the Amma Mess. Despite the name, the mess has nothing to do with the AIADMK chief.
It serves spectacularly delicious non-vegetarian food. The Nethlee Meen, an Amma Mess specialty, is unforgettable. The prawns and chicken dishes are not bad either.
The Tamil Nadu Tourist Development Corporation hotel in Madurai is huge, but they don't have a restaurant.
They do have a bar though. Wonder what will happen to it if Amma returns to power and keeps her prohibition promise.
Veteran Tamil producer, director, actor R Sundarrajan was a guest at the hotel. He was sitting in the lobby when we arrived. Our day was made when he smiled at us.
Tamil Nadu is famous for its filter coffee, but this hotel offers only machine-made coffee in the morning.
Ugh! What a way to start the day.
From Madurai, we were planning to travel to Chennai. We asked if we could book into the TNTDC hotel there.
"Sorry, sir," we were politely told. "TNTDC doesn't have a hotel in Chennai."
Huh??? How do you promote tourism if the tourist board does not have a hotel in the state capital?
Ambur Biryani, first made in the 19th century
A new restaurant opened in Kanchipuram the day we reached.
It was going to serve Ambur Biryani, a brand born in 1890.
Imagine that! A 19th century biryani that has survived till the 21st century. What makes it special is that this biryani needs no accompaniments; it is so delicious.
Best of all, the kulfis were on the house...
Of pickles and elections
On the highway from Madurai to Ulundurpettai, we stopped to have the famous Kumbakonam Degree coffee.
The restaurant also sold banana flower pickle and banana stem pickle. We bought both.
Suddenly, a jeep belonging to the Election Commission's flying squad -- comprising state and central police personnel, government officials and EC representatives -- roared to a stop.
One of the armed policemen was from Kashmir, the other was from Chhattisgarh.
The Kashmiri, who was surprised to hear us speaking in Hindi, said he had enjoyed his trip to Tamil Nadu. His only regret was that, after coming so far, he had not had a chance to visit Kanyakumari.
The central police force were scheduled to return to their original postings on May 19, soon after the votes were counted.
North India in Chennai? Of course
We were in Chennai on polling day.
My driver Suresh is a native of Tirunelveli. It did not matter to him that he was not home to cast his vote.
"In my village, they will wait till 4 pm. If I don't reach by then, someone will cast my vote. It will not be wasted," he assures us.
Thanks to TNTDC, we decided to opt for a home stay in Chennai.
The cook was from Bihar and his assistant was from Nepal.
When we asked the Bihari if he had learnt Tamil, he said, "When I came here 17 years ago, no one knew Hindi. Now, everyone speaks the language."
Rediff.com's A Ganesh Nadar and Saisuresh Sivawamy covered the last five days of the election campaign in Tamil Nadu and Kerala. You can read their amazing coverage in the links below.