Learning perhaps from the Kargil debacle, Musharraf tried hard to evolve as a statesman in his dealings with India, recalls Rana Banerji, who headed the Pakistan desk at RA&W.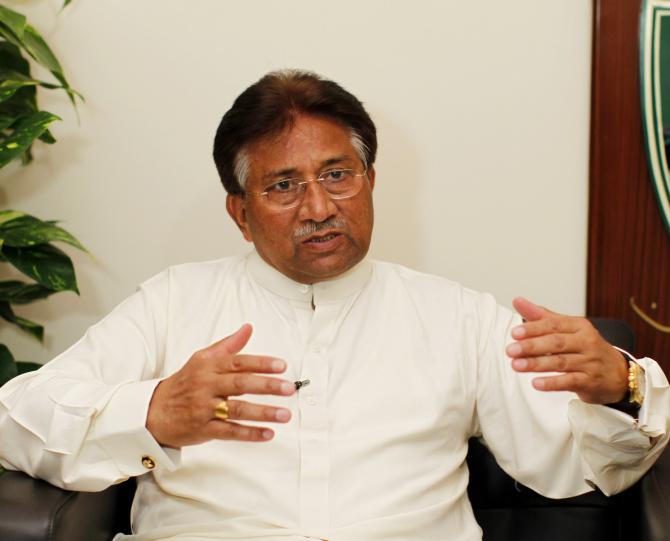 The passing away of General Pervez Musharraf in Dubai on Feb 5, 2023 after a long illness (amyloidosis), marks the end of a tumultuous chapter in Pakistan's history.
It leaves behind a mixed legacy of achievements and disastrous decisions at a moment when the nation and its people grapple with an acute economic crisis.
Born in the now famous 'Nahar wali Haveli' in old Delhi (August 11, 1943), Musharraf migrated with his family to Karachi in 1947. His father was a junior official in the Pakistan foreign office, who did a long stint in Turkey (1949-1957).
His mother Zarin hailed from Lucknow. Returning to Pakistan in 1957, Musharraf studied in Karachi, before joining the Forman Christian College, Lahore.
Army career
Commissioned in the artillery (1964) after passing out from the 29th long course at the Pakistan Military Academy, Kakul, Musharraf saw action as a second lieutenant in the Khemkaran Sector during the 1965 War with India.
In 1971, he was serving in the Special Services Group, but did not see direct action.
He held all the right appointments in his military career, including Brigade Major, key staff duties in General Headquarters, Instructors' assignment at the Command and Staff College, Quetta and National Defence University, Rawalpindi.
Despite having an impetuous streak in him, he was not risk averse and was well regarded by his superiors.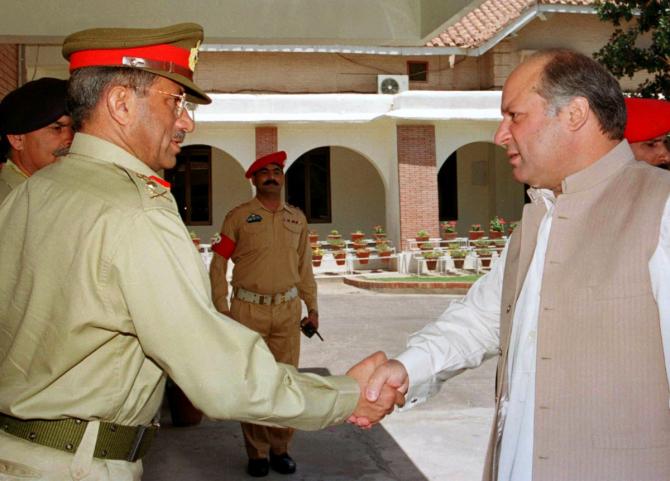 In 1987, as brigade commander of a new Special Services Group brigade, he led an assault at Bila Fond La, near the Siachen Glacier, which was repulsed.
During this phase, under General Zia-ul-Haq's dictatorship in Pakistan, Musharraf earned some notoriety in anti-Shia pogroms of the army in Gilgit Baltistan.
These remained cleverly obfuscated from the open domain.
Musharraf attended the Royal College of Defence Studies Course in the UK (1990-1991), returning to become Director General, Military Operations (DGMO; 1993-1995).
Promoted to 3-star rank (lieutenant general), he commanded the prestigious 1 Corps, Mangla.
After then prime minister Nawaz Sharif's unceremonious sacking of the then army chief, General Jehangir Karamat in October 1998, a decision which Nawaz would live to rue, Musharraf was chosen the new army chief superseding two seniors, Ali Kuli Khan Khattak and Khalid Nawaz Khan.
The October 1999 Coup
Though Musharraf hit the ground running as army chief, relations with Nawaz Sharif soured after A brief bonhomie, over undue secrecy adopted by Musharraf on the Kargil operation, not sharing details beyond 'the Gang of Four' (X Corps Commander Mahmood Ahmed, CGS Mohammad Aziz, Major General Javed Hasan, Force Commander, Northern Areas and Musharraf himself).
Even earlier, Musharraf had been irked by the prominence given by Nawaz Sharif to the DG, ISI, Lieutenant General Khwaja Ziauddin and his attempts to divide the generals.
Lieutenant General Tariq Pervez, Corps Commander, XII Corps, Quetta was sacked, allegedly for leaking minutes of corps commanders' meetings to the PM.
Even as his plane was returning from an official visit to Sri Lanka, an abortive attempt to replace him by Lieutenant General Ziauddin was foiled.
Musharraf was bailed out by three loyal Generals: CGS Aziz, Pindi Corps Commander Mahmud Ahmed and Karachi Corps Commander Usmani.
Kargil
The Kargil operations ended in a fiasco and though Musharraf claimed to have taken Nawaz on board, the latter wilted under US pressure, to order troop withdrawals.
The revelation of the Musharraf-Aziz phone conversations by India at this juncture, trying to pass off the intrusion as an attempt by 'mujahideen' (freedom fighters), splashed egg on Musharraf's face.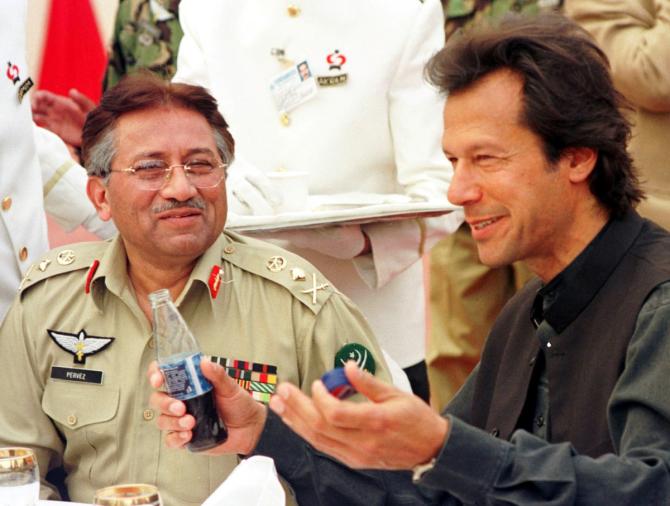 Chief Executive to President
Conscious of Western opprobrium against earlier coup attempts in Pakistan, Musharraf initially designated himself as Chief Executive, cleverly using media channels to earn the sobriquet of 'a reluctant coup maker'.
He also had himself photographed with his favorite dog Whiskey to project his credentials as a liberal autocrat.
Induction of a former CitiBank executive Shaukat Aziz as finance minister initially (and later as PM) helped provide a veneer of good economic management.
On the international front, after Richard Armitage read out the riot act to Musharraf, he adroitly supported the war on terror in Afghanistan, without giving up on the option of helping a resurgent Taliban in later years.
Musharraf took over formally as president in June, 2001 and supervised 'well controlled' general elections in October 2002 to bring in a typically army generated quasi-democratic set-up Pakistanis have learnt to live with.
Nuclear scandals
In the years to follow, Musharraf's presidency was affected by scandals relating to nuclear weapons, which were detrimental to his legitimacy before the international community.
In October 2001, Musharraf authorised the arrest of two physicists, Sultan Bashiruddin Mahmood and Chaudhry Abdul Majeed, because of their supposed connection with the Taliban after they secretly visited Taliban-controlled Afghanistan in 2000 and reportedly met Osama bin Laden.
Ironically, one of the first appointments made by Pakistan's current army chief General Asim Munir has been of Bashiruddin Mahmood's son, Major General Ahmed Sharif Chaudhry as DG, ISPR (Inter Services Public Relations).
In February, 2004 after theb CIA director George Tenet confronted Musharraf with proof of Dr A Q Khan's involvement in smuggling of nuclear components to Iran, North Korea and Libya, he resorted to much drama about his 'hero's fall from grace', before relieving Dr Khan from his responsibilities at Kahuta and keeping him under indefinite house arrest.
Media reforms
During this period, Musharraf initiated welcome media reforms, bringing in reasonably free television channels in the private sector, in which work he was helped by persons like Salman Taseer, then governor, Punjab, who was later assassinated by an Islamic fanatic.
Assassination attempts and journey downhill
Musharraf himself survived two successive assassination attempts within a fortnight in December 2003.
His remaining tenure as president, till August 2008, was marked by three major miscalculations.
The first was his crackdown on Baloch nationalists led by Akbar Bugti in August 2006, which followed after the alleged rape of a lady doctor by an army officer.
The decision to storm the Jamia Hafsa's Lal Masjid in Islamabad in April 2007 and the death of its chief cleric, Ghazi Abdul Rashid, caused him to lose support of Islamic radicals in domestic politics.
The third was the sacking of then chief justice Iftikhar Mohammed Chaudhry in March 2007, who brazened out his dismissal.
A lawyers' movement spawned, ultimately forcing Musharraf to quit as army chief in August 2008.
As this movement acquired momentum, Musharraf resorted to emergency powers in November 2007 sacking some judges and inducting other loyal ones through familiar presidential proclamations. These actions would return to haunt him.
In November 2007 Musharraf resigned from the military, appointing General Ashfaq Pervez Kayani as the new army chief.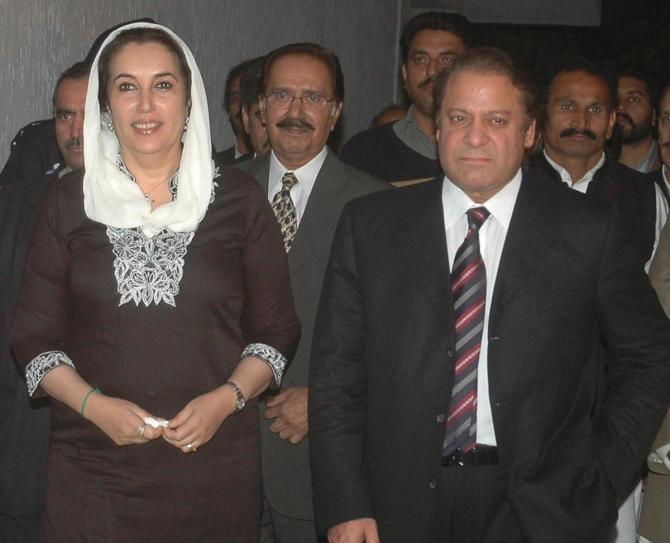 The return of Benazir and Nawaz Sharif
Pressure from the Saudi monarchs saw Musharraf pragmatically pardon Nawaz Sharif even as he was in the process of bargaining a return from exile of popular Pakistan Peoples Party politician,Benazir Bhutto.
Allegations relating to Benazir's assassination in December 2007 muddied waters and detracted value from whatever sincerity of motives could be ascribed to these moves.
After the 2008 elections, the new PPP government focused its attention on forcing Musharraf to step down as president.
Though initially reluctant, pressure of public opinion forced him to resign in August 2008.
He left the country on his first exile soon afterwards, in November 2008.
Thereafter, the Pakistan Muslim League-Nawaz tried to get Musharraf to stand trial for treason, under Article 6 of the 1973 constitution, in relation to the emergency ordered by him on November 3, 2007.
Both the PPP and the army remained lukewarm to these moves.
In 2010, Musharraf announced the formation of his own political party, the All Pakistan Muslim League.
At that time, Imran Khan supported Musharraf though he stopped short of joining his party.
In March 2013, Musharraf returned to Pakistan though his reception at Karachi airport proved a damp squib.
Soon afterwards, an Islamabad court ordered his arrest for the November 2007 actions against judges.
He had to be kept under house arrest, largely due to the pressure exerted by the army leadership under General Raheel Sharif (Raheel's late elder brother Shabbir Sharif was Musharraf's course-mate).
For the next three years, Musharraf and his lawyers had to battle several court cases, relating both to the November 2007 actions and the Akbar Bugti killing, till the army finally persuaded him to go back into exile, to the UAE, in March 2016.
The ignominy continued in an ungrateful Pakistan.
In December, 2019, a special court headed by then Peshawar high court chief justice, (now late) Waqar Ahmed Seth sentenced Musharraf to death, though a three member Lahore high court bench annulled this sentence in January 2020.
Musharraf and India
Learning perhaps from the Kargil debacle, Musharraf tried hard to evolve as a statesman in his dealings with India.
His Agra sojourn (July 2001) still saw sparks of aggression when he outmaneuvered a hostile press.
However, the joint press statement of January 2004 (Islamabad) prescribing non-use of each other's territory for terrorism generated some optimism, as did his 'four-point formula' to solve the vexatious Kashmir problem through demilitarisation, free movement across borders, self-governance and phased joint mechanisms for governance.
This was later fine-tuned during the Tariq Aziz-Satinder Lambah back-channel negotiations, before domestic developments on the judges' restoration front in Pakistan upstaged the possibility of further progress.
It is a different matter that today, despite disclosures in former Pakistani foreign minister Khurshid Kasuri's book Neither A Hawk Nor A Dove, the Pakistan army does not acknowledge having 'been on board' some of those moves.
If ever the Shakespearean adage held true, it has, in what could well serve as Musharraf's epitaph: 'The evil that men do lives after them, the good is oft interred...'
Feature Presentation: Rajesh Alva/Rediff.com