In Delhi, the poor are pitted against the middle class, with the former led by Arvind Kejriwal and the latter by Prime Minister Narendra Modi, says Sheela Bhatt/Rediff.com
Image: AAP convener Arvind Kejriwal addresses his supporters during his election campaign in Jhilmil Colony in New Delhi. Photograph: Kamal Kishore/PTI Photo
After watching the high-voltage election campaign at the street level, a middle-aged driver of a VIP car, living in Delhi's Najafgarh, claims, "This is not an election campaign, it is like the historic battle of Panipat (yeh chunav prachar nahi hai, yeh toh Panipat ka yudh hai)." He drives the car of a senior Bharatiya Janata Party leader and has touched more than 50 constituencies out of the 70 that will vote on February 7.
"Kaante ki takkar hai (it's a neck and neck fight)," he adds.
Welcome to Delhi!
India's unprecedented battle of the poor versus middle class is being fought in the streets of Delhi which has more than 1.3 crore voters.
The Jhadoo, symbol of the Aam Aadmi Party, is no more dirty. And, no less than Prime Minister Narendra Modi is campaigning saying that he is now a Dilliwala. BJP president Amit Shah's speech has only one issue -- the Modi Raj of the last eight months. Modi-Shah have gambled big by risking the prime minister's standing and his governance of eight months.
It is, clearly, a battle between maverick Kejriwal and Modi, the hero of the middle class. If the Gujarati duo wins the gamble they will reap a windfall; if they lose, it will be a game-changer, with economic side-effect on Modi's various ambitious plan and political ramification for all political parties.
It is a battle of nerves. There is no doubt that Kiran Bedi's chief ministerial candidature failed even before it could be introduced. Modi's speech in Dwarka made it clear that he has launched himself into the tough battle instead of shying away. As the Modi versus Kejriwal match is heading into the final nail-biting over, Delhi-ites' tension and determination is here to watch while they back their respective leaders.
The National Capital Region of Delhi has around Rs 36,000 crore budget but it is not enough to provide basic amenities to an ever-growing population. Sadak, bijli, paani, the gutter system, health, education, security of women and, above all, the extremely dangerous pollution -- are the issues over which the middle class is fighting the poor classes because the budget is limited and aspirations of both classes are sky-high.
Modi and Amit Shah's speeches are clearly pitching for the middle class.
In his speech in Dwarka on Sunday, Modi, who rode on a rainbow of promises during the Lok Sabha election campaign, has turned realistic. He is now saying, with a touch of arrogance, that he will not make false promises that he can't fulfill.
Amit Shah said in an interview to the Indian Express that if there is a perception that the AAP gets traction among the poor, it is because "it (the poor) is a section that responds to someone who promises 'I will give you everything for free'." Shah claims that the BJP is a responsible party so they can't promise things totally free. "We have to run the party beyond 100 years,' he claimed.
But, then, electoral politics is about the short term. In Delhi, more than 65 lakh voters are poor. It's a known national shame that the capital of India has some 25 lakh poor people who have no access at all to basic amenities and many of their areas have been networked by the AAP. Some have shifted to the AAP from the Congress who has abandoned the real politics in the absence of a local leadership.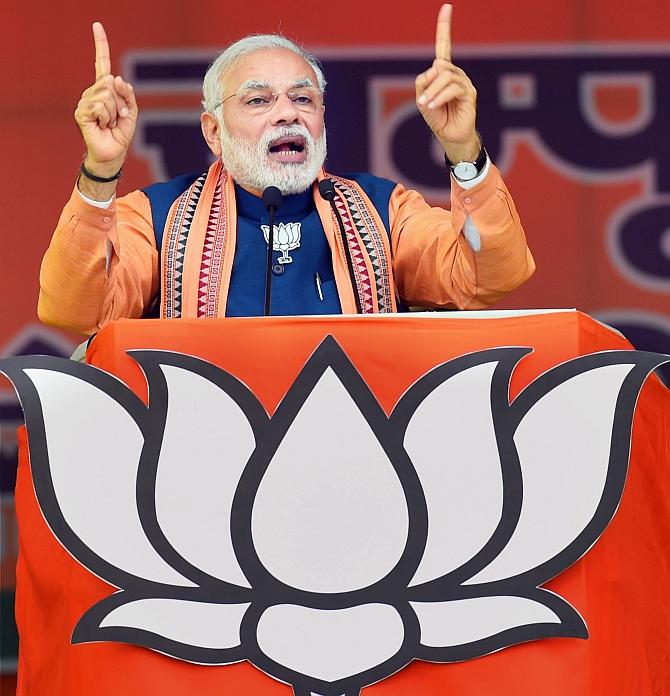 Image: Prime Minister Narendra Modi addresses an election campaign rally at Dwarka in New Delhi on Sunday. Photograph: Shahbaz Khan/PTI Photo
The Delhi election of 2015 has turned into a national obsession thanks to the robust fight put up by the one and only Arvind Kejriwal. The BJP has even launched American President Barack Obama into the campaign. On February 2, the BJP's newspaper advertisements showed Modi sitting with President Obama at the Republic Day parade while Kejriwal is shown cribbing for a VVIP pass.
After winning an awesome victory in May 2014, Prime Minister Modi and Amit Shah have won Jharkhand, Maharashtra and Haryana. The BJP has registered an emphatic presence in Jammu and Kashmir as well. But nowhere has the Modi-Shah duo faced an equal match in the form of aggression, ideas and communication as they have in Delhi where the BJP won all the seven LS seats in May 2014.
In no time, Delhi is back to basics and the people are asking a million questions to politicians of all major parties. Kejriwal is the agent provocateur.
In New Delhi it's nehle pe dehla. If Modi can speak eloquently to the people, Kejrwal too is capable of communicating dil se.
If Amitbhai is strategising excellently, Kejriwal and Yogendra Yadav can also put a spin on and give a twist to public debates.
If the BJP has the enviable backing of religious and cultural organisations on the ground, Kejriwal has the fiercely loyal backing of youth committed to probity in public life.
If Kejriwal is "not abusing the Ambanis and dis-coms" this time, the BJP is out to expose him on it. The allegations and counter-allegations between AAP and BJP are flowing fast and furious. If Kumar Vishwas is a non-stop entertainment and is an example of perfection in mediocrity, the BJP has perfected a trite campaign to nail Kejriwal.
If the BJP launches a not-so-confident Kiran Bedi, AAP is out to expose her credentials with facts and convincing arguments. The BJP is looking not-so-funny as it is cutting a watermelon with a carpenter's saw, while Kejriwal's promises are "haseen sapne."
If Modi was a symbol of the people's aspirations in the 2014 Lok Sabha election, Kejriwal is the superhero of the poor people's aspirations in juggi-jhupdis today.
Since decades the BJP has claimed at the national level that it is a party with difference, but here it is the AAP which claims it is a party with difference (external link).
If the BJP has a galaxy of Cabinet ministers from Arun Jaitley to Nirmala Sitharaman, to dominate television screens day and night, the AAP has half a dozen spokespersons who can shout louder than TV anchors.
Just go through the perfectly drafted (external link) press releases of the AAP to know how well they do their homework. If Shah is a rooted leader with a sharp eye on his weak seats, Kejriwal is also grounded and leading from the front on issues that matters to the poor.
If Shah promises maturity in governance, Kejriwal gives high hopes of fighting corruption from within.
If the AAP has the smart, young and eloquent Raghav Chadha, the BJP has the Deepika Sharma types who gel well with the middle class.
And how can one miss their battle in cyberspace! Both the parties are shrewdly using IT and social media with élan. Delhi residents' cell phones are bombarded with smses from AAP and BJP containing all sorts of announcements and pleas from candidates. Local FM stations have Modi and Kejriwal in modulated voices that is fun to hear.
AAP posters all over Delhi are clean, neat and direct, as much as Team Piyush Pandey's photoshop touch-up to Modi's smile and starched kurtas on BJP's posters. Of course, the BJP is flush with money. Reportedly, its national coffers have more than Rs 2,000 crore.
But the AAP is not starving of resources either. Kejriwal's credentials are such that in one meeting he is able to collect Rs 1.25 crore (http://www.aamaadmiparty.org/aap-fund-raiser-records-rs-125-cr-collection). Just to fight the Delhi election its central office has got more than Rs 30 crore, apart from its candidates' own resources. AAP even has a facility to pick up a donation cheque if the amount is Rs 1,000 or more.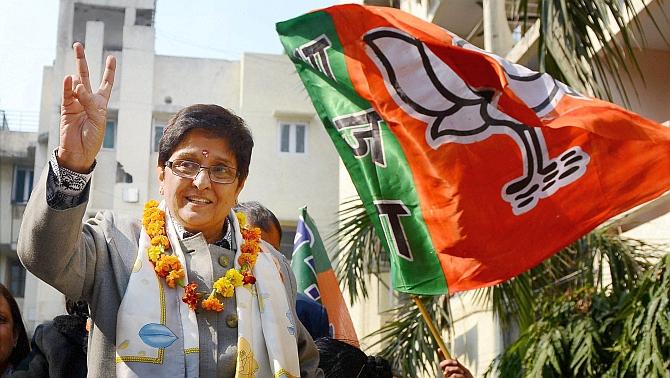 Image: BJP's chief ministerial candidate Kiran Bedi during her election campaign at Taj Enclave, Geeta Colony, in New Delhi. Photograph: PTI Photo
After May 2014, the AAP spread its presence deep and wide while the BJP's local leadership was fighting within. In areas as varied as Jangpura, Jhangirpuri, West Patel Nagar, Inderpuri, Lakshmi Nagar, Sakkarpur, Krishna nagar, Kakarduma, it's difficult to find a poor voter not supporting Kejriwal.
"Hawa toh Kejriwal ki hai, baaki pata nahi." This is the most-often heard sentence these days even in die-hard BJP's constituencies. The battle of perception has already been won by Kejriwal.
Of course, it's not yet the real victory. There is an uncertain distance remaining for Kejriwal to cover in the remaining four days before the poll.
Luckily, a few things are going well for him. In many areas the Congress's grassroots support has en masse shifted to speak for Kejriwal. Two, of the Muslim voters, even as per the BJP's estimate, more than 60 per cent is likely to vote for the AAP. Three, Kejriwal's "sorry" over quitting the government has been accepted by his middle class voters.
Kejriwal also has the first mover advantage as he and his party soon hit the ground running after losing the Lok Sabha election from Varanasi. The last eight months of Modi government have not made a perceptible difference on the ground in Delhi in spite of inflation being under control.
Among the poor voters Kejriwal has an ethical edge over the BJP. In Delhi the idea of cheaper electricity and expected tight control over police harassment has really caught the people's mind. On the other hand the BJP is looking like a "rich party" in poor localities. Even Modi is "at a distance", with his security cover and luxurious suit with his name embroidered in it.
Predominantly, there are two conflicting emotions on the ground.
It's the battle of emotions of the poor people who want to enter the mainstream middle class by believing in what Kejriwal is saying. Ranged against it is the middle class's battle to see their hardship does not go waste or get worsened by freebies offered to poor people by "populist politicians" like Kejriwal because funds for the urban development are always limited.
The middle class – comprising small traders, shop-owners, self-made hawkers, small-time contractors and budding educated youth who are looking for a big break in life -- feel the burden should not fall on them if the poor class is cajoled by politicians for the sake of votes. It's clear that this time the people are going to vote on class lines more than anything else. Interestingly, the national and local media is playing its role well. Kejriwal and BJP, both are getting extreme exposure and time.
Rediff.com moved around many areas in New Delhi to find the chats, arguments and counter-arguments which are, actually, on predictable lines and the divide is clearer than in any other recent election.
Those who love Kejriwal and those who hate Kejriwal's politics based on freebies are not confused.
In West Patel Nagar, the owner of Lucky Properties, Rakesh Kumar, who also runs a juice centre, says, "My dishwasher Shiv's dream in life is to vote for Kejriwal."
He says, "Gareeb to poora Kejriwal ke saath hai (the poor people are entirely with Kejriwal.)" When probed further about his assessment of the election Kumar says, "I cannot vote for Kejriwal. I have children and I am crushed under the burden of their education expenses. I want PM Modi to give money to Delhi. I don't want to be a casualty in the fight between Modi and Kejriwal. For the sake of my future I will vote for BJP."
Durgaprasad, a retired teacher who resides in Laxminagar, gets angry at the mention of Kejriwal. He says, "Am I crazy? If you start giving water, electricity, education, everything free to poor people then I will be taxed. Who will pay their bills? Where will you get the money to carry the burden of free water and power? Let the poor people shed their laziness and work hard to make something out of their life. They should come up in life as we have done."
A Punjabi owner of a sari shop in Inderpuri main market says, "Poor people are with Kejriwal but the BJP will somehow manage to form a government because the people understand nothing is free in life. Someone has to pay."
Inderpuri's slums have been upgraded to a lower middle colony in the last three decades. The sari trader's neighbour, who is a small-time potter, told rediff.com, "We made Modi so rich he now wears a Rs 10 lakh suit. He flies in helicopters even inside Delhi. Enough (bas, ho gaya)! Let us try Kejriwal."
There are around 20 per cent voters who are below the poverty line and, roughly, some 60 per cent of all voters who are from the poor and lower middle class. If Dalits, the poor and minority voting is higher than the middle class and rich voters, then Kejriwal stands to gain.
In 2013, the AAP won 28 seats and 29.5 per cent votes when it was more popular than today. The BJP won 31 seats with 33.1 per cent votes, short of five seats to form the government. The Congress won eight seats with 24.5 per cent of the vote share.
If one considers the 2014 Lok Sabha election voting pattern, where the BJP won in almost 60 assembly segments, and if that undercurrent continues, then the BJP will win hands down now.
But, if the voters vote on the pattern of the 2013 election then the catch lies in the Congress's performance. Even if it gets fewer votes, it is pitted against the AAP. A bit late in the day but the Congress has only just started gathering strength. It is trying hard in bits and pockets to earn enough seats to ensure that the AAP needs its support to form the government, at least.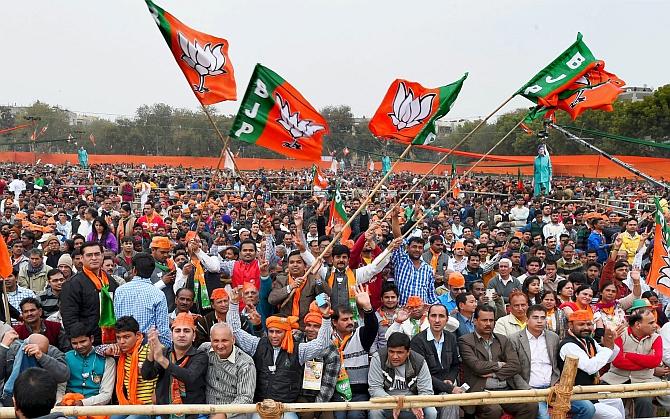 Image: BJP supporters at a rally addressed by Prime Minister Narendra Modi at Dwarka in New Delhi on Sunday. Photograph: Shahbaz Khan/PTI Photo
All this sound and fury bring one to the issue, why is the BJP looking defensive when one talks of Kejriwal's ethical edge. What kind of strategic error did Shah and Arun Jaitley make in planning the Delhi election?
Those who are well-versed with Amitbhai's thinking claim that Kiran Bedi was finalised as a CM candidate more than two months back. She was inducted to divide the solid 15 per cent of the vote share with Kejriwal who is in a way "class-less", educated and urban. They belong to all strata of society. BJP-wallahs and Congress leaders call them candlelight-wallahs who gather at India Gate and Jantar Mantar to protest against the establishment. They debate endlessly and are distrustful of the BJP and Congress, both.
Amit Shah thought this class would support Bedi against Kejriwal and it will help the BJP eventually. But the AAP's torrential campaign against Bedi didn't allow the BJP to appropriate the India Against Corruption's legacy nor did the state BJP allow Bedi to merge with the party's saffron colour.
Also, since the MCD that runs Delhi stinks of corruption, the BJP's local leaders are looking more like a "bunch of real estate agents" than proper netas. To keep them away and bring in deep change, Kiran Bedi was introduced. Also, she was a bold move on the part of Modi-Shah to bring about long term change.
In Maharashtra, Haryana and Jharkhand they did the unthinkable. In Maharashtra they bought in Devendra Fadnavis, a non-Maratha. In the Jat-land of Haryana they got Manoharlal Khattar, a non-Jat, and in the tribal land of Jharkhand they have Raghubar Das, a non-tribal, as chief minister. Bedi was one such political move to dump the pre-Modi era party at the state level. However, in no other state did they face a Kejriwal kind of brain working to outmanoeuvre them.
The truth is, Amit Shah was wary of Delhi elections even before May 2014. He was aware that the AAP has a formidable presence in poor areas. Shah himself had gone into the homes of a couple of AAP winners in the assembly election to know first-hand how they won the election without any money.
Everybody understands that if Kejrwal wins Delhi, it will undoubtedly bring about a tectonic change in Indian politics. Since the last few days Shah remains in office till late into the night to ensure that the RSS and saffron cadres of all shades work relentlessly to see that the BJP's loyal voters remain with the party and floating voters could be attracted by last minute moves and counter-moves.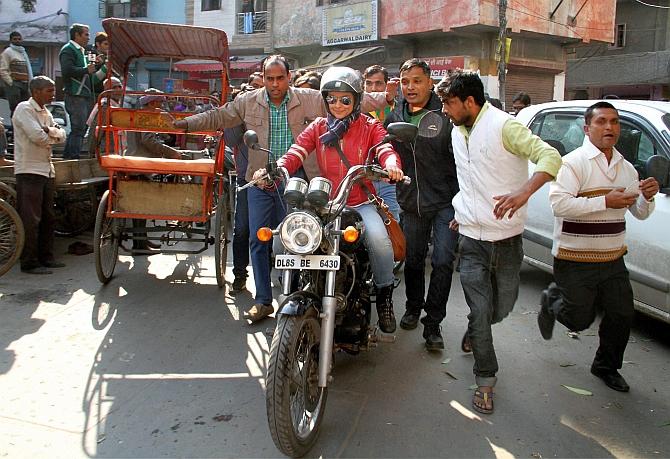 Image: Bollywood actress and AAP leader Gul Panag campaigns for party candidate Som Dutt at the Sadar Bazar area in New Delhi. Photograph: PTI Photo
Behind the scenes the BJP is doing everything for a political "give and take" to breach the poor vote bank of the AAP and Congress in the slums of Delhi.
When asked repeatedly in scores of interviews that he has given to TV and print media, as to why he is deploying so many heavyweight ministers and leaders including himself in a campaign for just 70 assembly seats, Shah in his characteristic style claims that, "Even if I know that I will get merely 11 votes by visiting one hut, then I will readily go and have tea there. I am a political leader and it's my duty to fight the election and win it. Even in elections which will be much smaller than this, Modi and myself will fight with the same vigour."
In fact, the big change that Modi-Shah have brought about is that they have conveyed that no minister is supposed to only run his ministry. They are supposed to be at the beck and call of the party president.
With just five days remaining to go to polls, the BJP's internal assessment is it will get 40 to 42 seats. In some 22 seats it is weak and trying hard to catch up.
In last-minute efforts, the BJP is concentrating to get, at least, 20 per cent of the poor votes while keeping intact its loyal middle class votes.
In spite of the inner confidence that Modi-Shah have, the BJP local leaders and cadre looks defensive or concerned, if not worried, because in this election there is no religious polarisation. In absence of religious polarisation, the party cadre may find itself on a shaky ground.
Since this time the agenda is to "vote for Modi for better governance" and "vote for Kejriwal who champions the agenda of the poor", the battle for Delhi has turned maddening for the political class and exciting for the rest.
Please read: Kejriwal, Bedi, Maken: Who's the biggest newsmaker of them all?