Astad Deboo on the sweat and toil behind the beauty and elegance of his dance.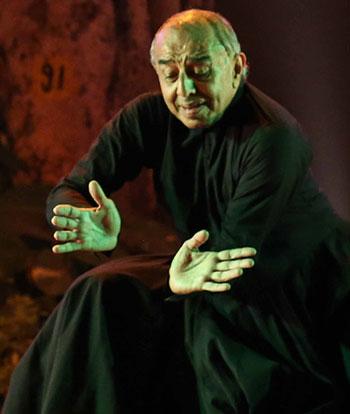 IMAGE: Astad Deboo's latest creation Eternal Embrace is elegant and ethereal.
All photographs, kind courtesy Astad Deboo
Astad Deboo, the pioneer of modern dance in India, is touring India with his latest solo creation and leaving audiences mesmerised along the way.
Titled Eternal Embrace, the elegant show is a collaboration with Japanese composer Yukio Tsuji.
After performances in Delhi, Mumbai and Chennai, Eternal Embrace will travel to Bengaluru and Ahmedabad on December 18 and 19 respectively.
Deboo, India's best known contemporary dancer and choreographer, employs his training in Kathak and Kathakali to create a unique dance form.
His next project brings together Kerala's Mridangam drummers and Korean drummers.
On the Chennai leg of the Eternal Embrace tour, Astad Deboo spoke to A Ganesh Nadar in between rehearsals about the sweat and the toil behind the beauty of dance.
I am an artiste. I travel for my art.
My dance has always been my love, my mistress, my passion, whatever you may want to call it. I am very devoted to my work. This is my life.
I have danced in many countries alone or with groups that I have trained and choreographed.
My dance comes under the umbrella of contemporary dance and it is called the Astad Deboo style.
If you look at Indian classical dance gurus like Kumudini Lakhiya, she has her own style compared to Birju Maharaj. We leave a stamp of our work.
When people talk about contemporary dance they say that a particular dance was done in the Astad Deboo style.
Once every two years I come up with a new creation.
Sometimes collaborations are happening overseas that don't necessarily come to India. But in India I work on a new creation every two years.
Eternal Embrace is the fruit of a lot of preparation and planning. There is a lot of hard work. There are no short cuts.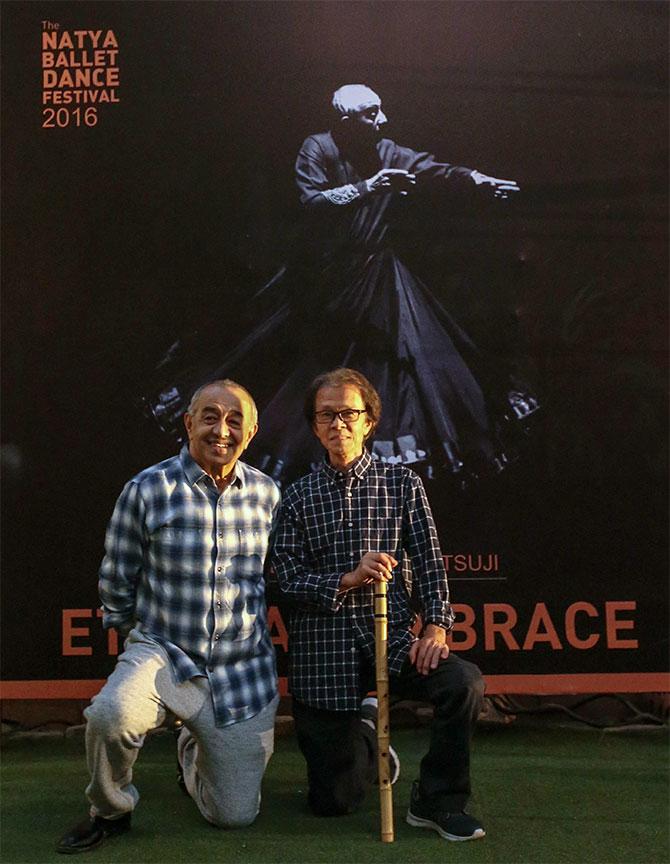 IMAGE: With Japanese composer Yukio Tsuji.
I do not teach regular classes. I train, and mentor groups at different times.
During that period all my students are my collaborators. Teaching is a great responsibility and I am not in one place long enough to have a continuous teaching practice.
I am basically a mentor helping one group at one time.
I have been working with the drummers of Manipur for over ten years.
I have worked with girls from a school for the deaf in Chennai for 8 years; also with the Salam Balak Trust in Delhi that empowers street children.
Whatever project I take on, I mentor the performers, they grow and become a part of my company. We travel together till the work comes to an end.
Then another project starts and another group of people come into my realm. What is amazing is that the previous groups are still in touch with me.
As a creative person, I am ready with another project before stagnation can set in which makes me move on to another level.
There are no recordings of my earlier work as there were not many video recordings done of shows then. Some of my works have been recorded.
Preserving art requires funding which has not happened because I have not been able to generate those kind of funds.
I have not been able to archive all my work. I should, because it is unique.
It has not happened because I am a one man show. I am my own manager, my own fund raiser and I don't have any assistants.
Sometimes you are not good at negotiating, but through the years I have had to survive and present my work. I have learnt the ropes of marketing and have a fair idea of finance.
Dance is the least paid of the performing arts. I have been able to balance the creative with the finance.
I have enjoyed the journey which has had its share of struggles. People say I have a name, but it really doesn't help in opening doors.
Each time it's a hard sell. You have to prove yourself.
Overseas when you create something new, and inform people, they come to see and invite you. It doesn't work like that in our country.
Here you have to promote and produce it yourself. Earlier this year, I produced my own work in Bengaluru but it takes a lot of time. It is not easy. I would like my work to be seen, but sometimes time does not permit me.
When I am not performing or preparing, I work out three to four days a week. When I am travelling, I don't get the time. I devote 90 minutes to 2 hours for a work out. I work on my body and my joints.
I am going to be 70 soon. I am as old as the country. I have been invited for the Kolkata Lit Live in January. There is a panel on midnight's children and I am one of them.