'The Modi government must create conditions to integrate millions into the rural economy as many migrants are certainly not going to return to live an undignified life,' notes Ramesh Menon.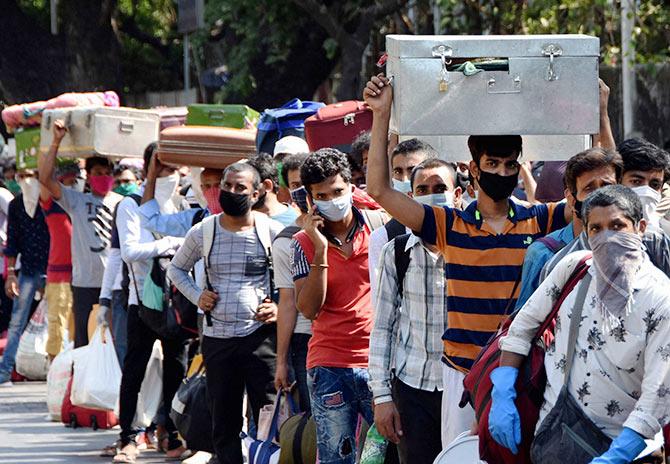 It took something as big as the COVID-19 pandemic to rake up our conscience and recognise the tragic plight of migrant labourers in India.
We never cared about them as they silently toiled to make our lives comfortable.
They build our cities, cleaned our roads, cooked our food and kept our lifelines buzzing. But we did not see these invisible people.
Myopia.
All through the lockdown, we could not escape the reality of how we are actually a country brimming with very poor people.
We suddenly realised that many of us were highly privileged as we had a roof, food on the table, savings in the bank and the courage to look at tomorrow.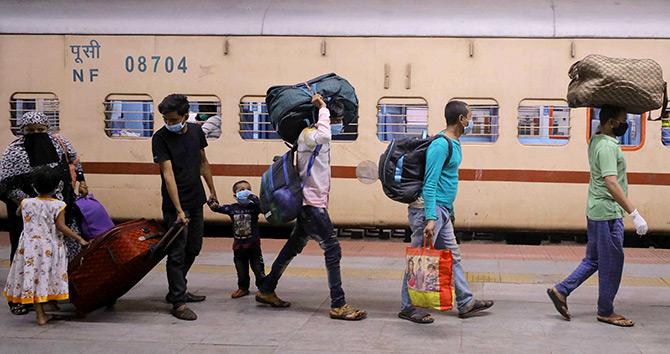 Millions of Indians walked hundreds of kilometres on highways and rail tracks to reach their homes after their livelihood options ran out in urban India.
They wanted to go back for the emotional support they would get from their family. And, food.
Some managed to get into trucks packed with migrants desperate to go home.
Some hid in cement mixers after paying the driver hoping that the police would not see them.
We did not think of them when the lockdown was contemplated or even announced. But, the government also did not think of them. They did not remember that daily wagers will not survive until the end of the lockdown.
Many of us were exposed to the real plight and struggle of millions of migrant labourers for the first time.
These were people who were abandoned by their employers, by their state governments, by us.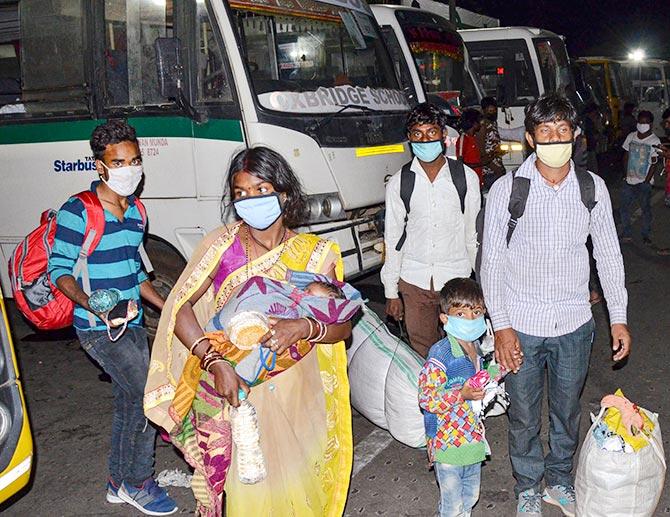 It was impossible to ignore the heart-wrenching stories everyday of how they trudged in the burning summer on metalled roads that radiated the arrogance of the sun.
Many were chased and beaten by the police.
Some were even hosed with bleach water!
After a very long time, the spotlight in the media was on the poor, the hungry and the disadvantaged.
The images refuse to go away and will haunt us for a long time to come: A child trying to wake up his dead mother lying on a railway platform.
A school dropout who cycled 1000 kilometers carrying her sick father.
A migrant labourer who committed suicide as his dreams died a sudden death.
Birth of a baby in a special train carrying migrants.
A COVID-19 patient lying next to a dead body in a hospital. For almost the entire day.
Tearful COVID-19 positive patients were unable to get admission into overcrowded government hospitals.
A young labourer holding his friends face in his lap wondering why he could not help him as he took his last breath after he was exhausted walking home for days.
A four-year-old who died of hunger on a special train carrying migrants from Delhi to Patna. Another one-month-old baby died of dehydration on a train to Gorakhpur.
A twelve-year-old girl who worked in the chilli fields in Telangana who undertook a journey of over 100 km to her home in Chhattisgarh, but died of exhaustion on the way.
Many committed suicide as they did not see any light at the end of the dark tunnel of their lives.
Many died on the way. Some on the roadside. Some on railway tracks. Some in trains. Some just a few kilometres before they reached their home.
A young migrant from Delhi was beaten up at the UP border as he tried to enter with the handcart that he had bought after taking a loan to carry his belongings.
When he said that he would never ever return to Delhi, you knew he was saying something that many others also felt.
Many will never return as they have killed their dreams of making a life in urban India that was seemingly better than the one in the village.
A couple sold their child for Rs 22,000 as they were penniless and could not feed themselves.
Many sold off whatever little they had to finance their trip back home. Some sold their cattle at home to get cash and finance their journey.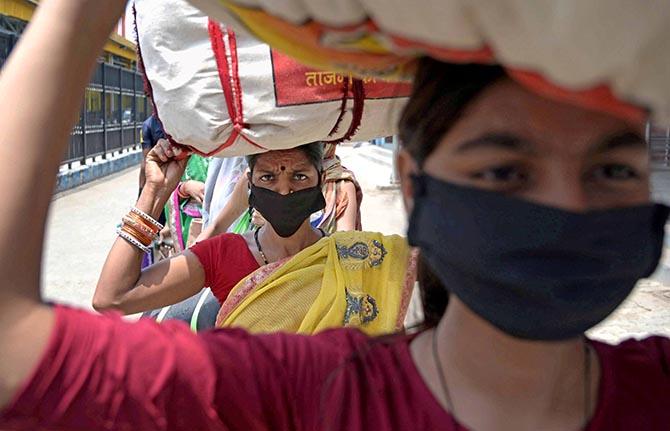 All of them were nameless for the administration.
They were seen as just unruly crowds not respecting physical distancing at bus and railway stations.
The government admitted that it does not have data to ensure that cash is transferred into the accounts of migrants.
Why does it not have data? What does it say about our official view towards the poor?
Without data, we cannot build an architecture of a welfare system.
The lockdown exposed the faultiness that should have been detected long ago.
Ironically, it was not the fear of being infected by the highly contagious COVID-19 that made them decide to walk hundreds of kilometres.
It was the fear of death that hunger would bring.
Their employers had disbanded them, their landlords had thrown them out fearing that they would never be able to pay the rent and they saw little empathy from the government.
Strangely, the government did not realise that it is these migrants who were toiling to build the planned trillion-dollar economy.
The country's economic activities had an architecture that would collapse if there were no migrant labour.
Many died of sheer hunger on their long trudge home.
Ironically, India has 77 million tonnes of foodgrain overflowing in its granaries.
As adequate storage facilities are not there, a lot of grain in open godowns of the Food Corporation of India rots in the open.
Strangely, the National Biofuel Coordination Committee in the midst of this hunger emergency decided to use surplus rice that is held by the Food Corporation of India to produce ethanol.
On the Global Hunger Index, India stands at position 102 out of 117 countries.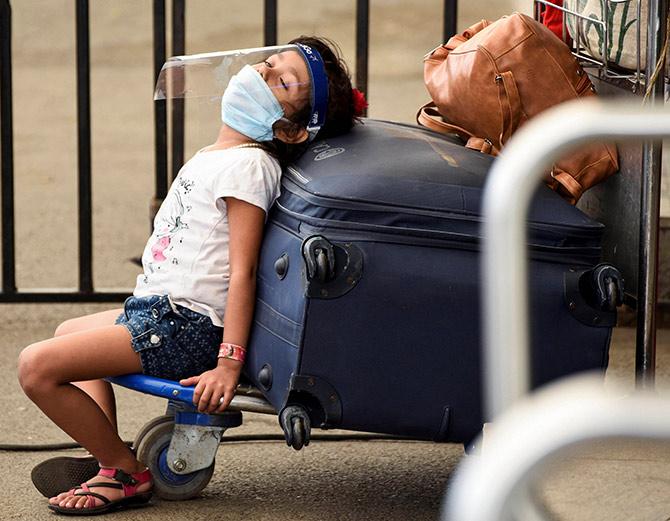 The migrants were trudging to their villages in Bihar, Uttar Pradesh, Madhya Pradesh, Karnataka, and others which they had left hoping to build a decent life in urban India and send money home.
It accentuated the reality of how the villages they lived did not have worthwhile livelihood options forcing them to migrate to urban slums to eke out a living and support their families.
The tragedy could have been averted had special trains been arranged just before the lockdown was announced.
But as they were invisible people, they were not seen or considered before public transport was grounded to a halt.
It was a saga that no other place in the world had seen during the pandemic.
As the world took notice of the plight of poor migrants in India struggling to stay alive, there was no word from the ministry of labour.
Try guessing who the Minister of Labour is.
If you do not get it, do not berate yourself. Nobody around is likely to know.
This crisis has created an opportunity for India to set up a new full-fledged Ministry of Migrant Labour so that such tragedies do not repeat.
Only then will we have a database of migrants and use it to design policy, empower them with skills and give them some dignity.
Every state in India needs such a ministry.
It must work seamlessly with the centre and not let centre call the shots or politicise the issue. Migrant labourers must band together to demand a better-dignified deal.
They might as well.
class="rbig"There are 45.36 crore internal migrants, according to the 2011 census. That is 37 per cent of the Indian population. Most of them are inter-state migrants.
Presently, there are about 65 million inter-state migrants and 33 per cent of them are workers, according to Professor Amitabh Kundu, a Distinguished Fellow at the Research and Information Systems for Developing Countries.
Most of them are from Uttar Pradesh, Bihar, Rajasthan, Madhya Pradesh and Odisha.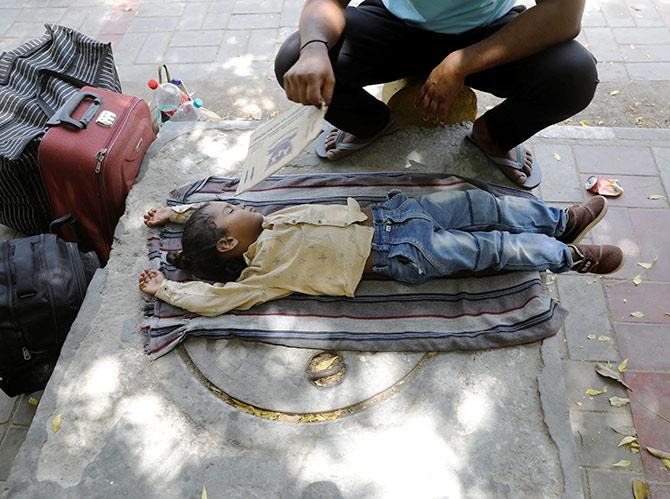 The Centre for the Study of Developing Societies and Azim Premji University estimated in 2019 that 29 per cent of the population in India's big cities were daily wagers.
It was this huge chunk of people who wanted to go back home as their employers dumped them as their units shut during the lockdown.
Most of them live from day to day.
That is why the theatres of migrant misery were playing out in cities like Delhi, Gurugram, Noida, Ghaziabad, Mumbai, Pune, Surat, Indore, Bhopal, Bengaluru, Chennai and Coimbatore.
If the government wants to make amends, it must ensure that the Mahatma Gandhi National Rural Employment Guarantee Act that assures villagers employment for at least 100 days a year is honestly implemented.
The Act brought about in 2005 was a progressive Indian labour law and social security measure.
When urban India suddenly lit up with prosperity after liberalisation, it raised the hopes of millions of youngsters in rural India.
They started migrating hoping for better days.
But even in 2011, the World Bank estimated that 276 million were living in poverty.
Liberalisation had ignored rural India.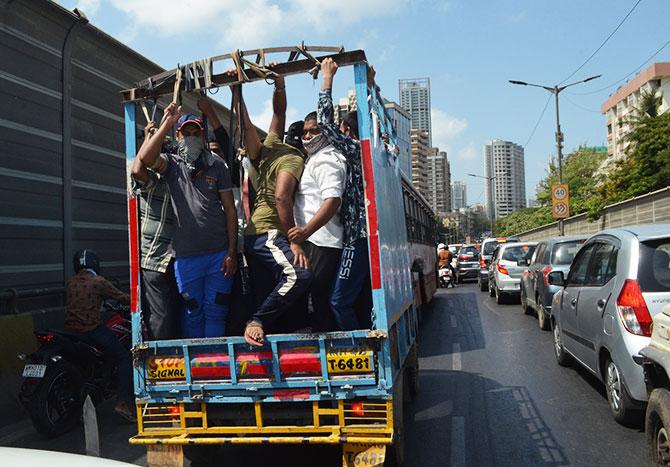 Although India was an agricultural economy, architects of liberalisation ignored it and were happy with a booming real estate, retail explosion, loans to buy cars, gadgets, vacations and the good life.
Middle-class homes got renovated.
Restaurants and airports were buzzing with activity.
Industry sang peans about the newfound freedom to grow.
India thought it had arrived.
But time stood still for the labour class. Nothing changed for them.
Today, we can see the crisis play out in front of us.
It is what years of neglect and apathy can do to a huge chunk of our population.
We did nothing to upgrade their skills, create new opportunities to help them climb the ladder or give them a better lifestyle with some social security.
A study done by management consultancy firm Bain & Company in 2013 on enterprises in India showed that companies that treated their employees as long-term assets did much better during market fluctuations or a crisis than their peers who saw workers as a burden and a problem.
The study commissioned by the Planning Commission has much to teach us in the current crisis. Indian industry needs to learn that it helps to have enlightened employers.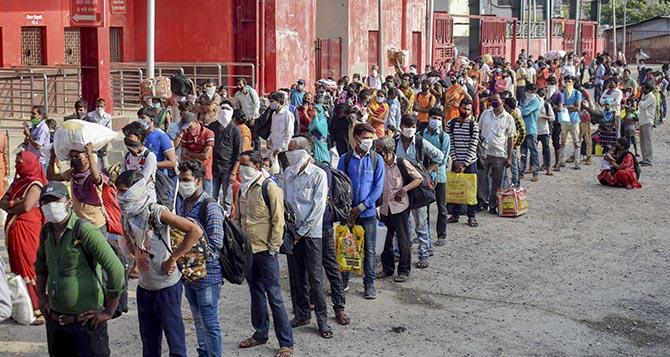 See how BJP ruled states like Gujarat, Madhya Pradesh, and Uttar Pradesh have axed labour laws on the plea that it was imperative to help the industry get on its feet, attract new investors and ensure employment.
It used the health emergency to propose changes in labour laws making it difficult for labourers and easier for manufacturers and entrepreneurs.
It eloquently displayed the attitude that we have towards migrant labourers.
Arun Maira, author of Transforming Systems: Why the World Needs a New Ethical Toolkit, says that it is crucial for the government to now listen to workers and those who speak on their behalf while framing or changing regulations as their voices should not be silenced by ordinances.
MP wants to exempt all new factories from provisions of the Factories Act, 1948, for the next three years.
The provisions deal with working conditions, health and worker's safety.
UP and Gujarat also want to tilt the work environment in factories to benefit the owner.
Does it sound good? Think about it.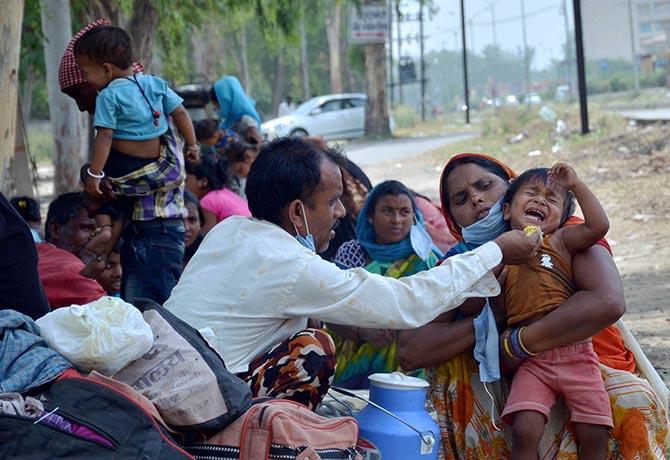 It is now for the Narendra Damodardas Modi government to reset any changes that go against basic labour rights, make it attractive for them to work in places that they do not belong to, and at the same time encourage industry to invest in their labour and not exploit them.
Alternatively, it can create conditions to integrate millions into the rural economy as many of the migrants are certainly not going to return to live an undignified life.
To ensure that they do not slide into deeper levels of poverty, policy changes could create a better ecosystem in the villages where they would be able to find work, get basic healthcare and send their children to decent schools.
This is what will change the look of rural India.
You will see reverse migration happen as no villager or farmer who has land will ever want to live a sub-standard life in an urban slum.
Many migrants who have returned to their villages have certain skill sets mastered over the years in urban India.
This could be put to fruitful use in newly set up cottage industries and small and medium enterprises. This will certainly stop distress migration.
COVID-19 has given us the opportunity to reset the wrongs to India's invisible millions struggling to find three full meals a day.
It will not only help India's rural poor but help the nation's economy to get moving.
---
Ramesh Menon is an author, journalist, documentary film-maker and corporate trainer.
Production: Aslam Hunani/Rediff.com