'I did not ask their religion when I rescued them and they did not ask my religion when I helped them get onto the boat.'
'The moment I came out of my house on this mission, I am an Indian, I am a human being,' says Mohamed Yunus, who helped save hundreds of people on the flooded streets of Chennai.
"Please do not bring religion into what I am doing and please do not concentrate on that one incident," those were the first words of 26-year-old Mohamed Yunus, co-founder of an e-commerce company, PROPO.
He is on a mission now, to eradicate the word 'poor' and change the world.
There were only three friends in his team when he started rescuing the flood-affected people in Chennai; now it has grown into thousands. Every day, many more people join him in his mission.
Yunus spoke to Rediff.com about what changed him and his life, and how he and his team of volunteers have been working relentlessly since December 2.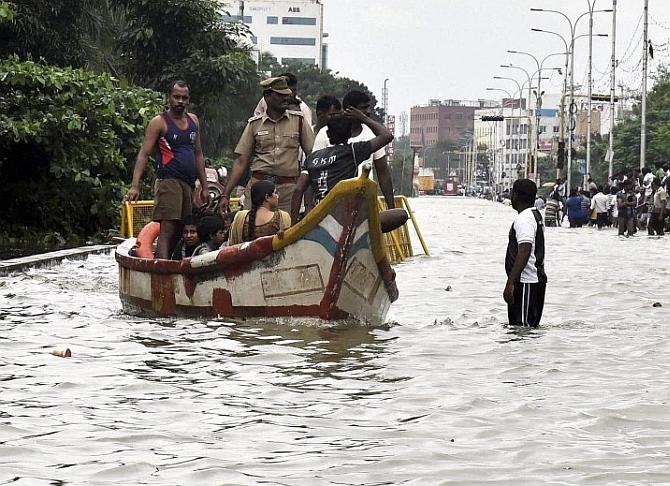 IMAGE: Flood-affected people being rescued in Chennai.
Two weeks ago, after the mini-flood in Chennai, as I was driving, I saw a woman nursing her baby on the road. The sight almost killed me.
How desperate she must have been to sit on the road to nurse her baby! I have two houses and here was a mother who has to nurse her baby in full public view on the street.
That day, I decided to open both my houses to homeless stranded people.
After I did this on that rainy day, many people contacted me offering their homes to people who had no place to sleep because of the floods.
I would say I was like a mobile application where people offering help and people needing help matched.
The love and blessings I got after this made me realise that I should not stop with this small act; there was much more for me to do.
I also realised that love and blessings are much bigger than what money can buy for you.
******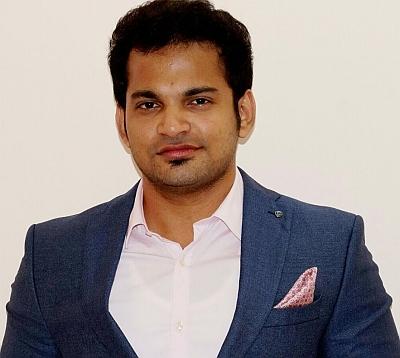 IMAGE: Mohamed Yunus opened both his homes to homeless stranded people.
Last week, when the rain lashed out in Chennai, I started getting lot of messages on Whatsapp and Facebook from people crying for help.
All of them wanted to be saved.
When the government was not doing anything to save my countrymen, I knew it was time for me to step out. Nobody went to rescue those who are in the interior parts of the city.
I knew I had no time to waste, but only if we had boats we could go there. My brother sourced seven boats from the fishermen's colony.
Now, the question was how to take them out.
Two of my friends and I stood on the main road in Adyar, drenched in rain, stopping vans, trucks and even Chennai corporation vehicles and begging them to bring the boats from Besant Nagar.
But nobody was willing to come with us though we agreed to give whatever money they asked for.
For the first time in my life, I was literally begging these guys.
We decided to go to the Koyambedu market and one guy there agreed to come with us.
Finally, we could take all the boats from Besant Nagar to Urapakkam in southwest Chennai.
That is when the game started. I call it a game because that's when we play to win.
We win only when we saved people from drowning.
******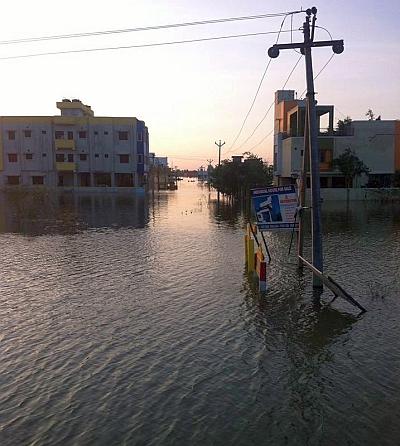 IMAGE: The magnitude of flooding in Urapakkam.
We wanted to start our rescue operations at 11:30 pm itself, but the boatmen were scared to take out the boats. The government had forbidden them to do so between 11 pm and 5 am.
I told them the laws were for people and we were using the boat not in the sea, but inside the city. It took me some time to convince them, but that too only after I took full responsibility for their actions.
Finally, at around 4 am, we started our rescue operations.
The scenes we saw were heart breaking; we saw people hanging onto trees, electric poles and walls and crying, 'Save us. Save us please.'
The cries for help reverberated in the dark sky. We were stunned to see the sight of water all over and people hanging on for their lives dangerously.
Till 8 pm, we continued to rescue people from Urapakkam. We must have helped at least 450 people to safety there.
This particular family (for whose rescue Yunus made headlines) was one of the many we rescued that day. We saw two families standing in neck-deep water yelling for help, but the boat could not go near them.
I don't know swimming. Yet I got out and somehow waded through neck deep water with the help of a rope and reached them.
I didn't know one of them was pregnant. It was only when I helped them get into the boat that I realised that. She looked very tense and worried.
I told her a story to ease her tension. I said money was just a piece of paper. When we start sharing these pieces of paper with everyone, all would have money. When all have money, the greed to have more money will go away. With this, the respect people give money will vanish and the respect we have for people will go up.
After I finished the story, the pregnant lady smiled. That was blissful.
We dropped them near the Perungalathur bridge and continued with our mission.
Another lady named Saranya called on my phone and said, 'Brother, please come and rescue me. I have not called anybody else for help. If you come, I will live, or else, I will die here.'
She had an 8-month-old baby with her. I told her, 'If you die, it will be my death also.'
We went and saved her.
At 10 pm, we finished our mission there and moved to Mudichur. There too, we could save another 400 people.
By now, the number of people in our team had increased to 900, 1,000. I was coordinating people to various other places like Velachery, Pallikarany, etc that needed urgent help.
On that day, I must have received at least 6,000 calls, and finally my phone died. I had to go back home and get another phone.
We are continuing with our work. We are trying to rehabilitate people and pay a tribute to the fishermen who worked selflessly all these days.
On December 4, I got a WhatsApp message from the pregnant woman's husband.
'Hi sir, this is Mohan from Urappakkam. My wife Chitra has successfully given birth to a baby girl. We have named our girl Yunus, sir. We take pride in this and we want you to come and meet her one day you are free. Also, we will not forget the theory of money you taught us on the boat. You are our leader and our government, sir. Hereafter, I will give 50 per cent of my salary to the poor only and help the needy. You are great.'
I was overwhelmed. It made me realise that I have to do a lot more. I sent a message that I would take care of the education of baby Yunus.
******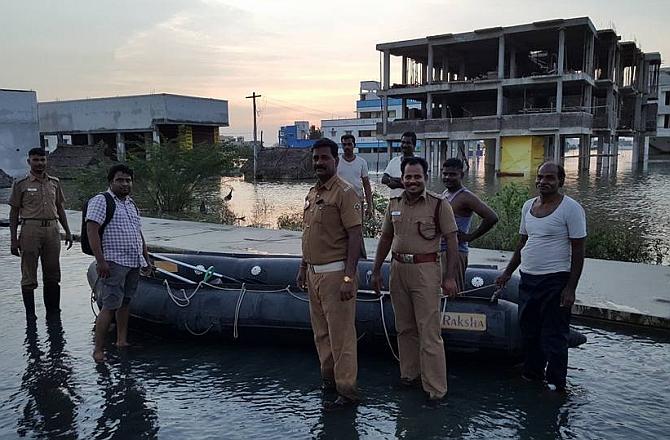 IMAGE: The rescue party, which included these policemen, takes a break after their tiring mission.
What hurt me was the media describing what I did as a Muslim rescuing a Hindu pregnant lady and a Hindu family naming their daughter after a Muslim who saved them.
What is the relevance of religion here?
I did not ask their religion when I rescued them and they did not ask my religion when I helped them get onto the boat.
It is very insulting to give religious colour to what we do.
The moment I came out of my house on this mission, I am an Indian, I am a human being.
Why do people have to bring my religion into this? I fail to understand.
I wrote on my Facebook page, 'Please do not give Hindu-Muslim colour to this; it is a human act.'
My mission has started only now. It is to see that all children born in India are educated. My mission is to eradicate the word 'poor' from the dictionary.
As told to Shobha Warrier/Rediff.com