As remarkable as DRDO's contribution in containing and treating COVID-19 has been, its success over the last 15 months has been in its primary role of developing conventional defence equipment and technologies.
Ajai Shukla reports.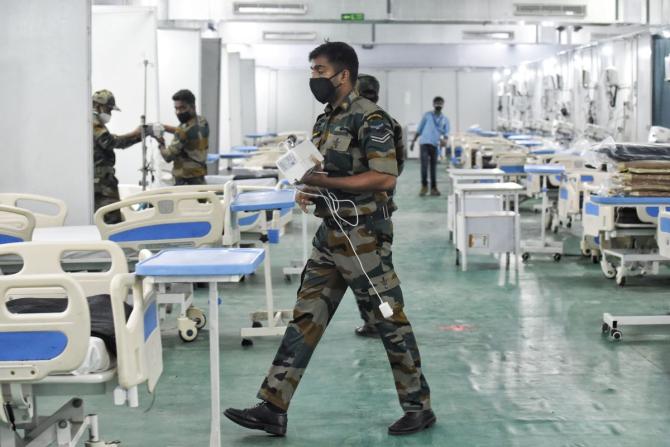 With an annual budget of about Rs 137,000 crore for this year and the last, the Defence Research and Development Organisation, India's best-funded science and technology organisation, wasted no time in throwing its design and development expertise and manpower into combating the COVID-19 pandemic.
Since India's first COVID-19 case was reported on January 30, 2020, senior DRDO officials say they developed 19 technologies and over a hundred products to combat the pandemic.
These include indigenous sanitiser and five-layered N-99 masks, four variants of personal protective equipment of which 3.5 million units are currently on order, indigenous ventilators of which 30,000 are on order, and even an ingenious 'medical oxygen plant' (MOP) derived from the Tejas fighter's on-board oxygen generator.
The government announced it would spend Rs 322 crore (Rs 3.22 billion) from the PM-CARES Fund on 150,000 units of DRDO's newly developed 'Oxycare' system.
Further, DRDO has set up well-equipped Covid-care hospitals in Delhi, Patna and Muzaffarpur in double quick time.
As remarkable as DRDO's contribution in containing and treating COVID-19 has been, its success over the last 15 months has been in its primary role of developing conventional defence equipment and technologies.
While many private R&D centres and industries pulled their shutters down and others were prevented from working by successive lockdowns, DRDO's 50 laboratories have continued announcing developmental successes almost on a weekly basis.
G Satheesh Reddy, the DRDO chief, explains how this was done.
"We first identified the DRDO labs that were working in technology areas whose offshoots could be useful against COVID-19. Those labs were tasked to use the technologies and develop products for anti-Covid applications," he says.
"For example, the Bengaluru-based Defence Bio-engineering and Electro-medical Laboratory, from its on-board oxygen generation technology that is going into the Tejas fighter, developed oxygen plants and worked with industry to produce those in large numbers."
Similarly, he adds, the Delhi-based Institute of Nuclear Medicine and Allied Sciences, which was working on therapeutic drug development for anti-radiation therapy, brought out an anti-Covid Drug called 2-DG.
But the DRDO chief ensured that other laboratories continued their work on defence related products and technologies.
For the DRDO, 2020 began with a bang.
As the COVID-19 pandemic was taking hold, it announced that the naval version of the Tejas had successfully landed on the aircraft carrier, INS Vikramaditya.
It had earlier taken off and landed multiple times on a full-scale model of an aircraft carrier ramp in Goa called the Shore Based Test Facility.
But this was the real thing -- the challenge of landing on the heaving deck of a moving aircraft carrier at sea.
Another triumph was the completion of 125 hours of testing of the Uttam Active Electronically Scanned Array (AESA) radar.
The combat capability of a fighter aircraft depends largely on its radar.
A quality AESA radar -- which can track multiple targets in air-to-air, air-to-ground and air-to-sea modes -- would establish the Tejas as a world-class fighter.
The Uttam is slated to equip the Tejas Mark 2 and can be adapted to other aircraft, too.
The Indo-Russian BrahMos supersonic cruise missile was test-fired last September to validate its recently indigenised configuration, which had a 'Made in India' booster, airframe and several other systems.
The missile achieved its range configuration and a top speed of Mach 2.8 (3,500 km/hour).
A week later, a BrahMos ship-launched cruise missile was fired from a stealth destroyer, INS Chennai, in the Arabian Sea.
According to the defence ministry, 'The missile hit the target successfully with pin-point accuracy after performing high-level and extremely complex manoeuvres.'
A third BrahMos was test fired successfully in a ship-to-ship mode last December, striking and sinking a decommissioned ship that was the target.
On September 7, 2020, India became the fourth country (after the US, Russia and China) to successfully fly a vehicle at hypersonic speed, when DRDO's experimental Hypersonic Technology Demonstration Vehicle (HSTDV) took off from the A P J Abdul Kalam Launch Complex, off Odisha.
'A proven solid-rocket motor took the HSTDV to an altitude of 30 km, where the aerodynamic heat shields were separated and it flew at Mach 6 for more than 22 seconds,' stated DRDO.
Hypersonic flight, which is a speed faster than Mach 6 (7,500 kmph) yields enormous military advantages. Most cruise missiles fly today at sub-sonic speeds of about 1,000 kmph, making them vulnerable to interception by supersonic fighter jets.
A hypersonic missile, which flies faster than any fighter, would strike its target before it can be intercepted. Further, the kinetic impact of a Mach 6 strike would utterly demolish the target.
DRDO also notched up significant successes in two anti-tank guided missile (ATGM) projects. In July 2020, it successfully conducted three flight tests of the Dhruvastra ATGM.
'The helicopter-launched ATGM is one of the most advanced anti-tank weapons in the world,' announced DRDO.
In September 2020, the so-called Laser Guided ATGM was successfully test fired from DRDO's Arjun tank in Ahmednagar.
The ATGM rides a laser beam to the target, which is illuminated with a laser. While this missile will be capable of being fired from any tank with a laser, it is likely to first be fitted on the MBT Arjun.
DRDO successfully tested the country's first anti-radiation missile (RUDRAM) in October 2020.
The missile, primarily designed to destroy enemy radars, was launched from a Sukhoi-30 MKI fighter aircraft at a 'radiating target' located on Wheeler Island off the coast of Odisha.
The missile is guided for the initial part of its journey by an 'inertial navigation system' or by the 'global positioning system'.
Close to its target, it follows a 'passive homing head', riding the enemy's radar emissions all the way to the emitting radar.
It is learnt that the RUDRAM hit the radiation target with pin-point accuracy.
Torpedoes are often a warship's most potent threat, but they have the drawbacks of limited range and speed. DRDO has mitigated these drawbacks in the SMART, a lightweight anti-submarine torpedo system, test-fired on October 5, that can strike targets far beyond conventional torpedo ranges.
This is achieved by launching the torpedo on a missile; once close to the target, the torpedo separates from the missile and heads for the target autonomously.
The DRDO chief is confident of delivering anti-Covid products, without compromising his conventional role.
"The pandemic has not set back existing design and development projects," Reddy says, adding, "Due to prevailing Covid cases and lockdown, attendance has come down and industry also is unable to work to its capacity. But the slowdown is only temporarily."