On his 90th birth anniversary, Goa plans to celebrate Mario Miranda's life.
Veena Sandhu reports.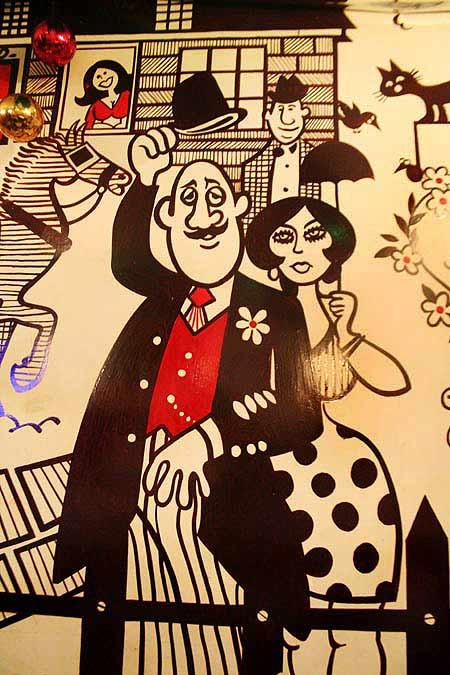 Goa, the world that Mario de Miranda came from and the world he finally went back to, is all ready to celebrate the 90th birth anniversary of one of India's most remarkable cartoonists and illustrators.
Miranda, born Mario João Carlos do Rosario de Brito Miranda, signed out on December 11, 2011. Had he been around, he would have turned 90 on May 2.
As a tribute to his life and art, the Mario Gallery in Panjim is organising a number of events, including an exhibition, A Pocket of Chuckles, of his original drawings. The exhibition will be hosted by the Gallery Gitanjali and will have 74 of his works for sale.
"Of these, 60 are pocket cartoons done between 1980 and 1990, and 14 are illustrations of Goa that Miranda made for the book, Inside Goa, by Manohar Malgonkar," says architect Gerard da Cunha who published a volume on Miranda's art and life, Mario de Miranda, in 2008.
The cartoons feature many of his kooky characters: Cheeky beggars, whose humour both belies and accentuates their miserable existence; businessmen, for whom money is both a means and an end; his trademark dog, who listlessly takes in the goings on; and, yes, Miss Fonseca, the buxom Anglo-Indian secretary.
Miranda's visual diary will also be released in the form of the book, The Life of Mario 1949. This is the latest in the series, the earlier ones being 1950 and 1951. In this diary, Miranda is 22 and studying at St Xavier's college in Mumbai.
Also planned is a concert, free and open to all, on May 2 at the amphitheatre of the Museum Houses of Goa at Torda Porvorim. It will feature Miranda's favourite bands, The Cotta Family and Sonia Shirsat and her group. Fado singer Shirsat had also sung Ave Maria at his funeral four years ago.
The exhibition, A Pocket of Chuckles opened on April 30 at 6 pm and is on till May 21 at Gallery Gitanjali, E212, 31st January Road, Fontainhas, Panaji, Goa; www.gallerygitanjali.com