Minister of State for Minority Affairs Mukhtar Abbas Ansari believes a national debate on a Uniform Civil Code is a must.
'The need of the hour is to debate this issue at length in order to create a consensus,' Ansari tells Rediff.com, adding, 'Such a debate must take place at the grassroot level. We must understand all the divergent viewpoints before any draft can be prepared.'
Rashme Sehgal reports for Rediff.com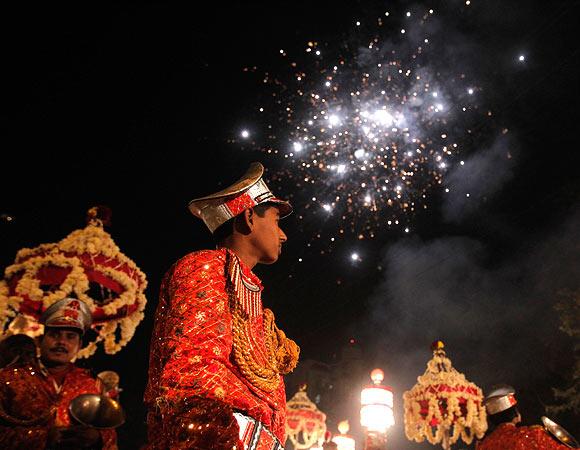 Much as the Bharatiya Janata Party would like to introduce a Uniform Civil Code, it confronts several obstacles in bringing this about.
Buoyed by the BJP's recent victories in the assembly elections in Haryana, Jharkhand and Maharashtra, Lok Sabha MP Yogi Adityanath told Parliament that the time had come for the government to enact a common Uniform Civil Code. Agriculture Minister Radha Mohan Singh went a step further by insisting there was no harm in having a debate on both the Uniform Civil Code and on Article 370, which mandates a special status for Jammu and Kashmir.
Law Minister Ravi Shankar Prasad indicated that the government is willing to bring in a Uniform Civil Code in line with a Constitutional provision, but only after widespread consultations with all political parties.
In a written reply, Prasad said, 'Provisions of the Uniform Civil Code are there in Article 44 of the Constitution. Wide stakeholder consultation would be required for further steps in this regard.'
By stating this, the Narendra Modi-led National Democratic Alliance government has turned around the stand adopted by its predecessor, the United Progressive Alliance which maintained that its government would not touch this controversial subject.
The Uniform Civil Code has been a key element in the BJP election manifesto which states that there cannot be equality for women till such time that a common civil code is adopted to protect the rights of India's women.
In its manifesto, the BJP claimed it would accord top priority to drafting such a code which would 'draw upon the best traditions of (Indian culture) and harmonise them with times.'
A Uniform Civil Code has been a long standing demand of the BJP's parent, the Rashtriya Swayamsevak Sangh and it is not an issue on which the RSS will easily relent. BJP and RSS leaders cite the example of Goa (with a BJP government at the helm) which has adopted a common law called the Goa Civil Code.
Prime Minister Modi has clarified that a Uniform Civil Code does not mean that all India's diverse groups will be brought under a Hindu code.
This assurance is not something rival political parties are willing to buy and as negotiations hot up in Jammu and Kashmir, both Peoples Democratic Party and National Conference leaders have made it clear to the BJP that an enactment of a Uniform Civil Code will be non-negotiable.
BJP Mahila Morcha President Dr Vijaya Rahatkar points out, "Modiji is extremely sympathetic to the cause of women and we leave it to him to give direction as to how he plans to introduce a Uniform Civil Code."
"It is up to the law minister to initiate what kind of debate he wants on this with other political formations," says BJP spokesperson Siddharth Nath Singh. "We believe such a step will go a long way in strenghtening the secular fabric of the country."
A draft Uniform Civil Code will have to be prepared which will need to be okayed by the Law Commission before it is can be debated by the public at large. The National Commission for Women under Lalitha Kumaramangalam's leadership, is expected to work closely in the preparation of such a draft.
Minister of State for Minority Affairs Mukhtar Abbas Ansari believes a national debate on a Uniform Civil Code is a must before any overarching framework of law can be formulated.
"It is much too early to speak about introducing a Uniform Civil Code. The need of the hour is to debate this issue at length across all forums in order to create a consensus," Ansari tells Rediff.com, adding, "Such a debate must take place at the grassroot level. We must understand all the divergent viewpoints before any draft can be prepared. At the moment the government has so many other priorities to attend to."
Women activists believe tinkering with the Uniform Civil Code will open up a minefield.
Dr Ranjana Kumari of the Centre for Social Development believes that in the 1970s and early 1980s, women's groups pushed for a Uniform Civil Code in order that women discriminatory laws in the areas of marriage, divorce, inheritance, guardianship and adoption could be done away with it.
"When the Status of Women Report was placed before the government way back in 1975, there was near unanimity in the need for an all embrasive Uniform Civil Code which would look at the contentious issues of marriage, divorce, guardianship, inheritance, custody of children and adoption," Kumari recalls.
This unanimity has now ended. Not only are political parties tugging in different directions but women's groups and legal luminaries believe that nothing should be done to destroy the heterogeneous nature of Indian society, Kumari asserts.
Supreme Court lawyer Rebecca John believes that Article 44 included in Part 4 of the Indian Constitution, lists the Uniform Civil Code as one of the Directive Principles which cannot be enforced by any court.
"There is an overall thrust to have a common Uniform Civil Code, but it is a fallacy to think that the Hindus have a common law and it is this existing law of north India which must be codified into a Uniform Civil Code," says John.
"This is part of the bullying of north Indian against other Hindu communities," she feels.
Elaborating, John points out, "The Hindu Marriage Act and the Hindu Ascension Act are practices of north India which received primacy over the eastern and southern states. Are Hindus willing to give up the beneficial aspect of the Hindu Undivided Family which has been used for tax exemption purposes?"
John is making a reference to the saptapadhi form of Hindu marriage that is followed mostly in northern India, the marriage is deemed to be complete and binding when the couple take seven steps around the sacred fire.
On the other hand, in south India, suyamariyathai and seerthiruththa forms of marriage are followed. Under these, the marriage is valid if the parties to the marriage declare in the presence of relatives that they are marrying each other, or if they garland each other, or put a ring on each other's fingers or if the bridegroom ties a thali around the neck on the bride.
Also, for a marriage to be valid under Hindu law it has to be solemnised in accordance with the customary rites and ceremonies of at least one of the parties. Thus, if a Jain marries a Buddhist by performing the rites of a Sikh, the marriage is invalid (Sakuntala v Nilakantha 1972, Mah LR 31, cited in Family Law by Paras Divan).
In Muslim law there are no elaborate rites or ceremonies, but Shia and Sunni practices differ.
John insists that India remains plural in its identities. "But when a central minister talks disparagingly of a community and uses the haramzada concept while refering to a certain community or if some members speak of the population overgrowth being caused by this community, this is going to act as an impediment to the implementation of a Uniform Civil Code," she says.
"At a time when the socio-economic atmosphere is to fight with religious fundamentalism," John adds, "this should not be seen as one more agenda to impose brute majoritarianism."
John says she is not opposed to the implementation of a Uniform Civil Code but "I can foresee the dangers of this law. We need to stop abusing each other first. A debate on a Uniform Civil Code can start only when we can sit across the table in a peaceful atmosphere."
"Let us see what communities including women's voices have to say," adds John. "Let a draft code come out first. But it cannot become an oppression of the majority community over the minority community. Let us not piggyback over feminist ideology."
John acknowledges there are archaic laws within her community including the fact that Christian women are not allowed to adopt non-Christian children. "This is one example of a bizarre law designed to perpetuate patriarchy," she adds.
Brinda Karat, a member of the Communist Party of India-Marxist Politburo, is unequivocal in her criticism of a Uniform Civil Code. "Personal law reform can be an endeavour for which each community has to be involved," she says. "The strong voice for reform has to come from within each community for which they have to get the support of every political party."
Karat feels the BJP's stands against minorities including forcible conversions revealed a strong disrespect towards other communities. "This toxic environment destroys the atmosphere, thereby preventing any kind of serious discussion," Karat adds.
The All India Muslim Personal Law Board is a non-governmental organisation constituted in 1973 to adopt suitable strategies for the implementation of the Muslim Personal Law (Sharia) in personal matters.
One of the grievances cited against Muslim Personal Law has been on the controversial issue of triple talaq. Maintenance is another contentious issue and the Supreme Court, in the Shah Bano case in 1985 granted alimony to a woman abandoned by her husband.
The court also felt there was a need to have a Uniform Civil Code, regretting that Article 44 of the Constitution had remained a 'dead letter.'
Muslim women organisations have in the last decade been clamouring for a change in their laws based on their own identity. One such group led by Dr Zakia Soman, co-founder of the Bharatiya Muslim Mahila Andolan, points out, "Eighty per cent of women surveyed want Muslim family law based on the Quran."
Soman and her group have spent the last seven years preparing a codified Muslim Personal Law which categorically states, 'the banning of polygamy, the banning or oral talaq and the compulsory registration of all marriages.'
"We place a great deal of responsibility on the qazi who will not allow any underage marriages to take place," says Soman. She did not have a high opinion of the All India Muslim Personal Law Board whose conservative outlook made its members unable to realise the challenges being faced by women.
Soman is unwilling to accept a Uniform Civil Code. "The Uniform Civil Code proponents including the BJP overlook the diversity in Indian society," she says. "The BJP needs to tell us whether they will do away with such practices like satpathi and kanyadaan which is integral to a Hindu marriage."
"I maintain that Article 25 of the Constitution provides for religious diversity. We plan to shortly release our survey where an overwhelming 80% of women surveyed want a Muslim family law based on the Quran. I feel the Special Marriages Act 1956 is already a secular law available to all who want marriage and family matters to be governed by secular law and not any religion," Soman adds.
Political analysts and sociologists point out that a comparative study of the personal laws of Hindus, Muslims and other minorities only serves to reveal the sheer diversity of these laws, coupled with the dogmatic zeal with which they are adhered to.
The heterogeneity of Hindu law itself is such that even the possibility of a uniform Hindu code is ruled out.
Image: A wedding in Delhi. Photograph: Mansi Thapliyal/Reuters