'The police are busy arresting people from Delhi, but not those we saw burning our home!'
Jyoti Punwani reports from Pune.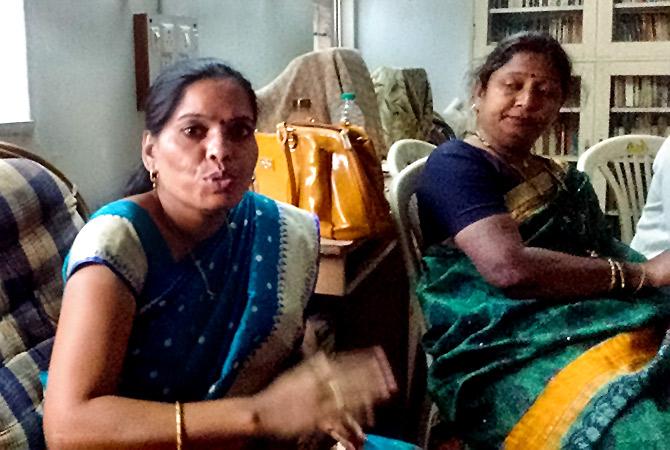 It is nine months now that Rama and Ashok Athavale have been away from home. Their factory, grocery shop and home in Sanaswadi were all burnt down on January 1, during the Bhima-Koregaon violence.
After sitting on a dharna outside the collectorate for days, they were finally given the compensation due to them and also provided with a temporary home.
Now they want help in setting up business elsewhere. "My life was in Sanaswadi," says 40-year-old Rama. "Our factory was set up 18 years ago. My three sons were born there. But I won't go back there."
There weren't too many Dalits in Sanaswadi, says Rama, but her family lived harmoniously among Marathas -- till January 1, 2018.
Like they have been doing for the last 10 years, the Athavales had spent the night of December 31 making preparations for January 1.
Every year, they provide the thousands of Dalits who pass through Sanaswadi en route to Bhima-Koregaon on January 1, with breakfast and a bath. Their factory and home was located on the Pune-Ahmednagar highway.
This year too, they had decided to do so despite a bandh call having been given by the Sanaswadi gram panchayat for January 1. The Athavales had not been ordered to observe the bandh, recalls Rama.
The men who came around on the evening of December 31 to inform the vegetable vendors who sit near their home about the bandh, avoided them.
By 6 am on January 1, Dalits had started pouring in, but by 10 am, the Athavales had to wind up because violence had begun.
Around 12.30 pm, says Ashok, they received a call from a local gram panchayat member, warning him that his 'people' were throwing stones at a mandir and if he didn't restrain them, his house would be set on fire.
Ashok may not have taken the threat seriously had it not been for a call from their son's friend, a Maratha, who told them to leave their home as there were plans to attack them.
Hiding in a plastics factory behind their home, Rama made countless calls to the police, but she says the police claimed to be busy with the violence at Bhima-Koregaon.
Around 3.30 pm, a mob arrived and the Athavales saw all they owned being set on fire.
As dusk fell and everything they owned lay charred, Ashok decided to send his wife and children to his brother's home nearby.
Soon after they left, his son's friend called again to warn him that a mob was coming after him. He ran and hid at a nearby farm.
Though the watchman there told the 20-odd men who came there on motorcycles that he had not seen anyone come there, they found Ashok.
Beating the 50 year old with sticks and pieces of cement, threatening to parade him naked and abusing him for being a Dalit, they finally poured petrol on him.
Ashok was saved when a boy watching the scene, who knew him, called his son's friend to tell him what was about to take place.
The next minute, someone from the mob got a call, and immediately, they left.
Ashok feels the caller told them that if they burnt him, Dalits would target their village.
In shock, Ashok wandered around for two hours before getting his bearings and finally making his way to his brother's house.
That very night, his son came with his Maratha friend to take them away in the latter's vehicle.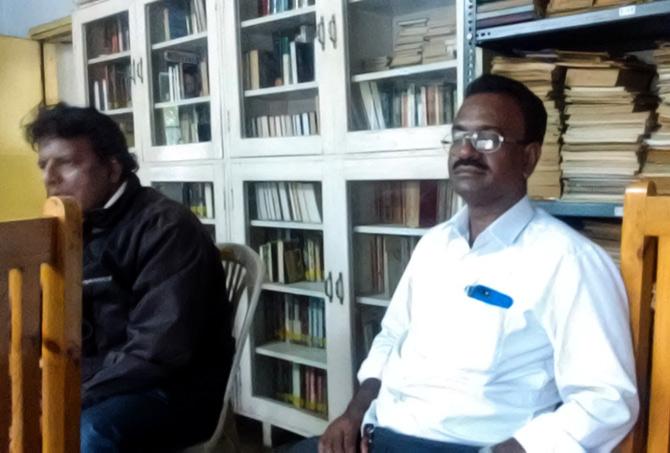 "That Maratha boy saved our lives," says Rama. Adds Ashok: "Our Maratha landlord was very sympathetic. The Malis in our village helped us too."
Through their eight-month exile, their erstwhile neighbours, including Marathas, have been calling them regularly. They had heard that Ashok had died in the attack.
"80% of them feel what happened was wrong," says Ashok whose hearing has been affected in one ear.
"My son never knew caste till that day," says Rama. "He grew up with Marathas; he had friends from every caste in college."
After staying for a few weeks at a Buddha Vihar, the couple moved into a flat belonging to their son's Bengali friend in Pune.
The couple hold no grudge against Marathas as a whole, but says Rama, they don't feel confident of going back to live in their old neighbourhood because they have lost faith in the police.
Despite knowing that lakhs of Dalits were to descend on Bhima-Koregaon via Sanaswadi, how could the police allow the panchayats of Sanaswadi and neighbouring villages to call a bandh on that very day, they ask.
How could they allow saffron-flag-carrying men to gather in Vadhu village, just a few kilometres away from Bhima-Koregaon?
Vadhu Budruk village, which has the samadhi of Sambhaji Maharaj as well as that of Govind Gopal Gaekwad, the Mahar who performed his last rites, is also a much-visited spot by those who go to Bhima-Koregaon every year.
"Asked about the police's allegation that provocative speeches made at the Elgaar Parishad by Maoists provoked the violence on January 1, Rama countered: "Where is the connection? The preparations for observing a kala divas and a bandh on January 1 were going on in Sanaswadi before the Elgaar Parishad was held on December 31."
"Besides if our people were provoked by the speeches there, would they have attacked their own community?"
What could be the reason for the attack on their home?
"It is because we refused to be part of their bandh," says Rama. "We asserted our caste identity. We put up a banner welcoming Bhim Sainiks and we played host to them."
Ashok feels his social work -- organising blood donation drives etc -- was seen as an attempt to mobilise his community around him, and this wasn't liked by the local gram panchayat members.
Those named by them in their complaint to the police have not been arrested, the couple say. "The police are busy arresting people from Delhi for the violence, but not those we saw burning our home!"
The Athavales' hopes are set on the judicial commission that has started its hearings in Mumbai.