'Where the maestro has gone, I am sure Krishna would himself listen to his soulful music.'
Sunita Budhiraja recounts her encounters with Balamurali Krishna whose music touched the lives of millions.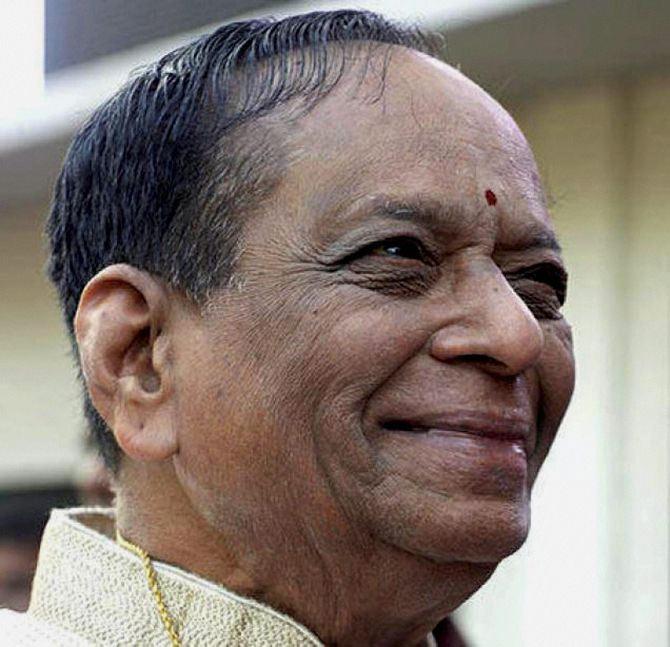 One of the very few artistes who regarded Carnatic and Hindustani music as just music and not separate streams was M Balamuralikrishna.
I had attended a number of his concerts, listening to his electrifying, soulful and effortless voice for years together, not knowing that one day I would get to know this person pretty closely.
I was working on a coffee table book, Gangavaram Se, for the Vizag Steel Plant in 1993.
Since Balamuralikrishna was a doyen of Carnatic music from Andhra Pradesh, it was imperative that I meet him and write about him.
Seeking an appointment was not difficult: I just called him in Chennai (then Madras) and he asked me to come over.
It was easy to find his house in Kanakasri Nagar. He had told me it was close to the Music Academy. Everyone knew where the Music Academy was. And meet me he did, feeding me with lovely idlis and vadas and hot coffee.
That a person of his stature could be as unassuming was simply beyond my comprehension.
I had gone prepared for an hour-long meeting and ended up spending the entire day with him, listening to him about music and its impact on people -- before that day, I had not experienced the joy of conversing about music.
We developed a beautiful relationship from the word go. "Music is my God, but if I say that I sing only for my God, it would be improper. I do sing for myself, for earning money, for my livelihood," he told me candidly.
Music, he said, was the only thing that he knew.
"Honestly, it flows in my blood. When I was born, my mother dreamt of a saint saying that she had given birth to Tansen. So I was encouraged to sing," Balamuralikrishna added. "Now, have I become Tansen or can I sing as well as he did? I don't know, because there are no recordings; but I do sing pretty well, you see."
When Balamuralikrishna first visited my house in Vizag in 1993, I put on a cassette of his music. It was playing Raga Hamsadhwani.
He was happy sitting in Sukhasana on the bed, with the air conditioner on, taking out pan masala from his pill box in the pouch that always travelled with him.
I asked my cook Sathyavathi to prepare very good food. "Saheb always treats me to lovely food in his house, so you must make him happy with your delicacies."
Sathyavathi was amused as I had never instructed her in this manner in the past. She looked at me questioningly. "Saheb is a singer. The cassette is playing his music," I said.
Two minutes later she returned: "You said that Saheb sings and the cassette that is playing is of Saheb?"
When I replied in the affirmative, she said: "But this cassette is of Mangalampalli Balamuralikrishna!"
There was a look of disbelief on her face. "Saheb is Mangalampalli Balamuralikrishna?"
Sathyavathi broke into tears of joy and prostrated herself in obeisance in front of him, slapping herself mildly with awe as if she had seen Krishna himself.
"How do you know, Sathyavathi, that the cassette is of Balamuralikrishna?" was my silly question. "We listen to his music every morning on the radio," she replied.
I realised on that day what an impact this legend had on the people of our country, more so on the people in Andhra. I am not sure if any classical musician in the north would have touched the souls of everybody the way Balamuralikrishna did.
A few months later, on another visit, Balamuralikrishna was to join me for dinner when I developed severe stomach ache and had to be taken to hospital for an appendicitis surgery.
He sat for a couple of hours by my bedside, holding my hands and sang a few Krishna bhajans, Vatapi and some of his compositions.
"Go darling, you will be fine, I will see you soon. You know, no one in my house has even heard me humming and here I am singing bhajans for you. Some karma!" he said, as the hospital staff shifted me to the operation theatre.
He called me every day to enquire about my health for almost a month.
A couple of years later I was working on another book on Andhra Pradesh.
I suggested to the management (this was another company) that as we were including chapters on all aspects of Andhra Pradesh, we should get a chapter on the contribution of Hindustani musicians.
Bade Ghulam Ali Khan Saheb had spent a decent part of his life in Hyderabad.
Pandit Jasraj for more than three decades had been organising music conferences each year in the memory of his father and guru, Pandit Motiram (he was to be honoured as the state musician of Hyderabad when he passed away the same morning).
Malini Rajurkar lived in Hyderabad from the very beginning.
My suggestion was turned down on the ground that no Hindustani musician had made any contribution to Andhra Pradesh.
But when I insisted, a couple of directors suggested that we speak to Balamuralikrishna and if he endorsed what I was asking for, they would agree.
I dialled Balamuralikrishna's phone and requested him to talk to my director.
"Music," he said to my delight, "should not be classified as Hindustani or Carnatic. Music is music that touches your soul."
Elaborating on this, he added: "You think I am a great musician and have contributed to Andhra Pradesh, though I live in Chennai? But let me tell you if people like Bade Ghulam Ali Khan and Pandit Jasraj have not made contributions, then even I have not."
I left that job as the chapter on Hindustani music was not included in the book.
I narrated this to Pandit Jasraj later who told me that I should not have crossed my bosses. What was unsaid was that his fondness for Balamuralikrishna increased manifold.
Where the maestro has gone, I am sure Krishna would himself listen to his soulful music.
Photograph: PTI Photo