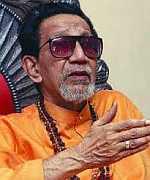 'At his shakhas, you would meet all the small people of society...' remembers journalist Olga Tellis who knew the Shiv Sena leader for many decades.

'He gave them an identity. He helped them feel relevant in the city, and his people loved it.'
I adored Bal Thackeray. He had a historic sense of humour. He was such fun.
He was completely different from any other politician. He was so progressive. He was not a hypocrite.
What he said, he meant. What he meant, he said.
What he was in the last 20 years is a different story. When I used to meet him, he was the quintessential Bal Thackeray. He was very modern in his outlook. He, really, fought for the poor. He didn't only talk about them. He DID help them. He really fought for the economically weaker sections.
He started so many schemes. He started ambulance services for people. He started meal services.
He didn't ask too much for the poor. He wanted small jobs reserved for them. He didn't ask for a thousand rupee job in those days. He would ask for employment for them.
All other politicians spoke about the poor, but this man actually gave them jobs. He sincerely protected their jobs.
He was so successful because he cared for the poor.
At his
shakha
s you would meet all the small people of society. Those people who won't find jobs easily. In Mumbai and all over Maharashtra, he had
shakha
s.
These people who had
pav bhaji
stalls and such small jobs would be his
shakha pramukh
s. He had set the line of command in his party. Everybody had a job to do.
He gave them an identity. He helped them feel relevant in the city. His people loved it.
The economically weaker sections in Maharashtra and others owe him so much. He talked about the upliftment of Maharashtra. He told the poor people of Maharashtra YOU are somebody. He gave them a feeling of pride. 'You may be a clerk or peon, but you are somebody who is doing a job.'
He started employment agencies. He saw that in Mumbai, every community worked for itself. Only Maharashtrians had nobody to look after them. He took care of them.
He gave thousands of people employment. How he did it is another story.
I don't think a large part of the blame for the changes that have taken place in Mumbai goes to the Shiv Sena. Mumbai is not the same for anybody. It has been taken over by the builders, thanks to the Congress.
Mumbai has become a rich man's city. The city is still cosmopolitan, but now it is the rich man's Mumbai. The neo-rich politicians and neo-rich bureaucrats have taken over Mumbai.
Everyone from Delhi and Uttar Pradesh and other places owns a flat in the city. It is not the Shiv Sena, but the builders who have ruined Mumbai.
I see Thackeray as a tremendously successful politician. His work continued till the end.
He had terrific ideas. His schemes could not continue because the Shiv Sena-Bharatiya Janata Party lost power. Then his schemes become a money-making racket for the Congress and others.
Filmmaker Ashok Pandit told me a story about him.
When the Kashmiri Pandits fled Kashmir, Pandit wanted to do something for them. He went to Bal Thackeray and narrated their plight, and Thackeray asked him, "What do you want me to do?"
Pandit told Thackeray, "I would like you to provide free education to Kashmir Pandit children." The BJP-Sena was in power. Thackeray saw to it that the Kashmiris got free education. They made a rule that every educational institution in Maharashtra would reserve two seats for Kashmiri Pandits. So many Pandit children got their education because he kept his word.
I agree he carried out a movement against various people at various times. After the Babri Masjid controversy he targeted Muslims. So Muslims, obviously, feared him. One can't deny that during the riots (of 1992-1993) Shiv Sainiks run amok.
There was killing on both sides, but more of Muslims. That was really bad. His views in
Saamna
were anti-Muslim. And he wrote vicious things about them.
Thackeray had two personas. But, let me ask in this context, do you think the Congress is secular?
The Congress has done more harm to secularism than Bal Thackeray has ever done. They have done it for years.
Who played politics with the Babri Masjid? It was the Congress's Arun Nehru and Rajiv Gandhi.
You have to understand the environment in which his leadership grew to understand Bal Thackeray. I am not supporting his anti-Muslim stand, but you have to see the environment in which he was functioning. You have to see what the Congress has been doing.
The Congress is the most communal party ever. They have been using Muslims for votes.
What happened to so many commissions of inquiry into the riots? How many have been punished? It is all part of the Congress game that the criminals have gone scot-free.
When Thackeray started his movement and when he was becoming so popular, the English media went out of its way to denigrate him and started demonising him. Even today Dileep Padgaonkar has written a piece in
The Times of India
.
These people who live in ivory towers do not see what is happening below. They do not give credit to what he has done.
You may demonise him, but give credit where it is due. Padgaonkar should explain why this kind of adulation was there for Thackeray who was a demigod to some people.
The English media call him fascist. Do they know what fascism is? We use words so loosely.
They compare him to Hitler -- how fascist they are! They are fascist in their thinking. They are, today, doing the same thing with Gujarat Chief Minister Narendra Modi.
I knew Thackeray well. He knew me too. But in the last 20 years his family had put up a wall around him. One could not call and talk to him.
I told (
Saamna Executive Editor and MP
) Sanjay Raut once that I was not even allowed to talk to Thackeray. He asked me to call Uddhav's wife Rashmi. But you know how one keeps calling them, but they would never come to the phone.
I will remember Bal Thackeray as a fabulous human being. There was such a beautiful orange sunset today. It reminded me of his orange robe.
Olga Tellis, one of the senior-most journalists in the country, spoke to Sheela Bhatt.