'His ambition was not the in-your face type, but rather subtle. Many misjudged his demeanour and he was clever enough to work on it.'
Neeta Kolhatkar remembers 'Aba,' the unusual politician.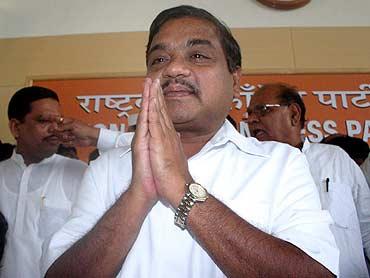 When I recently saw photographs of R R Patil taken on the cellphone being circulated as 'recuperating,' it saddened me. The man did not deserve this sort of reminder and justification in the public mind.
Sadly, the dance bar issue -- as Maharashtra's home minister, Patil banned dance bars in Mumbai -- will always be a reminder of him. 'Aba,' as he was fondly called, looked far from 'recuperating.' It was a sad reminder that when in power all are highly valued, when out of power, even the media only gossips.
My first interaction with R R Patil was at a dinner held for journalists way back in 1999. He seemed young and enthusiastic. What struck me then was that he was a simple, honest man. While chatting he gave me details on the worrisome decline of the water table in Maharashtra and how we need to do something about it quickly.
When he was Maharashtra's home minister, we had many interesting conversations. I would eat my dabba while he showed interest in my colourful food. He loved his fish and bhakri. He enjoyed speaking over meals and if they were conversations without a paper and pen he would be rather open.
R R Patil was not a seasoned politician then. He continued to have a simple outlook in life. During elections and especially during negotiations with the Congress, Aba would enjoy the company of journalists over simple, home cooked meals.
Then one day he came very close to power, his ambition was not the in-your face type, but rather subtle. Many misjudged his demeanour and Aba was clever enough to work on it.
The day Aba was selected as Maharashtra's deputy chief minister, I was with Ajit Pawar for nearly two hours. We saw leading ministers and veteran Nationalist Congress Party leaders simmer and snarl with anger, but compelled to vote for Aba as their deputy chief minister.
That was the diktat given and no one had the guts to challenge Ajit Pawar. Running a party, I learnt that day, involved more politics than running a government.
After Aba was declared deputy CM 'unanimously,' I went to the Vidhan Bhavan. On the steps of the state legislature stood three veteran NCP leaders who had all been in the running for the post.
Livid with the decision, they wanted me to do a story against Ajit Pawar. They spewed venom and were angry that their seniority was ignored. They were struck out like tiny pawns on the state's chess board.
I attended the swearing-in ceremony at Azad Maidan. When it was R R Patil's turn to be sworn in, one saw a nervous human being. His hands shaking, barely mumbling the oath, this tiny -- he was only 5 feet tall -- man was on the threshold of something big, something he may never have even imagined, while many power-hungry wolves were around, waiting for him to make big mistakes.
I am sure Aba understood the gamble he had made when he put himself up for the part his bosses wanted him to take, a job many had been vying for. Much to the disappointment of many, Ajit Pawar did not leave Aba in the lurch. Or maybe he could not.
When Aba's tobacco addiction got out of hand, 'Dada,' as Ajit Pawar is called, taunted the deputy chief minister. Ajit Pawar and R R Patil's detractors sniggered in private just as the media, that did not understand the context of the remarks, made the comments sensational headlines.
The fact is Aba needed discipline to resist tobacco. He could not overcome his addiction unlike Sharad Pawar who too chewed tobacco or Madhukar Pichad who gave up chain smoking. Sadly, that habit cost Aba his life and a political career cut short.
He would make his mother and wife watch all the Marathi news television channels in their Tasgaon, Sangli, home. He would seek feedback from the trusted women in his life -- his mother and wife. He lived in Mumbai as a minister and for many years his family did not live with him. He wanted his children to have a simple life and education in Tasgaon.
Around 2007-2008, when a farmer committed suicide in Sangli, I visited the farmer's family. A few days later, when I met Aba for a story, he was upset that I had not informed him of the visit.
He told me I should have spoken to him before writing my story. I told him I wasn't indebted to tell anyone apart from my boss about my story. There was nothing negative about him, but he was an insecure politician. Such is the fickleness of politics.
As home minister, he gained a lot of experience dealing with the police and later the public. But, of course, he was a minister and politician. All is not hunky-dory and good.
Among his decisions -- which are still being carried out -- are the naka bandis (police road blocks)), giving the police the freedom to peep inside vehicles, always inconveniencing people.
Many women like me have had harrowing experiences of the police following us stealthily at night, of the police deliberately stopping vehicles, especially if it had women passengers. Despite the complaints, no home minister has withdrawn this most irksome procedure.
By then, Aba was a changed man, said most. The changes were visible, he had begun speaking more to the media, giving sound bytes on any trivial issue. Somewhere he felt he had landed! At heart, the man was always a simpleton and I am surprised that his advisors could not prevail upon him.
Aba was willing to learn, but Hindi was never his forte. He made blunders as most Marathi-speaking sons of the soil would. Journalists are mercenaries, concerned only with stories.
That is why on the night of November 26, 2008, Aba should have reigned as home minister and not said what he did to the media. He had made worse errors when speaking in Hindi and we would point it out to him.
Blame it on power, even the most unexpected politician succumbs to its lust. Leaving people with that one last memory which really does not do justice to the man or politician he was!
REDIFF RECOMMENDS