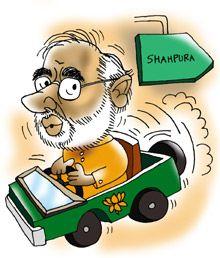 Why did the BJP mascot avoid Shahpura in Rajasthan? Illustration: Uttam Ghosh/Rediff.com.
It was a high-pitched, high stakes, electoral battle in Rajasthan, everyone knows that.
So why did the BJP's star campaigner Narendra Modi avoid holding a public meeting at Shahpura constituency in Rajasthan?
The Congress nominee from the constituency is Gujarat Governor Kamla Beniwal's son Ashok. And given the testy relations between the Gujarat chief minister (which is what Modi is, if you remember) and Beniwal, Modi perhaps did not wish to make strong or personal comments against the governor's son lest it be misconstrued.
Such unusual reluctance to engage has led to the inevitable question: Is Modi changing for the good in terms of political etiquette?