'The BJP has no presence where the regional parties are strong.'
'And we should think of the Congress and support the Congress in those places where it is the dominant regional party.'
'The leaders of the other parties (have to) get together on this simple principle of one candidate against the BJP candidate.'
Vaihayasi Pande Daniel listens to Arun Shourie at the Tata LiFest.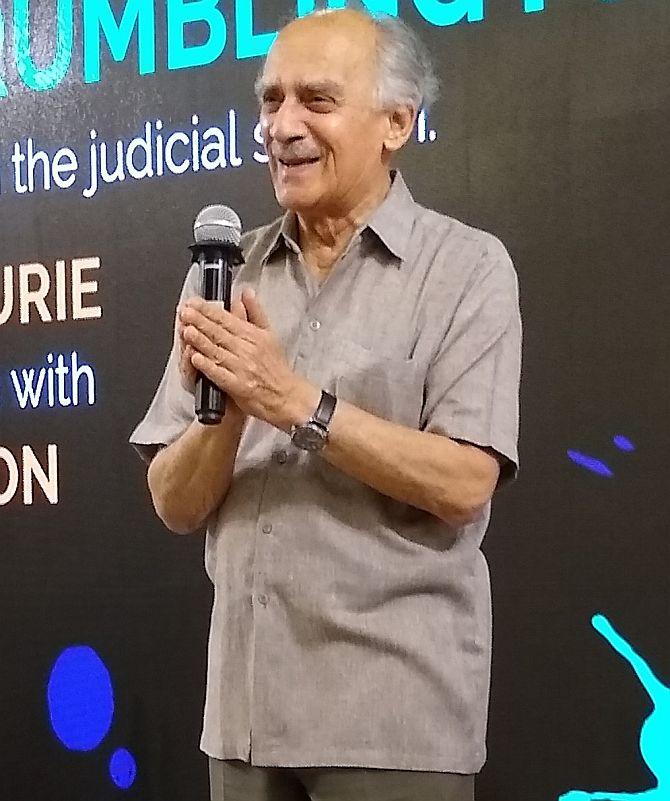 When you look into Arun Shourie's smiling face, you can't help feeling total amazement.
He is recounting to a roomful of people at a Tata Live Literature Festival session, in Bandra, north west Mumbai, the nightmarish saga of the time his wife Anita, who has been suffering from Parkinson's disease for many years, was issued a warrant for her arrest by a Faridabad court in Haryana because she had neglected to answer earlier summons that were never actually delivered to her.
Amazement, because he is able to talk about misfortune with such cheer. And even laugh at it, heartily.
It transpired that Shourie's bedridden/wheelchair-bound wife had to somehow be taken to the Faridabad court, miles and miles away from their home in New Delhi, if she didn't want to face arrest and imminent jail time of up to five years.
The earlier summons, which the court clerk acknowledged later may never have been sent, related to a matter about an imaginary farmhouse Mrs Shourie was said to have built on a plot of land in Aravali, close to Gurgaon, that she did not even own.
The case against Mrs Shourie took a few years and 40 hearings to resolve even though she had been wrongly accused. She had to be taken before the magistrate at regular intervals till the due process of Indian law had been satisfied.
This saga forms the opening chapter of Arun Shourie's latest book Anita Gets Bail, that Harper Collins published earlier this year.
The details, he supplies to the astounded, appalled, audience on Sunday, November 18, only get worse.
But the economist, former Indian Express editor, minister in the Atal Bihari Vajpayee Cabinet and Padma Bhushan and Magsaysay Award winner beams even broader, his moustache bristling in delight, as he recalls humorously the struggle it was to rid his wife of a non-existent criminal charge.
"My wife became the first person in my family to be out on bail!"
Shourie laughs so hard that his mirth brings tears to his eyes and the room is in splits with him. It is hard not to soak up Shourie's cheer and optimism.
Later in his talk he provides you with the wonderful answer for his good cheer.
Shourie says something that stays with you for the rest of the evening and probably will a long time hereafter.
"The mood of despair you will never find in a person who is doing his best," he says. "If we are not doing anything, then we despair."
He is in Mumbai to speak about the dangers within the judicial system in a talk titled The Crumbling Pillar? that is connected with his book.
While discussing, what he feels, is the rapidly diminishing lustre of the judicial system, Shourie is also vocal in expressing views on the rot, he believes, has set into many other important institutions in India and more important for him, what every citizen of the country has to do to combat the slide.
He emphasises, over and over again, to his listeners the need for anyone unhappy with the present state of the country to mobilise himself/herself and join the fight to oust Narendra Damodardas Modi in the next election -- essentially a reference to what he said earlier "doing his (your) best" and also to the strapline on the cover of his book: What are our courts doing? What should we do about them?
To any doomsday-predicting member of the audience, who quizzed him after the Q-and-A session, he offers positively, his face alight with excitement, his wispy hair bobbing with his enthusiasm: "Arithmetic is the answer at the moment!"
His explanation in simple and confident: "How many votes did Modi at the peak of his popularity get? Thirty-one percent! It is on everybody's lips today. If the Opposition unites, it starts with 69 percent of the votes!"
"In any case the BJP has no presence where the regional parties are strong. And we should think of the Congress and support the Congress in those places where it is the dominant regional party. The leaders of the other parties (have to) get together on this simple principle of one candidate against the BJP candidate."
He further adds emphatically that no non-BJP leader should be allowed to split the Opposition vote and everyone should immediately appeal to the followers of that leader should it seem it was heading that way.
When Shourie is asked where is the alternative to Modi, he mildly admonishes the questioner: "Alternative kya hai?! In 1977 Indira Gandhi ke kya Charan Singh alternative the? Morarji bhai the? Jagjivan Ram? She got only one seat from Amritsar to Bhubaneshwar...!!"
"If you read what has been written about Atalji today you would think he was greater than Panditji (Jawaharlal Nehru)... But in 2004 who was the alternative to him? Sonia Gandhi. Doctor Saahib toh Manmohan Singh toh parda ke peeche the (hidden behind a curtain). But he (Vajpayee) was defeated!"
Hence his statement: Arithmetic is the answer.
Pankaj in the audience asks: "You have an identity in India. Maybe (of a) former (editor, minister). But what I learned from that Anita case is that you have faced such problems. We are not even middle class. We are below the middle class. How we can face such challenges?"
Shourie's answer is bald and effectively silences the room: "Sir, in the same way that everyone has faced them. You can't get something done without sacrificing (something) yourself."
"I would be very happy to know that you do not face the personal circumstances that I face. Our child cannot see. He cannot speak. He cannot walk. He cannot use his right hand. And I am his servant. My wife, who now for 26 years, she has got Parkinson's. She cannot eat on her own. She cannot stand. She cannot walk. She cannot turn in the bed. I am her ayah at night. So each of us has to contend with something... that is what life is about. We have to defy fate..."
The stage is small. Instead of sitting calmly in the tall straight-backed chair provided, fielding questions from the moderator journalist and author Ayaz Memon, Shourie, a man of short stature, chooses to stand at the very edge of the stage, almost dancing in his animation, holding his mic and talking directly to the audience, looking into their faces.
From time to time Memon tries to interrupt Shourie's rush or rather torrent of words to exercise his moderator role and ask a question, saying each time very politely: "Shourie saab, one more intervention..." Adding also each time: "Aap bethiye."
Shourie, who reminds you of a twice-as-energetic, twice-as-lively Albert Einstein and who is wearing a beige bush shirt, olive trousers and scuffed black sports shoes with Velcro straps, finally tells him with a chortle of his infectious laughter, a gleam in his dancing eyes: "Dekhiye, I am a graduate of the Indian Parliament." He adds: "Ghari dekh ke nahin bolte (We don't look at the watch and talk)!"
And he laughs even more uproariously, the room joining him.
Elaborating about the so-called present siege of Indian institutions -- be it the CBI, academic establishments or the RBI etc -- Shourie is at pains to point out that the public might feel, as Memon also expressed, that the judiciary is still standing tall.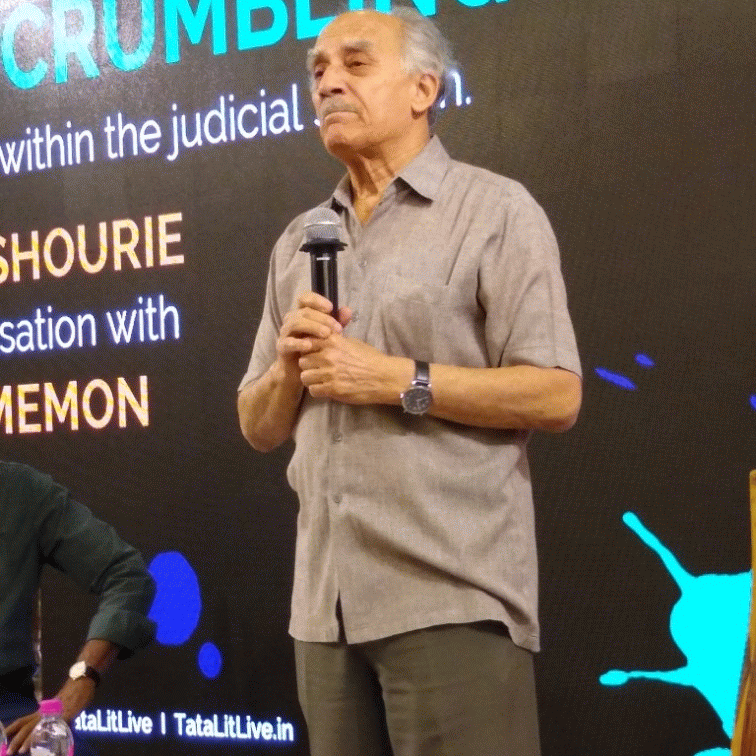 "But it may be a deception. Self deception. Today, especially in the last four years, all institutions are under assault. We think one institution (or another) will save us. Arre yaar President kuch kar dega. Judiciary kuch kar degi. The fact is that that institution (the judiciary) has also been subjected to the same termites over time..."
Talking about the ongoing tempest in the CBI: "Do you now see the condition of the CBI? An accident brings out the condition and shows it to us, like a flash of lightning that shows the landscape..."
Memon -- with another "Shouriesaab, one more intervention" -- asks him if India under Modi is comparable to India under Indira Gandhi's Emergency.
After a moment of thought, Shourie says: "In 1975 (there was a) better-defined opponent. Today there is a more widespread opponent."
He subsequently explains that he is of the opinion that there are a lot of differences between the Emergency Indira Gandhi tormented India with and the state to which Modi has brought the country -- he refers to her as "Mrs Gandhi" and to him as plain Narendra Modi.
The first was remorse. "I have it from an authority no less a person than Mr J Krishnamurti about the great remorse that Mrs Gandhi came to feel about what she had done... Today there is no remorse."
Quoting from a biography on Krishnamurti and what the philosopher told him in person, Shourie describes that in January 1977 Indira Gandhi through culture activist Pupul Jayakar requested a dinner meeting with him (Krishnamurti) and broke down at that dinner, where Jayakar and the Socialist icon Achyut Patwardhan were also present.
"Krishnaji told me personally that he saw her weeping. And he said, 'Wait Indu' and he went across (to the other side of) the dining table... You know he used to put his hands to your head. And he said something happened and the next day she called the elections."
"Whether it is a coincidence or not, but there was remorse. Secondly in Mrs Gandhi's case, I feel, in spite of the fact that she put 175,000 people in jail, there was a sense of limits. Bhai isse aage nahin jayenge (We will not go beyond this). But today there is no sense of limits."
Shourie points out too that unlike Modi, Indira Gandhi did not have access to the kind of "para-State/non-State network," Shourie's term for the present PM's social media army.
"Fourth, Mrs Gandhi's episode was of only 19 months. Today, it is a much more sustained and relentless assault and undermining of institutions... So it is not comparable. Also. we as a middle class have gone much further in developing rules for self rationalisation."
Shourie devotes at least 30 minutes of his conversation to further, zealously, cement home his point that all the 150 or so in the room who had come to hear him, have to each do their own bit to see that India moved forward and then tell another ten persons each -- 1,500, who would tell another 15,000 and so on.
"Yeh na socho doosra kya kar raha hai. Hum kya kar rahein hai? (Don't bother with what the other person is doing. What am I doing?)..." He quotes a Pakistani wise man or maybe wag: "Truth is good. Righteousness is good. Haq achcha hai. Is ke liye koi aur marein toh aur achcha ha (Authorityis good. But if someone dies getting it then that is better)."
Even with respect to bolstering the judiciary to reach higher standards, Shourie is convinced everyone has a role. Every citizen should take time out to examine judgements on various subjects, be it RERA or insolvency, and publicise their results, even orally, he suggests.
"We will make a difference," he urges. "There is no fear for contempt of court. I have written five books... They are very, very critical... But the Supreme Court judges send them to me for autographs! Reforms can only come from the outside, that is why the role of the middle class. It is not just an academic point. If a small reform has to take place it happens with an outsider's intervention."
Memon asks him about a line from Anita Gets Bail that said at present there was a once-in-a-lifetime opportunity for the judiciary to trigger a new beginning for India but which was not being grasped.
Memon: "What did you mean?"
Shourie: "The senior judiciary consists of only say 500 persons. 30, 35 judges in the Supreme Court and the high court judges. It is a small community. Not infallible. But their view is final... Much more can be done by this small community and one of the reasons why we should address that small community is because it is such a small community."
Memon wonders aloud how judges, who are difficult to access, can be reached.
Shourie, who brims over with hope and constructiveness, doesn't feel that poses a problem because he says senior lawyers move in the same social circles as retired judges and retired judges were in the same social circles as sitting judges.
"(We need to) give our worked-out critique to those persons, so a judge realises I am being watched. We can try to get to them by publishing the results of our analyses. They will, I am sure, hear of it... I can say this from my very small experience that judges read books..."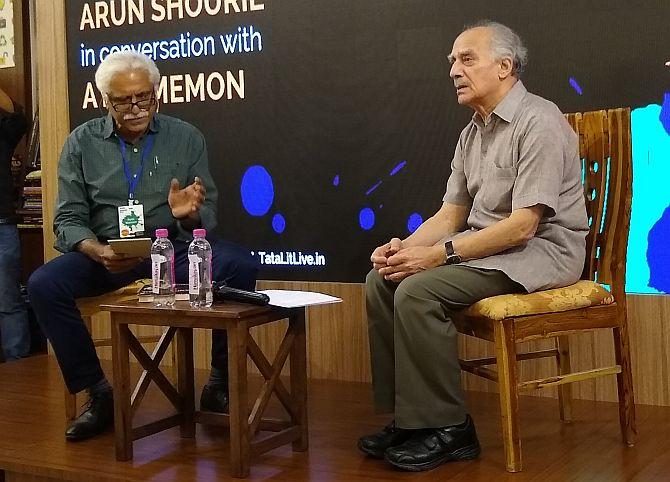 After the release of Anita Gets Bail, which he says was a "very critical book" that "makes fun of the judges. Pillories the judgments," he says he received a letter of praise from a Madras high court judge who wrote how he had tried to get his fellow judges on that bench to read Shourie's book and was surprised to find they already had copies of it.
Shourie is certain judges are bound to read anything written, by even the lay public, about their work or judgments and a change via the judiciary can bring incremental but important changes to the country, just like, he cites as an example, a small amendment by the Supreme Court put an end to to politicians with criminal record standing for elections.
"We don't know where the pebble will fall."
Memon with a smile: "So referring to that Churchillian axiom: 'The situation is hopeless, but not serious'!"
The former editor, former minister, former World Bank economist, proud, vigorous, fearless Indian citizen, laughs, and agrees.