Javed Akhtar's poem dedicated to Mumbai.
Amitabh Bachchan on Oneness.
A unique tribute to mark the 10th anniversary of the 26/11 attacks.
Videos: Afsar Dayatar/Rediff.com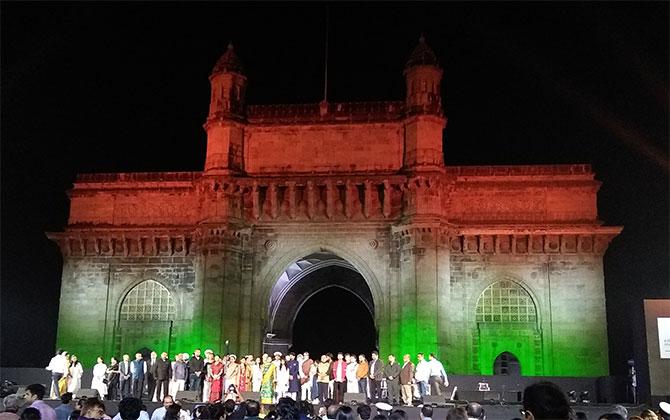 The Indian Express hosted a remembrance concert at the Gateway of India on November 26 to mark the tenth anniversary of the 26/11 Mumbai terror attacks.
It was an evening of soulful music and dance and mercifully short speeches choreographed by theatre director Feroz Abbas Khan.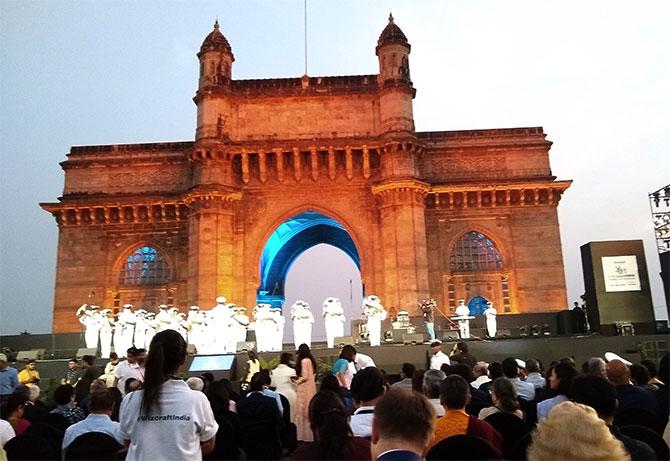 The musical presentations were alternated with touching video clips of the survivors. They spoke about what life after 26/11 had been like and how those difficult 10 years had gone by.
Listen to Javed Akhtar's poignant Ode to Bombay
Don't miss Amitabh Bachchan joining a dance tableaux by the Nritarutya Dance Company
Amitabh Bachchan speaks about the importance of Oneness for survival and ends his speech against the beautifully illuminated Gateway of India, by reciting a couplet from his father Harivansh Rai Bachchan's famous poem Madhushala.