'She really doesn't care if she is called heartless.'
'For her, the job needs to be done. That's all that matters,' says Aditi Phadnis.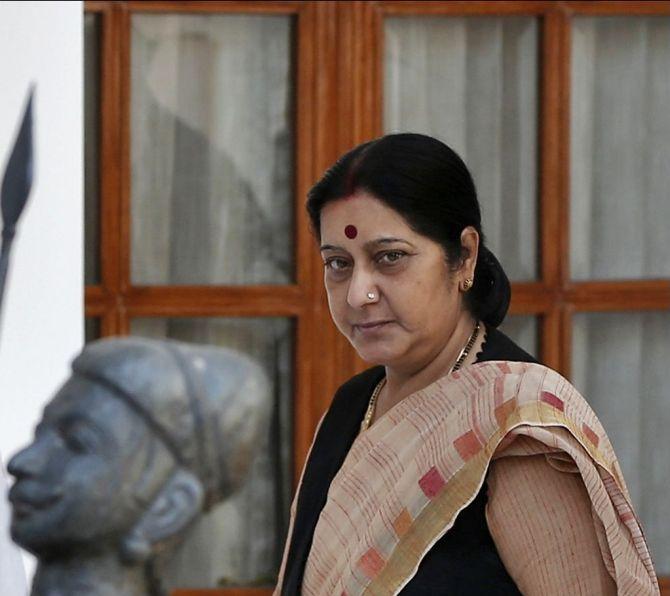 Sushma Swaraj used to be a darling of the Opposition.
As Speaker, Communist Party of India-Marxist leader Somnath Chatterjee had paid her fulsome compliments, going so far as to call her the best parliamentary affairs minister India has ever had, much to the irritation of his party.
More recently, after she was made minister for external affairs, Samajwadi Party chief Mulayam Singh Yadav defended her when she was charged with having given disgraced businessman Lalit Modi a way out of his predicament by telling the British government to let him travel abroad during the period he did not have a passport.
But, last month, she was dubbed heartless when she opted to inform Parliament, rather than the hapless relatives of the 39 persons who had gone missing in Iraq, that the missing people were in fact dead.
As before, not many in her own party came out to speak in her favour.
Why?
Swaraj is a professional politician, as distinct from a social climber posturing as a politician.
She doesn't waste time entertaining reporters, fellow partymen, MLAs, and so on.
When given a job, she is decisive to the point of ruthlessness.
When she was asked to contest the Bellary Lok Sabha seat against Sonia Gandhi in 1999 (Gandhi polled 51.7 per cent of the vote, Swaraj 44.7 per cent), she created a party there that had never really existed before.
In the Karnataka assembly election that followed, the largest number of Bharatiya Janata Party MLAs in the Vidhana Soudha came from the Bellary region.
The mining scam-tainted Reddy brothers from Bellary thought they could cash in their chips (she nurtured and developed a relationship with them), so they raised the banner of revolt and came to Delhi intent on replacing then Karnataka chief minister B S Yeddyurappa.
They finally dropped their demand of changing the chief minister, provided two of the three brothers were made minister.
'Not possible,' Swaraj told them determinedly and stuck to her stand. They were finally forced to back down.
In her younger days, Swaraj decided she must start a campaign against Indira Gandhi. Gandhi had lost the election in Rae Bareli in 1977 and contested a by-election in Chikmagalur in 1978.
Swaraj arrived in Chikmagalur with a posse of workers. But she didn't know the language and did not have the wherewithal to organise meetings.
It was well known that there was always a time lag between Gandhi addressing her meetings and driving away to the next destination and the crowds dispersing.
Swaraj thought up an audacious scheme. After 'Indiramma' had spoken to the audience asking for their vote and driven away, 'Sushmamma' would walk up confidently to the podium, ask the crowd to stay and tell them why they should not vote for Gandhi.
She did this throughout Gandhi's campaign tour that day and finally reached the station to catch the same train that Gandhi was taking back to Delhi.
Gandhi's supporters had already narrated Swaraj's exploits to her. When Swaraj realised Gandhi was on the same train, she tried to get into her compartment to raise slogans against her.
Gandhi called her and asked her if she had indeed 'used' the Congress meetings to attack the Congress. Swaraj nodded proudly. Gandhi, it seemed, had met her match.
She thought for a moment and then asked her to stay in that compartment. And, Swaraj travelled with her arch political enemy.
Swaraj has never let personal relationships come in the way of politics and the 'right thing to do.'
She was highly critical of party colleague Jaswant Singh's views on Mohammad Ali Jinnah in his book (Singh, she said, had denigrated Sardar Patel and eulogised Jinnah).
She was the one to tell him that he should resign from the chairmanship of the public accounts committee in 2009 after he was expelled from the BJP.
The BJP argued that the chairmanship of the PAC was held by a member of the principal Opposition party and as Singh was no longer a member, he needed to step down.
Swaraj was the one who carried this message to him -- he, a founder member of the BJP.
She also agreed with Atal Bihari Vajpayee, in the wake of the Godhra riots, that Narendra D Modi had neglected 'raj dharma' (ruler's duty), but when Nara Chandrababu Naidu of the Telugu Desam Party threatened to withdraw support to the National Democratic Alliance on that issue, she dug in like other partymen and said Modi could not be replaced under pressure.
She is a person with strong likes and dislikes.
And while she has admirers, she lacks real friends.
There are some things about her that jar.
One of them is seeing a woman as competent and articulate as Swaraj observing Karva Chauth rituals in all their patriarchal splendour.
But then, when the Sri Ram Sene began beating up young women to prevent them from visiting pubs, she criticised them trenchantly: 'My daughter goes to pubs with her friends,' she said. 'She doesn't drink because that is the way she has been brought up. And if she does decide to have a glass of wine, well, that's up to her.'
Her lawyer daughter has studied at the London School of Economics, Oxford University and Inner Temple.
Swaraj was part of the Akhil Bharatiya Vidyarthi Parishad while studying at Panjab University in Chandigarh and, in fact, came to Delhi to campaign for Arun Jaitley when he contested the election for the Delhi University Students Union in 1974.
In 1985, she joined the BJP and stayed on.
Swaraj is a good teacher and never saw fresh talent as a threat.
During her tenure as the Leader of Opposition, many first-time MPs from the BJP got a chance to speak in the Lok Sabha.
Whether it was Nishikant Dubey or Varun Gandhi, all spoke in key debates, becoming opening speakers in the House.
There was a time Vijay Kumar Malhotra used to be the opening speaker for every debate.
On the other hand, it is also true that it was Swaraj who resisted the elevation of new faces such as Nirmala Sitharaman because she saw them as Jaitley's protégés.
She was one of the few in the party who spoke in favour of retaining Vasundhara Raje as the Leader of the Opposition in Rajasthan when Raje defied her party that wanted her to take the moral responsibility for the BJP's defeat in the 2009 Lok Sabha and assembly elections in Rajasthan.
Swaraj's argument was: It takes minutes to destroy a leader, but years to create one.
A great orator, she has delivered many memorable speeches, but her best one has to be the one in Odia when she visited Odisha four days after the BJP and the Naveen Patnaik-led Biju Janata Dal government parted ways in 2009.
After several successive terms, Chief Minister Patnaik is yet to give a public speech in Odia.
There is a strong streak of ruthlessness in Swaraj, but also practicality.
She was the Leader of Opposition so, in theory, she should have been given a chance to take a stab at the top job.
When it became clear that it was going to be Modi, she could have sulked. She didn't waste her time doing that.
She accepted the lemons and used them to make a beverage.
After all, there are so many just longing to run the foreign office -- the prime minister, the national security advisor, the foreign secretary, the Prime Minister's Office.
So she did the next best.
She became the people's foreign minister, reinterpreting the job in a way no one has done before.
So she really doesn't care if she is called heartless.
For her, the job needs to be done. That's all that matters.