DSP Anurag Singh remembers Inspector Subodh Kumar Singh who was killed by a rampaging mob protesting cow slaughter in Bulandshahr, Uttar Pradesh.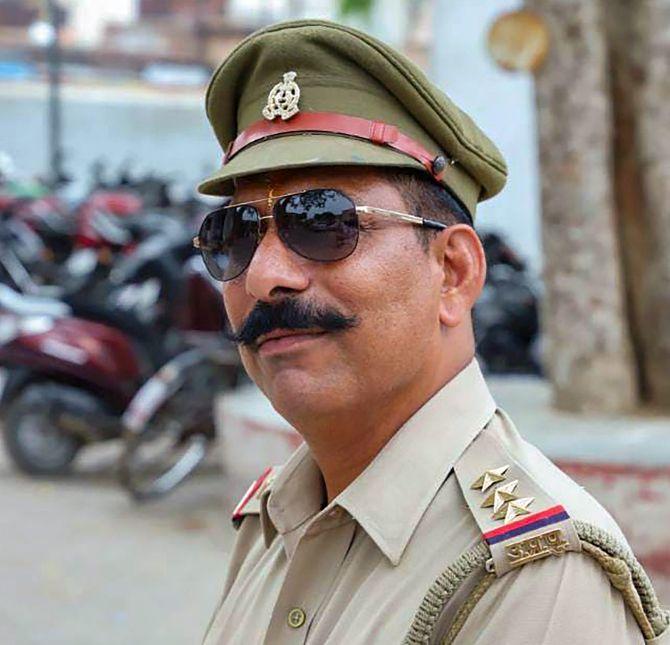 Subodh was a very courageous and a bahadur (brave officer. Woh peeth dikha ke bhagne walon mein se nahi tha (he faced situations head on and was not one to turn his back) on any adverse law and order problem.
We had tackled several law and order situations with just a small contingent of force.
In the Dadri mob lynching case, he played a crucial role in maintaining law and order in the tense atmosphere in the days after the lynching.
The police is a law enforcement agency -- if there is a mob, our responsibility to clear or disperse it -- either by talking to them or by other means given to us.
Subodh died because he was shot in the head by the crowd.
In the normal procedure, policemen wear helmets to protect ourselves from lathis, sticks, poles, bamboos of a rampaging mob -- but how do we protect ourselves from bullets?
We are not a martial force that we will take commando positions each time a mob runs amok.
To calculate where we could have used excess force and where we couldn't differs from case to case.
At the scene of unrest, the situation can take a turn for the worse and get out of control within seconds.
After the Dadri lynching, the main task for us was to ensure that the situation doesn't get accentuated because of the tense Hindu-Muslim situation.
To bridge the gulf between the communities, we undertook many measures. One of the things we did was holding a kabaddi competition -- every village had its team which included members of both communities.
Subodh was the Station House Officer in charge and had many responsibilities. I was the Circle Officer, our prime responsibility was to see that after Akhlaq's lynching, the situation did not deteriorate because attempts were being made to vitiate the atmosphere.
But with the cooperation of everybody we were able to control it.
Whether he was a target -- I cannot comment -- it is for the investigating agency to get to the facts.
All I know is that -- ek jabaaz inspector is kayarana harkat mein shaheed ho gaya (a brave inspector has been martyred by a cowardly mob -- those people in a crowd fired at the police.
He had gone to calm them. He was doing his duty for the people.
Subodh had faced many untoward law and order situations in Dadri with great courage. In neighbouring thanas, if ever there was a need for an officer to calm frayed nerves, they would ask for him.
He had a way of solving problems by talking to various conflicting groups and holding dialogues.
DSP Anurag Singh worked with the late Inspector Subodh Kumar Singh when he was posted in Noida. He was part of the team responsible for maintaining law and order in and around Dadri after the lynching of Mohammed Akhlaq in 2015.
He spoke to Archana Masih/Rediff.com