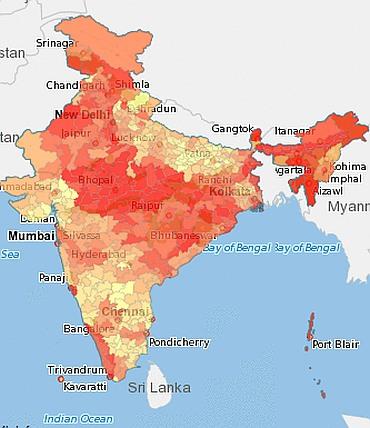 Click on any constituency on the map to find out the incidence of murder cases per million population.
Rediff.com's data journalists have broken down 2012 district-wise National Crime Record's Bureau data into a constituency-wise listing.
Three constituencies in Jharkhand -- Khunti (127 murder cases per million population), Lohardaga (116 cases), Singhbhum (87 cases) -- have the highest incidence of murders in the country. Kokrajhar in Assam (75 cases) and Bastar in Chhattisgarh (65 cases) are in the fourth and fifth slot among 543 constituencies.
NEXT: Interactive map for kidnapping cases in India
CREDITS: Rediff Labs Team
INTERACTIVE MAP: The real rape capital of India
The popular belief is that New Delhi, besides being the national capital, is also the rape capital of India. But official figures by the National Crime Records Bureau for 2012 state otherwise.
Madhya Pradesh reported the highest number of rape cases (3,425). Rajasthan ranks second with 2,049 cases followed by West Bengal (2,046) and Uttar Pradesh (1,963).
Mizoram constituency has the highest incidence of rape in the country (94 cases per million population), Chandni Chowk comes second (86 cases per million) and third is Shillong constituency (81 cases per million).
CREDITS: Rediff Labs Team