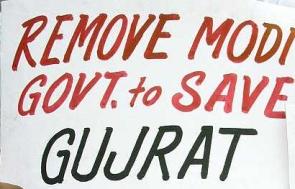 The Supreme Court-appointed Special Investigation Team on Monday termed as "instigating" the petition filed by Zakia Jafri.
Jafri had opposed the closure report filed by the SIT giving a clean chit to Gujarat Chief Minister Narendra Modi over his alleged role in the 2002 riots.
The SIT made this submission before Metropolitan Magistrate B J Ganatra -- who was hearing the 'protest' petition filed by Jafri -- opposing the closure report filed by SIT.
"If the protest petition is reproduced exactly as it has been filed in two volumes, I have an apprehension that it may again create disturbances in the state, it is so biased and instigating," SIT lawyer R S Jamuar said while opposing Zakia's plea.
"I would also advice media not to publicise the content of this petition," he observed.
He also argued, "Three fourth of this petition has concentrated on the Godhra incidence of February 27, Karsevaks in Ayodhya prior to that, post mortem of dead bodies in Godhra, procession to bring those bodies to Ahmedabad and affidavits of retired IPS officer R B Sreekumar before the Godhra panel."
"If these portions are taken out, then there is nothing in this petition, but it is a case of the Gulbarg society massacre, for which a separate trial is going on," Jamuar said.
"This is not a protest petition of Zakia Jafri, a complainant, but it is of Teesta Setalvad, who has only a one point agenda, and that is to make Modi an accused," he alleged.
Jafri, whose husband and former Congress Member of Parliament Ehsan Jafri was killed during the 2002 Gulbarg society riots, had filed a petition before the Magistrate in protest against the SIT report giving clean chit to Modi and others.
In her petition, Jafri had also demanded rejection of the SIT report by the court and directions of further investigation into her complaint by an independent agency other than SIT.
In February 2012, SIT had submitted its final report giving clean chit to Modi and others before the court.
During the submissions today, SIT also alleged that Jafri had "no respect" for the judiciary.
"The petition was filed in April 2013, much after a trial court for the Godhra carnage had held that coaches of Sabarmati Express train were burnt by a rioting mob and the court has even awarded death penalty to 11 convicts, but Zakia has in her petition mentioned that coaches were burnt from inside," Jamuar said.
"How can they include such things in their petition even after there is a judgment, which is prevailing at present till the higher court sets it aside," he argued.
SIT has also criticised the reliance put by Jafri on the report of the Concerned Citizen's Tribunal, consisting of three retired justices and headed by retired Supreme Court Justice V R Krishan Iyer.
"They term the report of the Tribunal as findings of Justice Krishna Iyer. But the Justice himself has said that he was in Ahmedabad only for a day. How can these be his findings? It is merely his expression at the most," Jamuar said.
"And this report is shockingly silent on people who died because of the violence by the minority community during 2002 riots. How can this be a fair report," the SIT lawyer alleged.
The Metropolitan court adjourned the hearing and it will continue again from June 17.