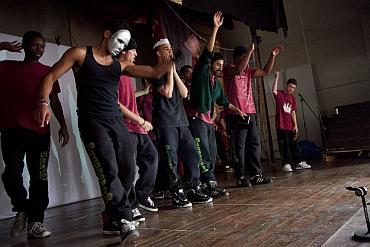 "I'm not perfect," cried a diminutive girl in a hijab, one of a group of teens performing in Minds of the Misunderstood, a skit about love and expectations performed at the South Asian Youth Action's premises in Elmhurst, Queens, in New York, May 22. A loud cheer went up from the crowd of 120, when one participant said true love was possible only if one could love oneself. Clearly, he had struck a chord.

The skit was part of SAYA!'s annual event to showcase the efforts of the youth, held in the First Presbyterian church in Elmhurst, the basement of which serves as the SAYA! office. The program included skits and performances by various groups, including those from Middle School 137, Richmond Hill High School and Flushing High School. Desi Girls, one of SAYA!'s own groups, had a skit on stereotypes and the South Asian girl;
and an art exhibition by the students of Richmond Hill High School. In Digital Stories, students exhibited pictures they took of their family and community, including temples and schools.
Jasdeep Kaur and Gurvinder Kaur earned some lusty cheers as they danced to a medley of bhangra-based music. There were also Latin and break dance performances. The proceeds from a henna stall at the location went to Cherish our Children International. The students from Richmond Hill High School also exhibited T-shirts they had designed, the proceeds of which went to charity.
Sharmin Hossain and Snedden Monteiro, SAYA! youth, emceed the afternoon event.  Udai Tambar, SAYA! executive director, welcomed the crowd with memories from his time at SAYA! 12 years ago. 'Today is a culmination of the hard work and talents of so many people. I am thrilled at what the youth have accomplished this year,' he said. New York state Senator Jose Peralta congratulated SAYA! for a successful academic program that raised students' SAT scores an average of 200 point.
Image: Youth perform at the SAYA! festival.