Beyond announcements and optics, key projects have hardly moved under the Yogi government, reports Virendra Singh Rawat.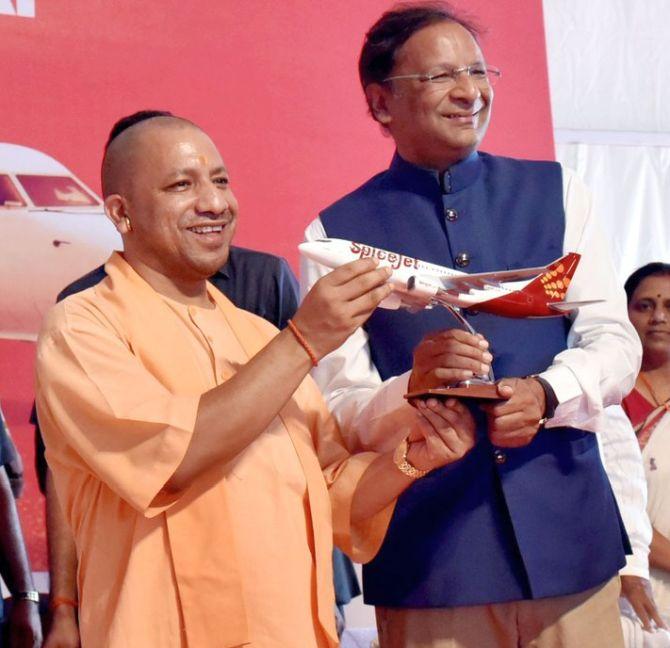 After becoming the 21st chief minister of Uttar Pradesh last year, Yogi Adityanath had announced that the state, which had lost out to peers in attracting investments due to law and order issues and alleged sloppy policies of previous governments, would be put on the fast track of development.
The presence of Prime Minister Narendra Modi and a galaxy of Union ministers at his oath-taking ceremony amply indicated that UP would be now better served by the Centre with liberal grants and faster clearances.
Then in February 2018, Adityanath again hosted Modi -- this time with top industry captains -- during the two-day UP Investors Summit, which had a high optic value, reassuring investors of a changing industrial climate in the state.
The state netted investment proposals worth Rs 4.68 trillion across sectors.
Over the past 15 months, the state government has announced over a dozen policies in key industry-related sectors and a few others, such as defence manufacturing policy, are in pipeline.
But beyond announcements and optics, the Bharatiya Janata Party government has failed to take any of its flagship projects to fruition.
A few projects and schemes were to take off last year but are still awaiting their turn.
This has put a question mark on the project management team at the highest level in UP and the authority that Adityanath wields or does not wield with regard to his pet projects.
The recent defeat of the BJP in bypolls only mounted woes for the saffron-clad CM, who is seeking his lost mojo that had earned him the top post in the state.
Some prominent projects and schemes which have witnessed slippage are:
Purvanchal expressway
This mega project was mooted during the previous Akhilesh Yadav regime.
The Adityanath government espoused the infra project of about 340 km and announced it would start by December 2017.
However, it got delayed due to the slow land acquisition and bidding process.
In May, seven companies, including L&T and Reliance Infrastructure, had emerged as the lowest bidders for the eight packages of the project estimated at Rs 182 billion.
However, the government in early June cancelled the bidding process, claiming the bids were calculated to be 11 per cent higher than the National Highway Authority of India standard.
It argued the bids could still be lower.
Now, the project stands delayed by at least a few months, although the government said the fresh bidding process would be completed in 45 days.
Investors summit projects
After successfully hosting the Investors Summit, Adityanath had announced that projects worth Rs 500 billion (of the total memoranda of understanding worth Rs 4.68 trillion) would be launched during March-April.
These projects, however, are delayed because of issues related to land acquisition, clearances and due diligence.
In May, UP Industry Minister Satish Mahana announced that projects worth Rs 500 billion would be launched by mid-June.
So far there is no word on the proposed "groundbreaking" ceremony, to which the state wished to invite the PM.
Crop loan waiver
Last year, the Adityanath government had estimated that 8.6 million small and marginal farmers would benefit from the mega scheme costing the exchequer Rs 360 billion.
However, by the end March, only 3.6 million farmers were provided benefits worth Rs 220 billion.
A large number of farmers could not be covered owing to factors like incomplete forms, technical errors and official laxity.
To assuage grievances, the state government had allowed the farmers left out to apply afresh.
Subsequently, around 1.1 million small and marginal farmers registered their complaints and claims with the designated web portal.
The scheme had come under the cloud following media reports that farmers were being given cheques of less than Rs 10.
Pothole-free roads
In his early days as the chief minister, Adityanath in his public speeches made sarcastic remarks against previous regimes, referring to the bad condition of roads in the state.
He had announced that all the roads would be made pothole-free by June 2017.
However, the project is still incomplete.
The project encompassed repairing and upgrading over 100,000 roads, with various government departments assigned their share of work.
But the sheer magnitude, lack of coördination, apathy and cost constraints keep this ambitious target unfulfilled.
Patanjali food park
In 2016, Patanjali Ayurved Private Ltd was allocated 455 acres in Greater Noida to set up a mega food park. 3
Later, Patanjali Group demanded 91 acres be transferred to its subsidiary Patanjali Food and Herbal Park, which would set up the facility so that it avail of a subsidy from the Centre.
However, UP denied permission, stating subleasing land even between subsidiaries was not allowed.
In June, Patanjali CEO Acharya Balakrishna, a close aide of yoga guru Ramdev, announced to shift the proposed facility elsewhere, citing non-cooperation from state officials.
Adityanath spoke to Ramdev and Balakrishna and assured them of an early relief.
On June 19, the state cabinet allowed the subleasing of land.
But, the entire episode exposed the lethargic work culture of the state bureaucracy in sorting out matters pertaining to even mega projects.
Patanjali is likely to invest about Rs 60 billion in food-processing facilities in UP.