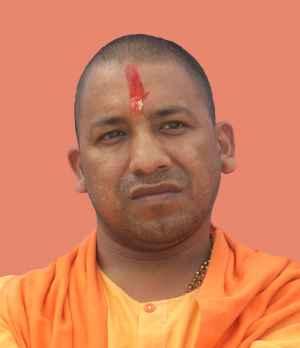 Is the Bharatiya Janata Party back to its hackneyed Hindutva agenda? The question is being raised following the party's decision to entrust the leadership of the party's campaign for the forthcoming state by-elections in Uttar Pradesh to the saffron clad rabble-rouser Mahant Adityanath. Sharat Pradhan reports.
His rise to fame is not just because he is the party's Lok Sabha member from Gorakhpur. Adityanath has remained in prominence only in large parts of eastern UP, essentially because he heads the popular Gorakhnath shrine in Gorakhpur. And he has been in controversies largely on account of his aggressive Hindutva politics.
It is not just the lone video, being shown oft late on various television channels, which portrays him as a rabid agent of Hindutva. The diminutive BJP member of Parliament might be now trying to dismiss the video as "doctored" or "edited".
But anybody who has been witness to his kind of politics ever since he inherited the multi-crore religious legacy of the sprawling Gorakhnath Temple would know how much he was capable of inciting a communal riot with a single public address.
His aggression in the name of Hindutva led him to form Hindu Yuva Vahini, which has made its penetration in at least a dozen districts of Eastern UP even as the Mahant claims to have made its presence in as many as 33 of UP's 70 districts.
"Hum long ne ye tay kar liya hai ki yadi woe ek Hindu balika ko le jayenge to uske badle mein 100 Muslim balikaon ko Hindu le jayenge. Jis prakar ka vyavhar vo kerenge…hum sau guna unhein byaj sahit wapas karenge , Agar vo ek Hindu ko marenge to unke sau ko hum bhi marenge. (We have decided that if the Muslims take away one Hindu girl, we will take away 100 Muslim girls. If they don't behave, we will give it back a hundred times more with interest. If they kill one Hindu, we will kill a 100 of them).
That was how Adityanath publicly challenged Muslims at a rally he addressed in Azamgarh on April 10, 2008
Adityanath was speaking at a rally to mobilise support for criminal-turned-politician Rama Kant Yadav, then BJP nominee for by-election to the local Lok Sabha seat. The by-election was being held after the Election Commission stripped Yadav of his Lok Sabha membership, following his expulsion from the Bahujan Samaj Party and subsequent switch over to the Samajwadi Party.
Being a powerful man in the area, the BJP readily inducted him and made him the party candidate. Adityanath's vitriolic, clearly not limited to just one speech, was brought into focus and the attention of the EC was drawn to the provocative campaign carried out by the saffron-clad MP. But he went unscathed with the result that he was more emboldened in the election campaigns that followed in 2012 and 2014.
However, the saner elements in the BJP continued to exercise their veto in keeping the unbridled sadhu under check by never allowing him to become larger than the party. With Amit Shah at the helm of affairs, things are now different for Adityanath.
According to party insiders, Adityanath-type of leaders ideally fit into Shah's scheme of things and would continue to enjoy a privileged position.
"For Shah, the Hindutva line still remains important and he feels that the party has faced reverses in Bihar and Uttarakhand largely because the leadership chose not to adopt the usual aggressive Hindutva agenda," observed a BJP veteran.
It is therefore no surprise that Adityanath has been entrusted with the leadership of the party's campaign for the by-poll to the 11 state assembly and one Lok Sabha seats in UP. And with him in the forefront, the three member campaign committee comprising Union mnister Kalraj Misra and state BJP chief Laxmi Kant Bajpai, is busy spreading the word about an ill-conceived and self-coined concept of "love jihad".
Sure enough it is an adaptation from Adityanath's school of thought -- as it was this very "love jihad" that he was referring to in his 2008 poll campaign in Azamgarh. Now with Misra in tow, Adityanath's idea of "love jihad" means that Muslim young men were enticing Hindu girls to marry them --with the sole intent of converting them to Islam.
Adityanath and company have chosen to highlight only those involving Muslim boys and Hindu girls. Similar cheating by Hindu boys on Muslim girls was systematically underplayed and hushed up. Their objective is loud and clear-- to whip up religious passions in the name of "love jihad" with the sole objective of polarising the Hindu vote in favour of the BJP. After all, each of the 11 state assembly seats going to poll were earlier held by the BJP and loss of even a single would reflect adversely on the image of Prime Minister Narendra Modi, whose magic led BJP to an unprecedented win of 73 out of UP's 80 Lok Sabha seats three months ago.
The desperation is also visible in Mainpuri, the seat that was vacated by SP supremo Mulayam Singh Yadav, who won two LS seats.
"Adityanath will be campaigning in Mainpuri too this time and we will raise the issue of love jihad , which is also growing because of the policy of minority appeasement being pursued by Mulayam," asserts Bajpai.
Sure enough, Adityanath has suddenly been made larger than life and the BJP is banking on his communal image more than Modi's "development" card to win the by-election.