Almost 24 years after Captain Vikram Batra died fighting Pakistani forces, his battle cry yeh dil mange more still echoes from the peaks of Kargil, says his twin brother Vishal for whom a return to the mountains is akin to a pilgrimage.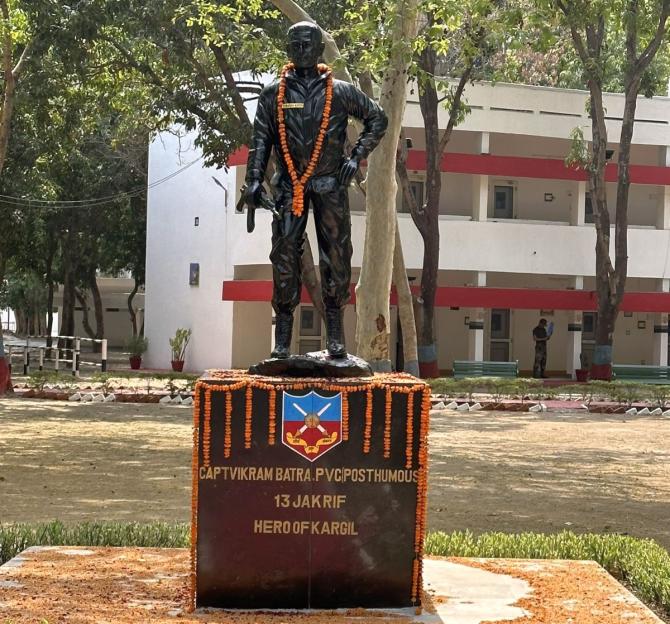 Vishal Batra, who was in Drass to attend the 24th Kargil Diwas event, also said he was thankful to the people for their love and affection towards his brother, fondly called the "Lion of Kargil" for his supreme sacrifice in the 1999 war.
"It is always a proud and nostalgic feeling whenever I visit these mighty peaks to see the valour displayed by our young officers and soldiers. It feels exactly the same as it did back then -- yeh dil mange more...we can still hear him (Capt Vikram) say that," he told PTI.
He said he is filled with pride to see the kind of love he receives from people throughout the country.
"But on a personal level it has been a difficult healing journey…My family has still not made peace with it even after these many years," Vishal Batra said.
Captain Vikram Batra died fighting Pakistani forces during the Kargil war in 1999 at the age of 24. He was given the highest wartime gallantry award 'Param Vir Chakra' posthumously.
Due to his exemplary feat, Captain Vikram was awarded with many titles.
He came to be fondly called the "Tiger of Drass", the "Lion of Kargil", the "Kargil Hero", and so on. His bravery, zeal and determination had set a standard for everyone fighting the war. Yeh dil mange more was Batra's victory slogan.
Vishal Batra, who flaunts a tattoo of yeh dil mange more on his right arm, said visiting the war memorial is like visiting a shrine for him.
"The kind of love I receive not only from the officers but also from families of other martyrs, it just fills me with different emotions. I can feel him here, he still is…," said Vishal, who works in a bank.
Kiara Advani and Sidharth Malhotra starrer Bollywood movie Shershah, which was released in 2021, is based on Capt Vikram Batra's story.
The Indian Army had launched a fierce counter-assault, 'Operation Vijay', to push back Pakistani forces that had stealthily occupied important heights in Ladakh in 1999.
The Kargil War saw soldiers of the Indian armed forces fight in the most challenging terrain under harsh weather conditions, defeating the enemy in Drass, Kargil and Batalik sectors.
Kargil Vijay Diwas is observed to mark India's victory over Pakistan in the war.
"When you go home, tell them of us, they gave their today for our tomorrow…Paid homage to dear twin who would always be love for me (our Shershaah Captain Vikram batra PVC) and other bravados on the occasion of Kargil Vijay Diwas. Beneath the earth at the war memorial, the young warriors sleep," Vishal Batra wrote in a social media post.