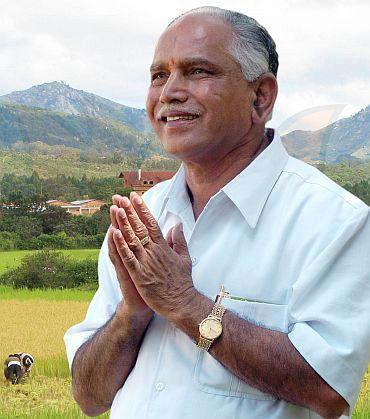 The Congress has shifted its focus from Gujarat Chief Minister Narendra Modi to Karnataka Chief Minister Yeddyurappa.

Yeddyurappa was the most chanted name at the ongoing Congress plenary session at New Delhi. Almost every speaker at the plenary termed the Karnataka CM as the most corrupt chief minister in India.

The attack started with Congress supermo Sonia Gandhi, who accused the Bharatiya Janata Party of not having the guts to sack Yeddyurappa, despite so many charges of corruption against him. The earlier sessions of the Congress saw a series of attacks

against Gujarat Chief Minister Narendra Modi. However day one of the plenary was surprisingly silent about Modi and decided to target Yeddyurappa.

The attack against the Karnataka CM was consistent. Members from West Bengal, Tripura, Tamil Nadu and Gujarat all targetted the Karnataka CM. They quoted their party high command's decision which removed Ashok Chavan and asked Telecom Minister A Raja to step down, even when the charges against them were not proven. However when it comes to Yeddyurappa, the BJP refuses to act. They said that the BJP had no right to hurl allegations of corruption against the Congress, when they themselves refused to act.