This is the season for hope and forecasts. As the calendar preps itself to reset to January 1, we look at the things we hope will be granted in 2015.

Some of these are simple while others will require some work. So here are things we wish we will get in the new year.

1. Safety for women

From cab services to simply walking on the street, everyone is looking forward to 2015 as being a safer place for women; 2014 certainly was not.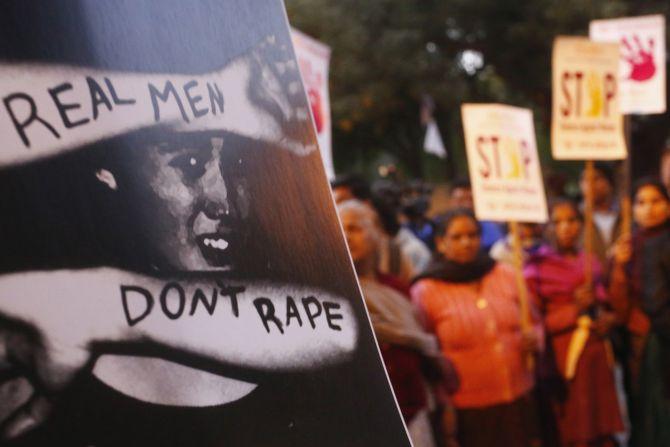 Demonstrators hold placards during a candlelight vigil to mark the death anniversary of the 23-year-old Delhi gang rape victim. Photograph: Anindito Mukherjee/ Reuters
2. Cops won't kill indiscriminately
This past year saw a spate of police shootings with many innocent lives lost. We hope that 2015 will see a less antagonistic relationship between cops and civilians.
A protester argues with police officers during a protest over the grand jury verdict to not indict white Ferguson police officer Darren Wilson for killing 18-year-old Michael Brown on August 9 in the shooting death of Michael Brown, in Webster Grove, Missouri. Photograph: Jim Young/ Reuters
3. The internet will be safer
With the iCloud hacking, which left many privately-clicked celebrity photographs in the public domain, and the infamous Sony website hacking which has North Korea and the US breathing down each others neck, the Internet was not a safe place in 2014. As the bastion of democratisation, the safety of the Internet is paramount to the safety of opinions. Here's hoping that privacy will find its rightful age in 2015.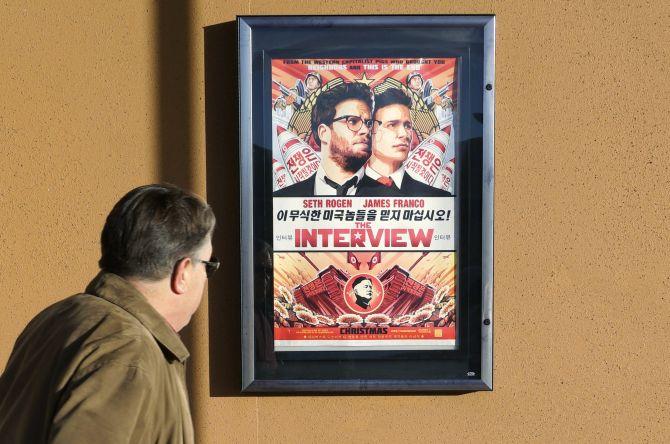 A man walks by the poster for the film The Interview. Sony Pictures said on Tuesday it will release The Interview to a limited number of theatres on December 25, less than a week after it cancelled the comedy's release following a devastating cyber attack blamed on North Korea. Photograph: Rick Wilking/ Reuters
4. Democracy will prevail

While 2014 saw pro-democracy protests in Venezuela, China and Russia, it was also witness to the largest democracy in the world take part in the biggest general elections. Hopefully, 2015 will see an even greater surge in democratic movements across the world and a chance for people of all classes to have a voice in the way their governments are run.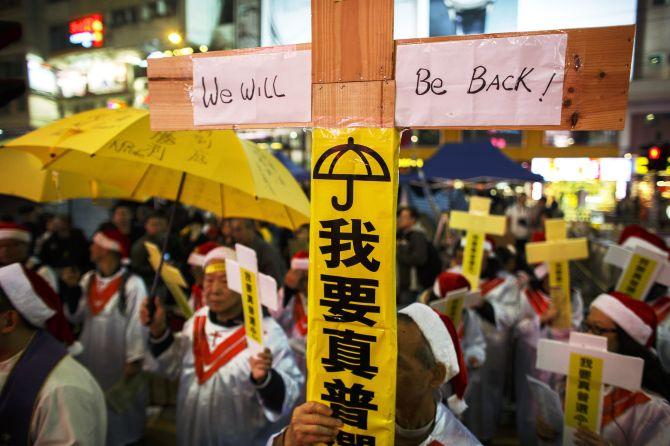 A pro-democracy protester holds up an improvised cross with the message 'I want real universal suffrage' at an area occupied by protesters at Causeway Bay in Hong Kong. Photograph: Athit Perawongmetha/ Reuters
5. Children's safety

With Malala Yousafzai and Kailash Satyarthi winning the Nobel Peace Prize, it is our solemn hope that no instance like the Peshawar attack takes place ever again. Children may not become casualties of an insensate war.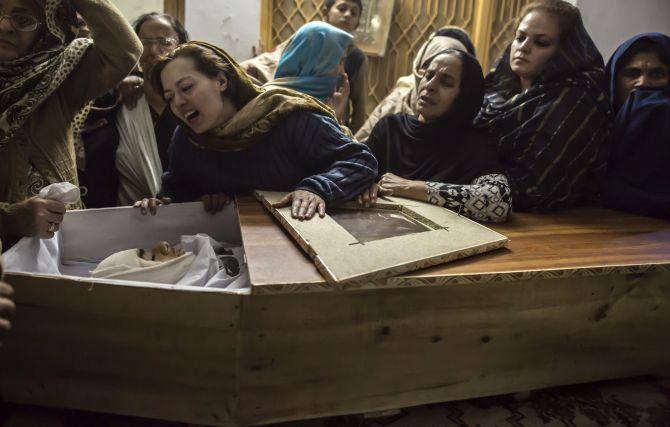 A mother mourns her son who was killed during an attack by Taliban gunmen on the Army Public School, at her house in Peshawar. Taliban gunmen in Pakistan took hundreds of students and teachers hostage on Tuesday in a school in the northwestern city of Peshawar. Photograph: Zohra Bensemra/ Reuters
6. Greater impetus for clean energy
This past year has been deemed as the hottest year in recent past and it is the consensus of every major scientific organisation that the only way to correct the natural balance is to invest in clean, renewable sources of energy. If we want a cooler 2015, we must do more to improve the extant alternate energy technology.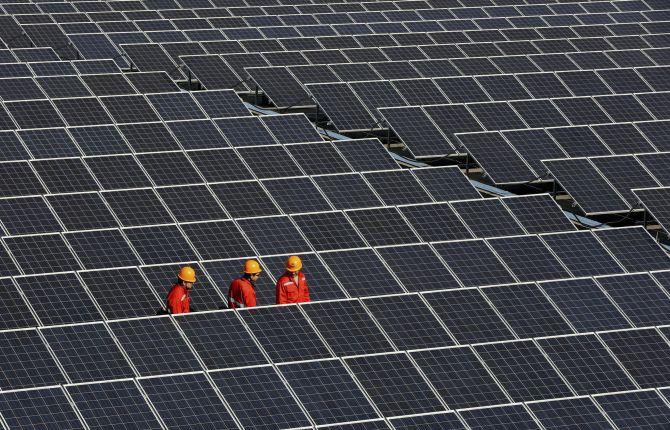 Workers walk among newly installed solar panels at a solar power plant in Zhouquan township of Tongxiang, Zhejiang province in China. Photograph: Reuters
7. Fewer Parliament disruptions
The winter session of Parliament saw several interruptions in the workings of the Rajya Sabha where the Opposition dominates in numbers. The Upper House was adjourned several times and did much less work in proportion to the Lok Sabha where the government holds the numbers. We hope this changes in the next year.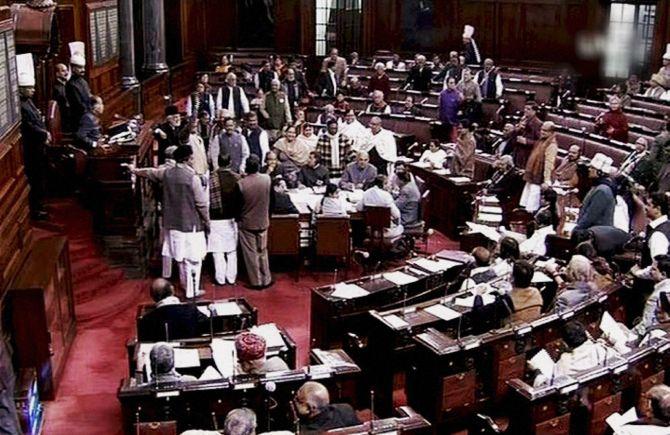 The winter session of the parliament saw several interruptions in the workings of the upper house where the opposition dominates in numbers. The Rajya Sabha was adjourned several times and did much less work in proportion to the Lok Sabha where the government holds the numbers. Photograph: PTI
8. Fewer instances of terrorism

Towards the end of 2014, several terror attacks were witnessed, the most prominent of which was the brutal killing of over a 100 children by extremists who attacked a school in Peshawar, Pakistan. The Sydney siege was another such instance which ratcheted up the tension for over 16 hours. Let us all hope that terror is not allowed to rear its ugly head again in 2015.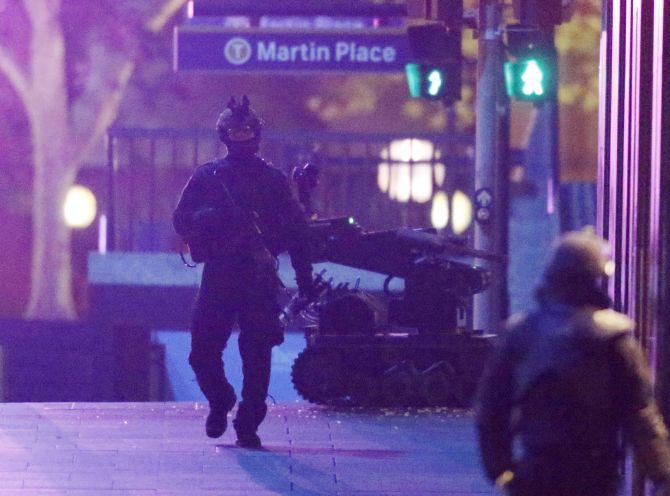 A police officer walks away from a robot outside Lindt Cafe in Martin Place in central Sydney where several hostages were being held at gunpoint, in a dramatic standoff that dragged on for over 16 hours. Photograph: Jason Reed/ Reuters
9. Peace on earth
As 2015 inches closer, we recognise the myriad variety that exists on earth. In all our searching we have yet to find a place akin to this one. Carl Sagan called it the pale blue dot. So, we hope that humanity finally finds a way to live in harmony with the world.
NASA image of earth taken from space. Photograph: NASA