Our politicians never fail to amuse, shock and horrify us with their comments. While some are new to making bizarre claims, the others are repeat offenders.
As the year 2014 draws to an end, we at Rediff.com take to look at some of the ridiculous remarks made by blundering politicos.

'Modi will never be PM, but he can sell tea'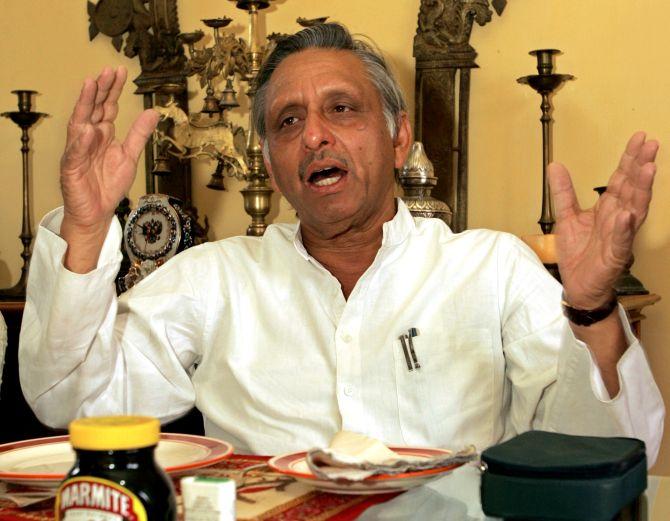 Photograph: Kamal Kishore/Reuters
Mani Shankar Aiyar
Congress leader Mani Shankar Aiyar at the venue of the All India Congress Committee meeting had mocked Narendra Modi's prime ministerial ambitions and said a place will be identified for the Gujarat chief minister to distribute tea in New Delhi.
"I promise you in 21st Century Narendra Modi will never become the prime minister of the country. ...But if he wants to distribute tea here, we will find a place for him," Aiyar had said.
He later said he was misquoted on the tea-stall remark. He said he never made those statements but stands by a comment he made earlier that the BJP has a PM candidate who does not know economics or history or law. He said his statement on Modi was distorted.
'I do have a degree from Yale University'
Photograph: PTI Photos
Smriti Irani
The Human Resource Development Minister had triggered a fresh controversy with her assertion that she has a "degree" from the prestigious Yale University in the United States.

"In that kitty of mine where people call me 'anpad' (illiterate) I do have a degree from Yale University as well which I can bring out and show how Yale celebrated my leadership capacities," she said at a summit in Delhi.

In a clarification, an official spokesperson of the Human Resources Development (HRD) Ministry said that Ms Irani got a "certificate" for her participation in a Yale University program.

Irani was at the centre of a controversy over her educational qualifications after it emerged that she had made contradictory declarations in her election affidavits in 2004 and 2014.
'Decide whether Delhi will get a government of those born of Ram or of those born illegitimately'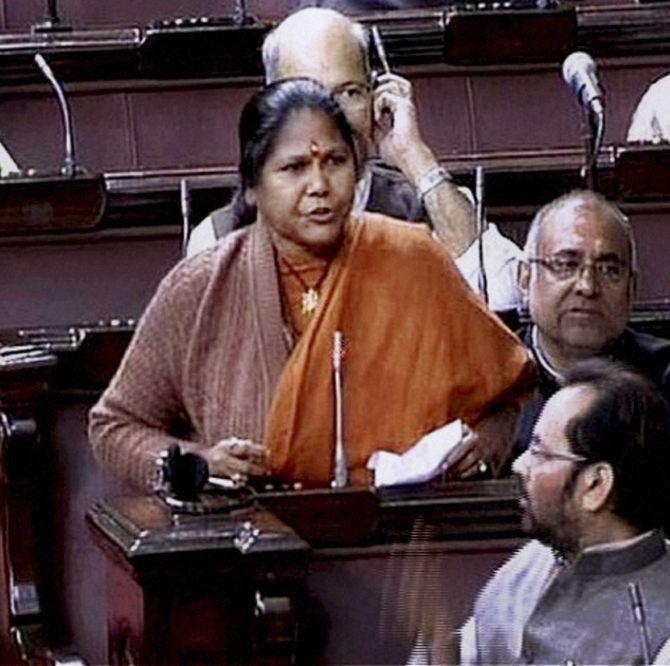 Niranjan Jyoti
Minister of State for Food Processing Industries in the Narendra Modi-led government during the prime minister's first Cabinet reshuffle, Sadhvi Niranjan Jyoti kicked up a storm when she used expletives during a campaign speech in Delhi.
While campaigning for the Bharatiya Janata Party, she called the electorate to choose between Ramzadon and h********n. "Aapko tay karna hai ki Dilli mein sarkar Ramzadon ki banegi ya har**zadon ki. Yeh aapka faisla hai (you have to decide whether Delhi will get a government of those born of Ram or of those born illegitimately)," said the BJP MP from Fatehpur in Uttar Pradesh.
'Boys will be boys, they commit mistakes. Will you hang them if they commit rape?'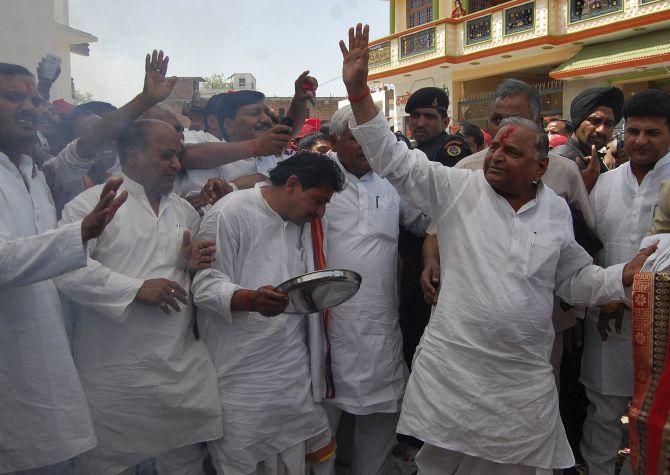 Samajwadi Party (SP) chief Mulayam Singh Yadav (R) waves to his supporters. Photograph: Pawan Kumar/Reuters
Mulayam Singh Yadav
Citing an example of a court sentencing 3 men found guilty of gang-raping 2 women in the abandoned Shakti Mills in Mumbai, Samajwadi Party supremo Mulayam Singh Yadav said there was a need to change the anti-rape laws as "boys commit mistakes" for which they should not be hanged.

"Ladke, ladke hain. Galti ho jati hai (Boys are boys. They commit mistakes)," he said at an election rally in Moradabad.
Seeking to wriggle out of his controversial remarks on rape, Mulayam Singh Yadav later said "no one respects women more than Samajwadi Party" but stuck to his stand that the "wrong" anti-rape law should be amended.
'…I will set my boys on them, they will rape them'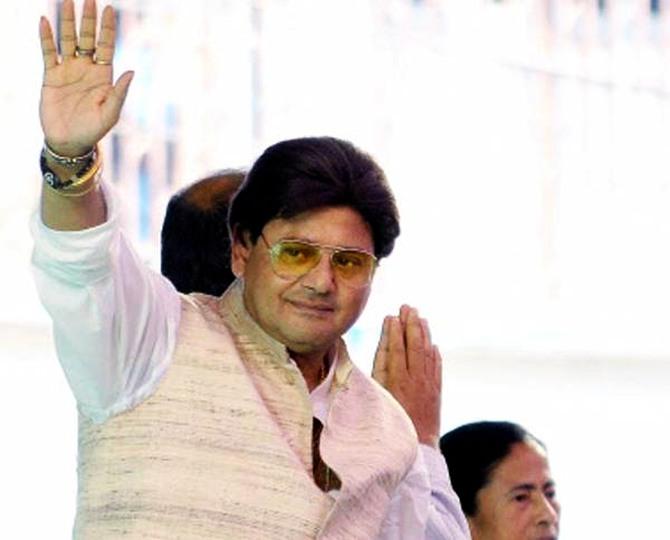 Tapas Pal
An embarrassed Trinamool Congress leadership asked one of its member's, a reputed actor from Kolkata, Tapas Pal to tender an unconditional apology for allegedly threatening to kill Communist Party of India-Marxist workers and have their women raped, a comment for which the party faced widespread condemnation.
"If anybody from the CPI-M dares touch my mother, sister, uncle or aunt, then this Tapas Pal is not going to spare them. Tapas Pal will shoot them with his revolver. Remember, I am from Chandernagore. I am not from Kolkata. Tapas Pal too has been a tough."
"If anyone from the opposition dares touch a daughter, father, child from Trinamool, I will do whatever I can to their entire clan. I will set my boys on them, they will rape them."
Pal, however, later denied using the word 'rape'. 'I said raid, not rape' he claimed.
He also claimed that the opposition was trying to defame him.
'Muslims should not try to be too secular'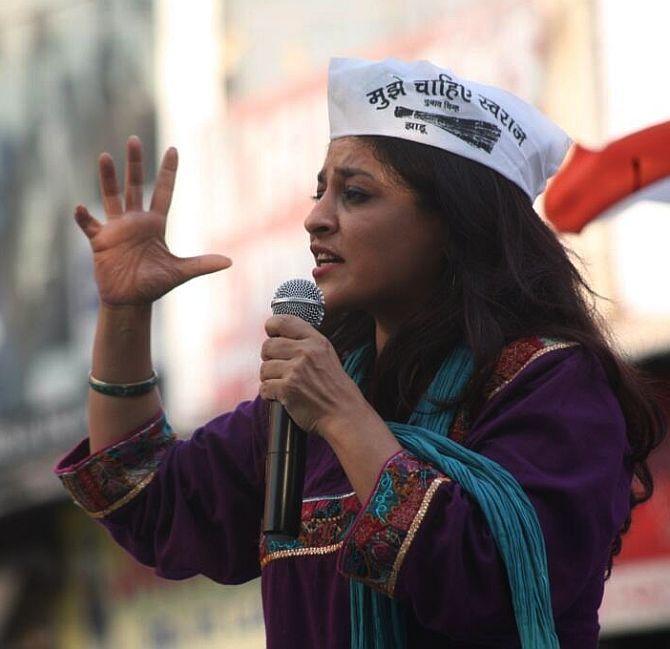 Shazia Ilmi
Former Aam Aadmi Party leader Shazia Ilmi was at the centre of a controversy over her remarks that Muslims should become "communal" for their own good when they vote and not be "too secular".
The Arvind Kejriwal-headed AAP ticked Ilmi off and distanced itself from the controversial remarks, saying it does not endorse her views. However, Ilmi stood by her comments, which, she said is "play of words".
The AAP response came hours after a video of Ilmi's comments went viral on social media and the footage shown on TV channels, just two days ahead of the sixth phase of the Lok Sabha elections.
"Don't be much secular. Muslims are too secular and they should become communal. They are not communal and do not vote for themselves. Arvind Kejriwal is ours. Muslims have remained secular for long...have voted for the Congress and helped them win. Don't be so secular and look at your house (community) this time.
"Other parties have their votebank intact and Muslim votes split. This is a controversial statement, but we should look at our own interest," Ilmi, AAP candidate from Ghaziabad, said in the video, in which she is having a conversation with members of the Muslim community.
'Peaks of Kargil were not conquered by Hindus, but by Muslim'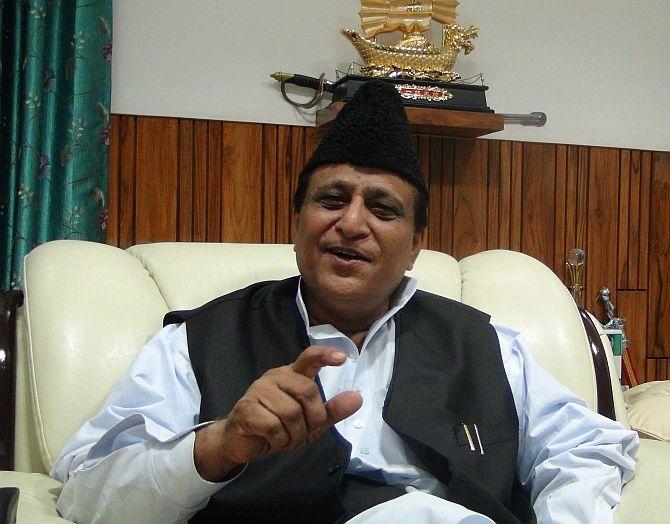 Azam Khan
During a Samjawadi Party rally in Muslim-dominated Masuri area, Uttar Pradesh Azam Khan said, "Kargil ki pahadiyo ko fateh karne wala koi Hindu nahi tha, balki Kargil ki pahadiyo ko nara-e-takbeer Allah-Hu-Akbar kehkar fateh karnewale Musalman fauji the (peaks of Kargil were not conquered by Hindus, but by Muslim).
The Election Commission cracked the whip against Khan for his controversial remarks on Kargil war and the Ghaziabad police booked the minister on charge of promoting enmity on ground of religion and other offences. But Azam Khan remained defiant.
Khan said he did not speak anything wrong and was a "nationalist".
'Women are equally guilty for rape'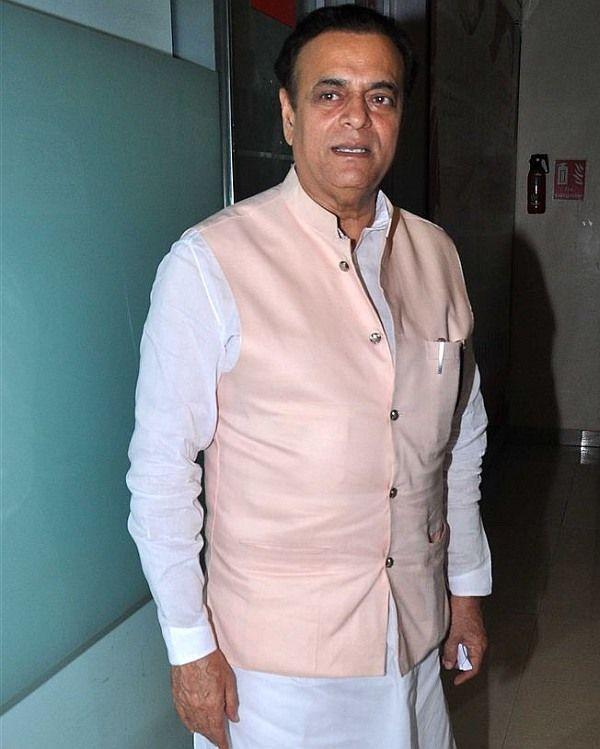 Abu Azmi
"Any woman if, whether married or unmarried, goes along with a man, with or without her consent, should be hanged"
A day after Samajwadi Party chief Mulayam defended rapists when he questioned the need for a death penalty in such cases, his party's Maharashtra unit chief Abu Azmi went on record stating that women are equally guilty for rape.
"Rape is punishable by hanging in Islam. But here, nothing happens to women, only to men. Even the woman is guilty," Azmi said in an interview.
"Solution is this: any woman if, whether married or unmarried, goes along with a man, with or without her consent, should be hanged. Both should be hanged. It shouldn't be allowed even if a woman goes by consent."
He further added, "In India, if you have sex with a person with consent, it's fine. But if that same person complains, it's a problem. Nowadays, we see a lot of such cases. Girls complain when someone touches them, and even when someone doesn't touch them. It becomes a problem then, and the man's honour is ruined in this. If rape happens with or without consent, it should be punished as prescribed in Islam."
'MNS leader should have committed rape after the elections'
RR Patil
Senior Nationalist Congress Party leader and former Maharashtra Home Minister R R Patil stoked a controversy by trivialising rape when he said a Maharashtra Navnirman Sena poll candidate jailed for the offence could have waited for elections to get over before committing the crime.
"MNS has fielded a candidate. Today MNS activists met me and said they would back me (in the elections). When I asked them why, they said their candidate is in jail."
"I asked as to what good act he has done? They told me that a rape case has been registered against him. If he wanted to contest and become an MLA, he should have committed rape after the elections," Patil said.
Not new to controversies, Patil, after the 26/11 Mumbai terror attacks, had made an insensitive comment suggesting 'small incidents do happen in big cities'.
Following the Shakti Mill compound incident, where a woman journalist was raped, he said, "Should I give protection to all journalists."
'Bhagwad Gita' should be declared as the national holy book'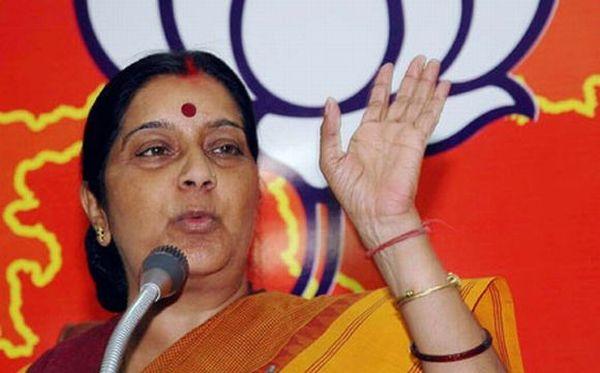 Sushma Swaraj
External Affairs Minister Sushma Swaraj came under fire from the opposition for her push to declare the Bhagwad Gita as a national scripture.
The Bharatiya Janata Party, however, defended Swaraj asserting that there was nothing wrong in her comments.
Sushma said: "Bhagavad Gita has answers to everybody's problems and that's why I said it while standing in the Parliament that, 'Shrimad Bhagwad Gita' should be declared as the national holy book."
ALSO READ: Sushma wants Gita as national book. DO YOU?
"Everyone should read two shlokas of Gita everyday... It is a scripture of 700 shlokas and it can be finished in a year. Read it again and continue this till the end. After reading it three to four times, you will discover a path to lead a life, the way I discovered," she said.
'Back Narendra Modi or go to Pakistan'
Giriraj Singh
Bharatiya Janata Party had to distance itself from Bihar leader Giriraj Singh's controversial 'back Narendra Modi or go to Pakistan' remark.
The Congress and the Janata Dal-United even complained to the Election Commission and demanded criminal action against Singh.
Singh had said in an election meeting in Jharkhand that those opposing Modi will have to go to Pakistan after elections, leaving the BJP red-faced and inviting sharp criticism from rival parties who said his comments were aimed at Muslims.