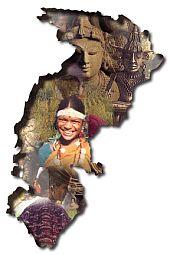 Chhattisgarh was in news in 2012 mostly for wrong reasons as it witnessed the abduction of an IAS officer and the killing of his two bodyguards, the gunning down of 19 suspected Maoists in an encounter and irregularities in coal mining but students from Naxal-hit areas brought glory with their commendable performances.
Besides, suicide by an IPS officer, stories of unwanted womb removal and the first global investors' meet in the state were some other highlights.
Naxalites abducted 32-year-old collector Alex Paul Menon after killing his two bodyguards on April 21 when he was attending a meeting in Manjhipara village of Sukma district, 400km away from Raipur.

Following talks between Naxal-appointed negotiators and state government representatives, he was released after 12 days.
Another incident that rocked the state was the Sarkeguda encounter, some 30 km away from Bijapur district headquarters. A joint party of the CRPF and the CoBRA Battalion stormed into the village on the night of June 28 and claimed to have killed 19 Maoists, including women and children. A judicial probe was ordered into the incident amid claims that those killed were civilians.
The most encouraging piece of news for the state came when 174 tribal students from Left-wing extremism-affected areas cleared the state-level Pre-Engineering Test and the All-India Engineering Entrance Examination.
Another big story that drew all-round appreciation was the Rs 100-crore Dantewada Education City project taking shape at Gidam on Jagdalpur-Bijapur NH-30.
Coming up on an area of 170 acre, the education city will have around 15 institutes including an engineering college, an ITI, a sports school, a tribal girls' school, a Kasturba Gandhi Vidyalaya, besides a residential school for children orphaned in Naxal violence.
In March, the suicide of Bilaspur SP Rahul Sharma, who shot himself with his service revolver, became a talking point when it was found that the 2002 batch IPS officer had left a suicide note in which he said that he was in deep depression due to extreme pressure on him from seniors.
Controversies continued with the BJP government in Chhattisgarh coming under attack from the CAG for allocating coal blocks at "abnormally low" rates leading to a loss of over Rs 1,052.20 crore.
The CAG said that the Centre in July 2007 allocated the Shankarpur coal block comprising Bhatgaon-II and Bhatgaon-II Extension to the Chhattisgarh Mineral Development Corp Ltd following which the company invited bids for commercial mining.

Several cases of unwanted womb removal operations came to the fore in June. The health department said that doctors removed around 1,800 uterus illegally in the state since October 2010.

It also stated that most of the operations were carried out to make money under various insurance schemes such as the National Health Insurance Scheme. Taking a stringent action, nine doctors were suspended.

The first-ever mega trade event 'Global Investors Meet' was hosted by the state in Naya Raipur, the new capital on November 2-3 during the state foundation ceremony celebration.
The event which aimed to woo the investors in non-core sectors like IT and related areas, biotech, banking, food processing, herbal products and automobiles to the state, had witnessed participation of more than 500 companies.