More than 25,000 classrooms of between 10,000 to 15,000 schools were destroyed by the deadly earthquake.
M I Khan reports from Nepal.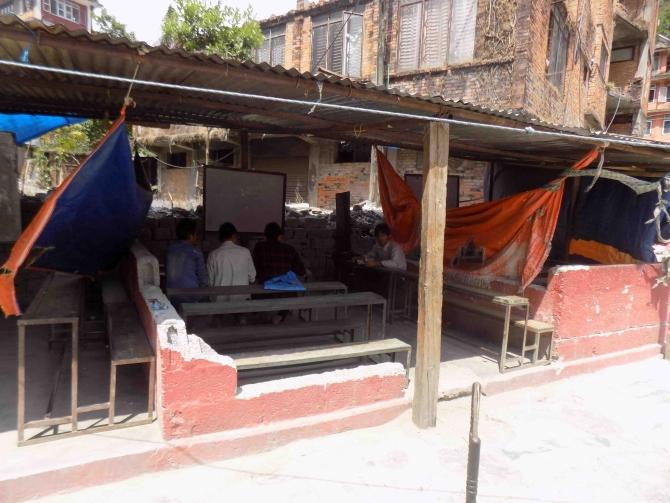 IMAGE: Most towns in Nepal are dotted with makeshift schools like these. All photographs: M I Khan
A year after thousands of schools were destroyed or damaged in the April 25, 2015 earthquake in Nepal, most of them are yet to see reconstruction.
Different organisations have estimated that more than 25,000 classrooms of approximately 10,000 to 15,000 schools were destroyed by the deadly earthquake.
Hundreds of undeterred children now study in makeshift schools, being run in temporary tents, or classrooms built with thin metal sheets or wood poles, tarpaulins and bamboo.

Sudip Karki and his friend Nikesh Karki were students of the Sri Jalpa Higher Secondary School -- a now destroyed government school at Kothe village in Sindhupalchowk district.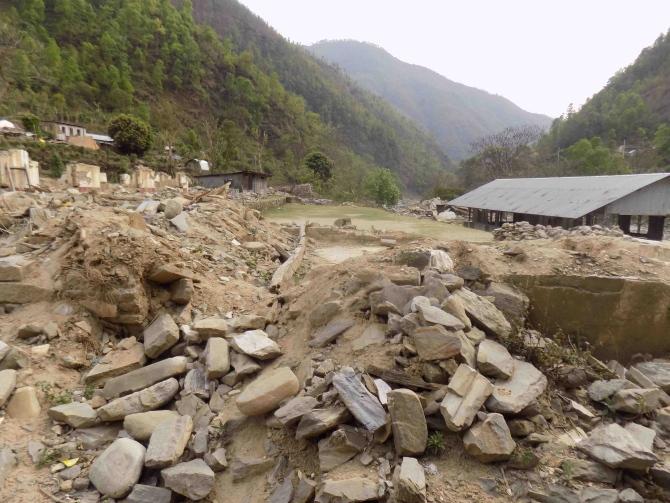 IMAGE: The school that once was the pride of Kothe village is now just rubble.
"Our school was completely destroyed. Nothing was left except rubble," says Sudip. "The school is not re-built so we are attending classes," he says pointing to a metal sheet shelter.

Mohan Karki, an elderly villager, tells me the school was a symbol of pride for the village. "Now only debris remain. It is so sad," he says.
IMAGE: The devastated schools have been rebuilt on a temporary/make-shift basis using materials like bamboo, wood and tarpaulin.
"It was one of the few big school buildings in the area," says Sita Karki, another villager. "The children are not being deprived of education and are attending classes in temporary classrooms."

The Keystone Public School in Sindhupalchowk bazaar was destroyed and now runs classes in tents.

"We have no option but to manage with tents," says Sumina Lama, the school principal.
"We have 270 students and 16 teachers at present. We are struggling to run the school," she adds. "It is a big challenge."
Six schools -- two government schools and four private schools -- were destroyed near Sindhupalchowk town, says Lama.
"We built temporary classrooms from bamboo to run the school," says Sarita Shrestha, a school teacher from Kavre district.
Laxmi Shrestha, a student, complains that the temporary arrangement provides little protection against difficult weather conditions.