He is likely to speak on economic issues, particularly the impact of GST and demonetisation, reports Archis Mohan.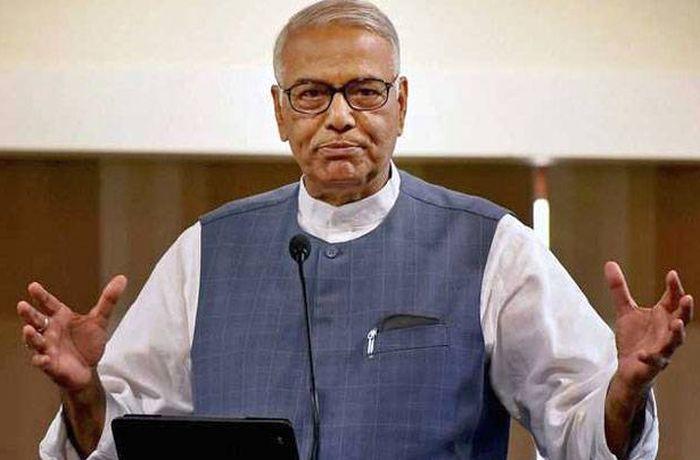 As part of the Lokshahi Bachao Abhiyan, or the campaign to save democracy, Bharatiya Janata Party leader Yashwant Sinha will address public meetings in Gujarat in mid-November.
The campaign is led by former Gujarat chief minister Suresh Mehta. Gujarat is scheduled to vote on December 9 and 14.
Mehta has invited the BJP veteran to speak on November 14, 15 and 16. The meetings will be held in Ahmedabad, Rajkot, and Surat.
Speaking to this correspondent, Mehta said Sinha had confirmed his attendance. Sinha could not be contacted as he was travelling abroad.
He is likely to speak on economic issues, particularly the impact of goods and services tax and demonetisation.
Reports from Gujarat said the campaign is supported by the Congress, but Mehta said it was a conglomeration of civil society groups, trade unions, environmental activists, Gandhians, and eminent citizens.
"My campaign is not affiliated to any political party. It is an initiative by the citizens to bring to the fore the reality of the so-called Gujarat development model," he said.
Mehta, who quit the BJP in 2007 after differences with then Chief Minister Narendra Modi, said the campaign will not ask the electorate to vote in favour of any particular party but to throw out the BJP government.
Mehta was Gujarat CM for nearly a year in 1995-96 and also the finance minister in the Keshubhai Patel-led government of that time.
Of late, Sinha has been critical of the Narendra Modi government's handling of the economy and the shrinking space for dissent within his party.
He said he was 'past caring' if the BJP was to take any disciplinary action against him.