He said he will not join any party but will work to unite all non-BJP parties. M I Khan reports from Patna.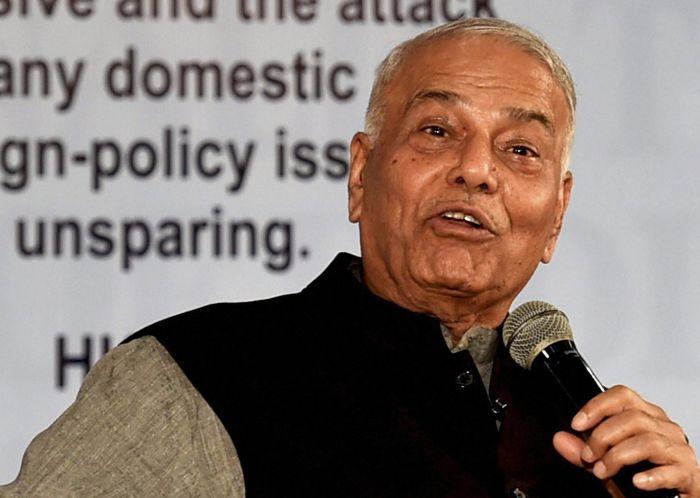 Former Union minister Yashwant Sinha on Saturday announced that he was quitting the Bharatiya Janata Party and party politics, and would now work on 'saving democracy in the country'.
The senior BJP leader said he would not join any other political party.
"I am announcing here the end my long-time association with the BJP. I am taking sanyas from party politics," Sinha said in Patna while addressing the first meeting of 'Rashtra Manch' founded by him earlier this year.
He said now onwards he will try to unite all non-BJP parties.
"I will not join any political party and will have nothing to do with party-politics," he said.
Sinha recalled that four years ago, he had announced not to contest elections. "Now, today I am taking sanyas from party politics," he said.
"I am not an aspirant for any top post and I am making it clear here that I am not at all interested in seeking any post," Sinha said.
Sulking BJP MP Satrughan Sinha, Rashtriya Janata Dal leader Tejashwi Yadav, Congress leader Renuka Choudhary, Samajwadi Party leader Ghanshayam Tiwary, Rashtriya Lok Dal leader Jayant Choudhary and Aam Aadmi Party leader Sanjay Singh and Ashutosh attended the meeting of Rashtra Manch.
Sinha warned people that democracy is in danger in the country due to undemocratic style of functioning of current government led by Prime Minister Narendra D Modi.
"There is a need of a big campaign to save democracy in the country," he said
"Otherwise," he said, "future generations will ask us what we did in such a situation."
"All democratic institutions, including Parliament, judiciary, Election Commission, the Central Bureau of Investigation, the National Investigation Agency and media, are under tremendous pressure and have been forced to work on the instructions of those in power. It is a dangerous trend for democracy," he said at the meeting.
He said that he would launch a strong movement to 'save democracy' in the country.